Wastewater Treatment Plant
(Johkasou)
Kubota has been committing itself to offering optimal water treatment solution by utilizing all its technologies and expertise available since 1962.
Wastewater treatment tanks (Johkasou), which can be set up in areas where sewage infrastructure is not available, help treat household and industrial wastewater and conserve the water environment.
Kubota offers a broad range of products, including its proprietary membrane separation systems capable of advanced and stable treatment, and compact moving bed systems to meet required treatment levels, applications and purposes.
Today, Johkasou tanks uniquely developed in Japan are used worldwide. There are many regions in Asia where sewage treatment infrastructure is not yet in place; this has led to pollution of rivers and other water sources due to untreated wastewater. As part of its wastewater treatment plant business, Kubota has promoted sales of Johkasou tanks package solutions. Kubota has developed its advanced wastewater treatment expertise built into a series of sewage treatment processes. Johkasou tanks are possible to be set up in a short span of time and deliver excellent wastewater treatment performance, bringing highly effective solutions to factories, hospitals and housing development areas, especially in sparsely populated regions.
In addition to already increasing orders for large wastewater treatment tanks (Johkasou) from Vietnam, Kubota is promoting these tanks in other countries and regions of Southeast Asia, including China and Myanmar.
Product availability and specifications may vary by country or region. For more information, please contact the nearest Kubota from Global Network.
Features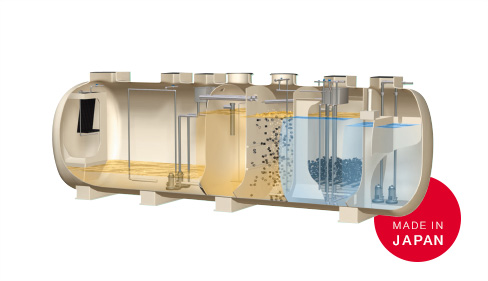 Membrane Bioreactor System for Highly Advanced Water Treatment
Kubota's wastewater treatment tanks are used to preserve the environment in areas where sewage systems are rarely installed. Specifically, this is Kubota's proprietary membrane bioreactor system, where a highly-concentrated activated sludge system is coupled with submerged fine-pore membranes to perform advanced water treatment. Treated water can be reused, without post-treatment, as flush water for toilet and spray water.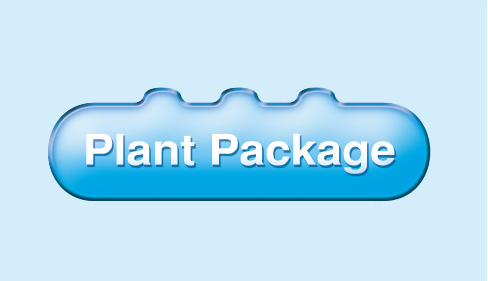 Compact Size
Our advanced system operation enabled to reduce of the size of aeration tank. Also, settling tank and sludge thickener are not required which in turn the reducing tank size almost half and stabilizing water treatment at the same time means lower construction costs.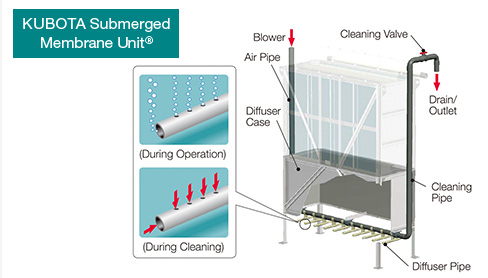 Plant Package
Kubota offers plant package incorporating its advanced water treatment engineering expertise. Treatment solutions are available in locations and in sizes our customer require. Combination of wastewater treatment tanks are introduced to serve their needs.
Lineup
Wastewater treatment tanks vary from flow rate of 1.0 to 5.1 above.
KJ

KZ

HCZ

KM-SG-NP

K-HC-T

K-HC-R
Our Technologies
Membrane Separation Method: KUBOTA Submerged Membrane Unit™

The KUBOTA Submerged Membrane Unit™ incorporates microporous membranes made from polyolefin. Although fluids smaller than the membrane's micropores can permeate the membrane, contaminated ingredients cannot permeate it due to their larger size. Furthermore, contaminants are pulled to the membrane surface. Water flow created by aeration, and air bubbles contact the membrane's surface, which then move upward while vibrating the surface. This keeps the membrane surface always clean and prevents the micropores from clogging.

Media Flow Filter Method

The moving bed tank employs a hollow cylindrical media that is highly capable of retaining microorganisms.
Application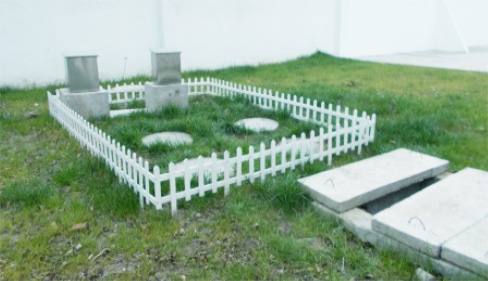 For Factory sewage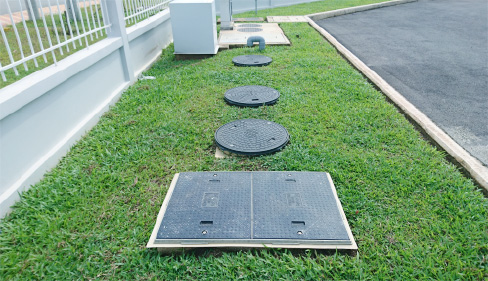 For Hospital sewage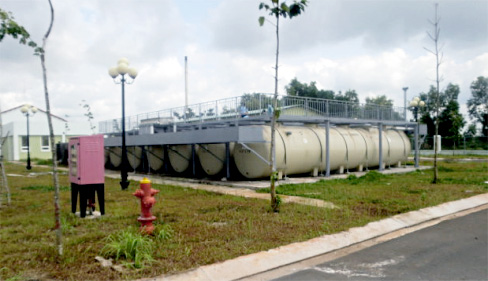 For Indivisual residence sewage
For Water recycling