Kubota is a company with an unshakable will to support and solve problems related to food, water, and environment. Through proactive management, user-friendly products, and stable support, Kubota has been a leader in the global agriculture and water-related industries.
Vast Global Presence

Kubota spreads over more than 110 countries serving local particular needs.

Your Best Partner

From rice to dry field, we are evolving to meet the next stage of agriculture with clear foresight as your best partner.

The Water Treatment Specialist

From upstream, downstream, and waste water recycling, we offer various solutions in every touch point of water circulation.

Sold Performance

Kubota Group exercises solid performance with steady sales growth, and our revenue is amounting to more than 1.7 trillion in JPY.

Footprint to Today

Since 1890, Kubota has evolved in a unique way by leveraging our strength as a manufacturer and a solution provider.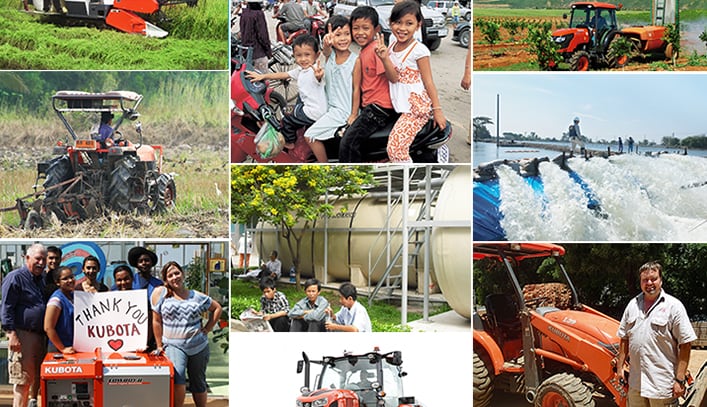 Kubota Around the World
Kubota's technology and products have achieved a solid reputation worldwide. Even at the corner side of the world, you will find Kubota.
To Challenge, To Innovate
Product-oriented? As far as Kubota is concerned, we are closely oriented to the needs of users. Kubota's research and development values thorough hands-on approach.
Towards Sustainable Society
The world today faces various serious issues. Kubota constantly accepts the challenge to sustain the future of our society.
Earth Innovator
Kubota challenges to solve global issues for our prosperous future. View the Kubota Group's corporate movies and TV ads.
1890 to Today
Since the foundation, we have offered various products contributing to improve human lives and society.