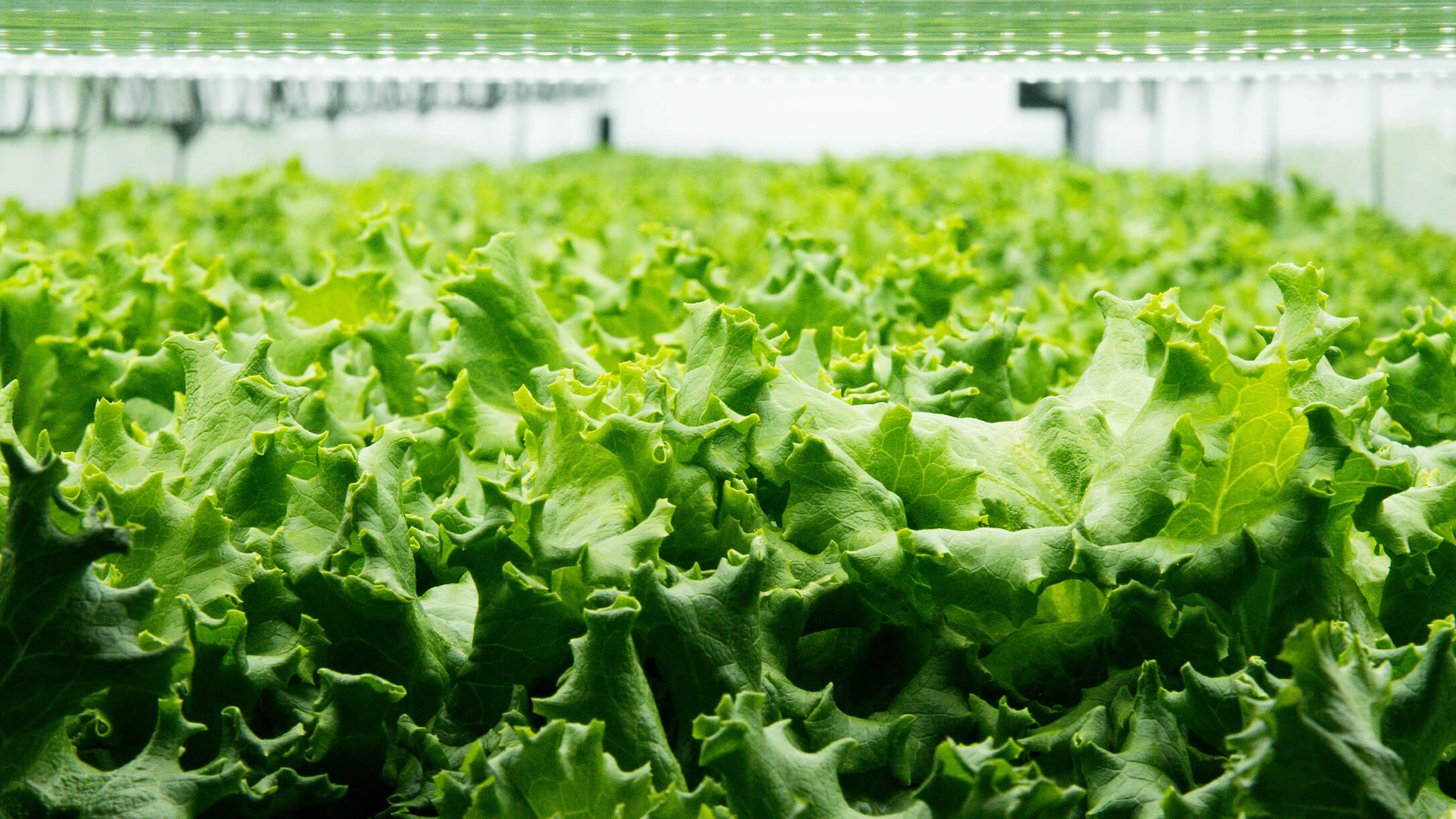 The spread of COVID-19 has brought dramatic changes to people's lives. Among these changes, more and more people have started ordering takeout food from restaurants more often.
Eating takeout and other pre-prepared food at home is called "home meal replacement" (HMR). The market for these types of meals has been growing since before the pandemic, leading to an increased demand for related work and for vegetables used in food processing.
Given these circumstances, Kubota announced in November 2020 that it had taken a stake in PLANTX, a Japanese agritech start-up that develops plant cultivation equipment and growth-rate management systems. This article will focus on the future food production possibilities that PLANTX and Kubota aim to achieve through their partnership.
The Challenge
Expanding Market for HMRs and Need for Stable Vegetable Supply
HMRs in Japan are best exemplified by prepared foods ("ready-made meals") sold in supermarkets and lunch boxes ("bento") sold at convenience stores. According to the 2020 White Paper by the Japan Ready-made Meal Association, the market for prepared foods has been steadily increasing since 2009, growing by 27.3% in the 10 years leading to 2018.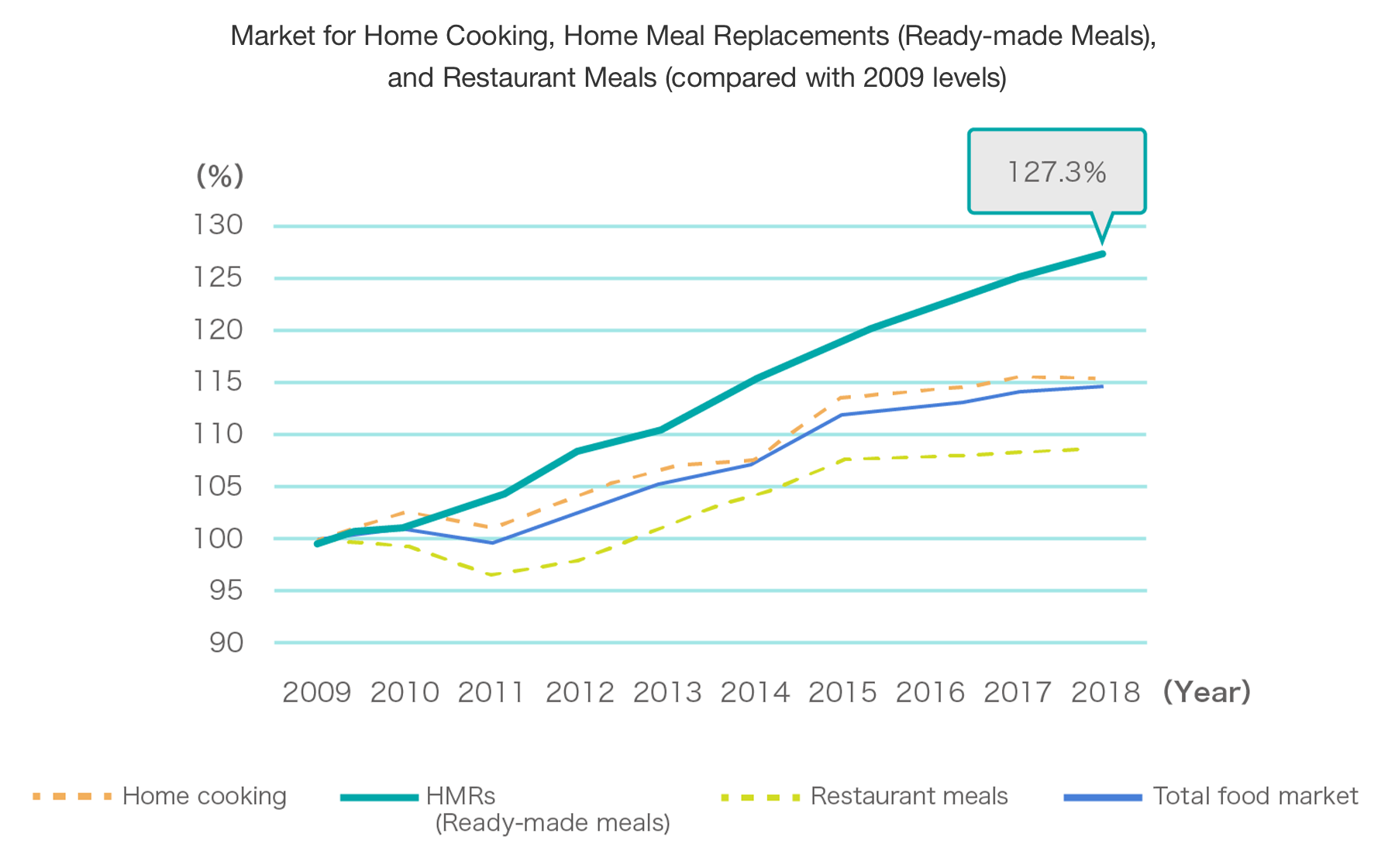 In response to this externalization of food, the demand for vegetables used in commercial and processing applications is also increasing. According to Japan's Ministry of Agriculture, Forestry and Fisheries, the percentage of vegetables needed for these categories reached 57% in 2015. Changes in lifestyles due to the COVID-19 pandemic mean that the demand for vegetables used in commercial and processing applications will continue to increase.
Each day a set number of ready-made meals and lunch boxes must be provided to consumers, so the vegetables used to make these meals need to be produced in ways that ensure stability in production quality, quantity, and price. One food production technology that is gaining notice as a possible solution is plant factories using artificial light. Kubota, which aims to improve the efficiency of food production and ensure a stable supply of food, has focused on plant cultivation systems that use artificial light as a method of food production different from open-air cultivation, and decided to invest in PLANTX, which is developing this system in Japan.
Solution
PLANTX Plant Factories Packed with Original Technologies
In a plant factory using artificial light, plants are grown indoors using hydroponic cultivation (growing plants without soil) with light and nutrient solutions provided artificially. One of the main advantages of this method is that the plants are not affected by weather or other factors. This also allows for operation with smaller footprints, making it possible to produce crops in urban areas and other environments.
Plant factories using artificial light typically have large numbers of open-shelf cultivation units installed in an indoor space, with the entire facility climate-controlled to grow crops. On the other hand, PLANTX's cultivation systems take a different approach, using culture machines that contain sealed layers and control the climate for each layer to grow the crops.
This "closed-type" structure allows for precise control of the cultivation environments within each machine, which is reported to increase productivity per unit area by three to five times for lettuce and other crops compared to conventional plant factories using artificial light.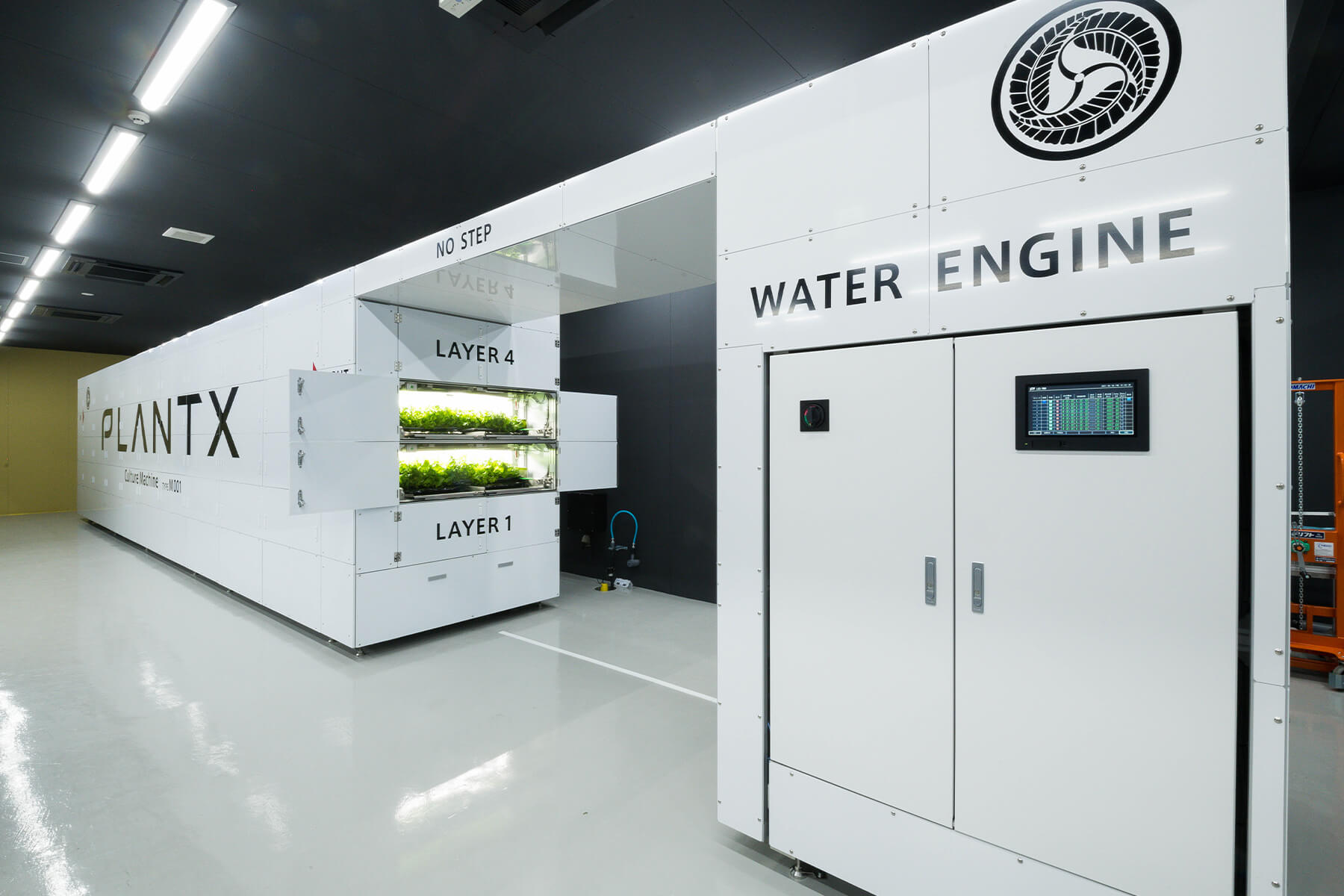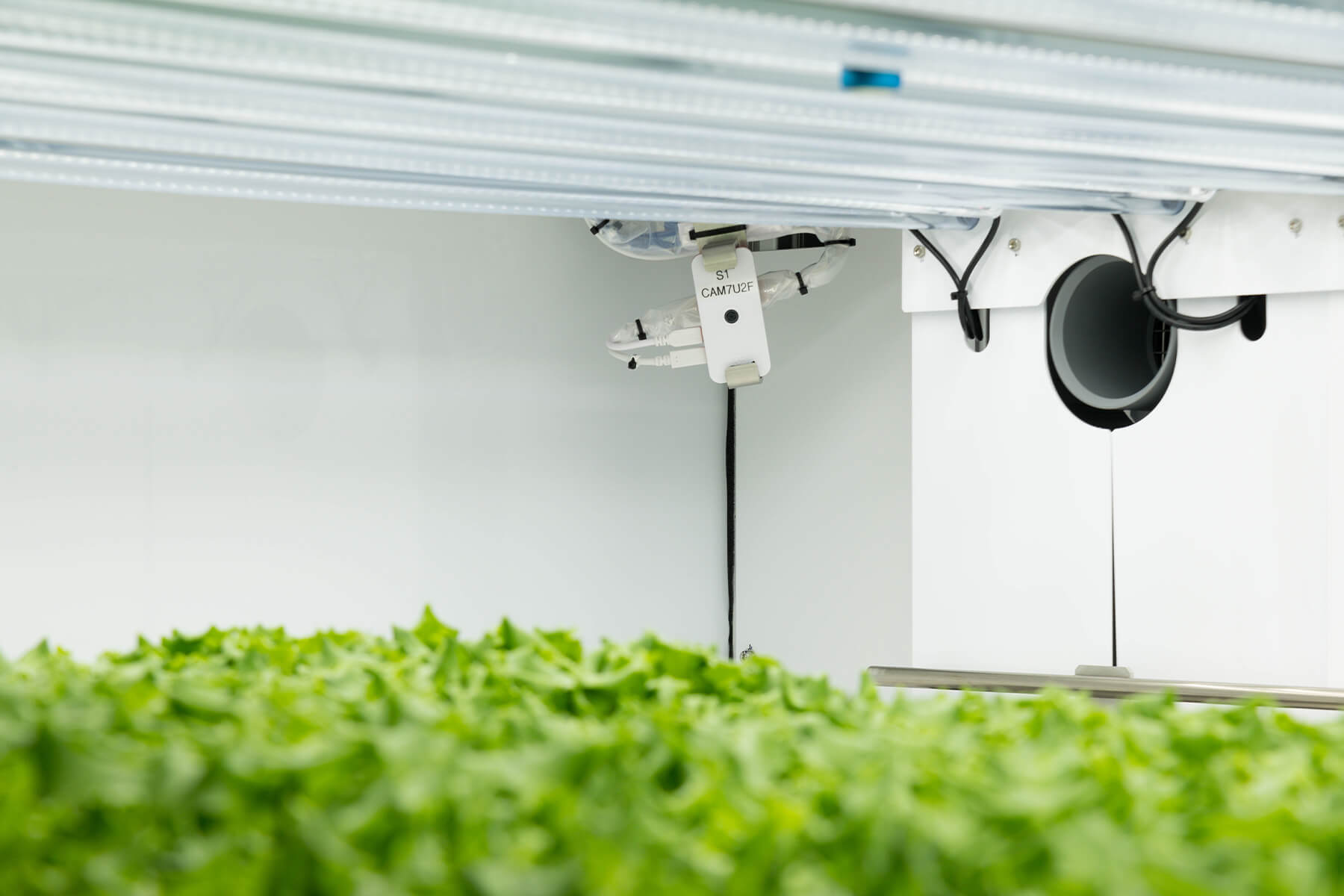 This Culture Machine uses SAIBAIX, a plant growth rate management system developed by PLANTX. It controls the growth of crops by managing not only temperature, humidity, and CO2 concentration, but also photosynthesis and water absorption rates, along with other factors. This works with the Culture Machine to precisely reproduce the optimum cultivation environment for growing crops.
PLANTX refers to the combination of parameters that create the environment inside the cultivation machines as the "cultivation recipe". When a recipe is developed through research that can produce crops with high added value, an environment based on that recipe can be immediately reproduced in the Culture Machine.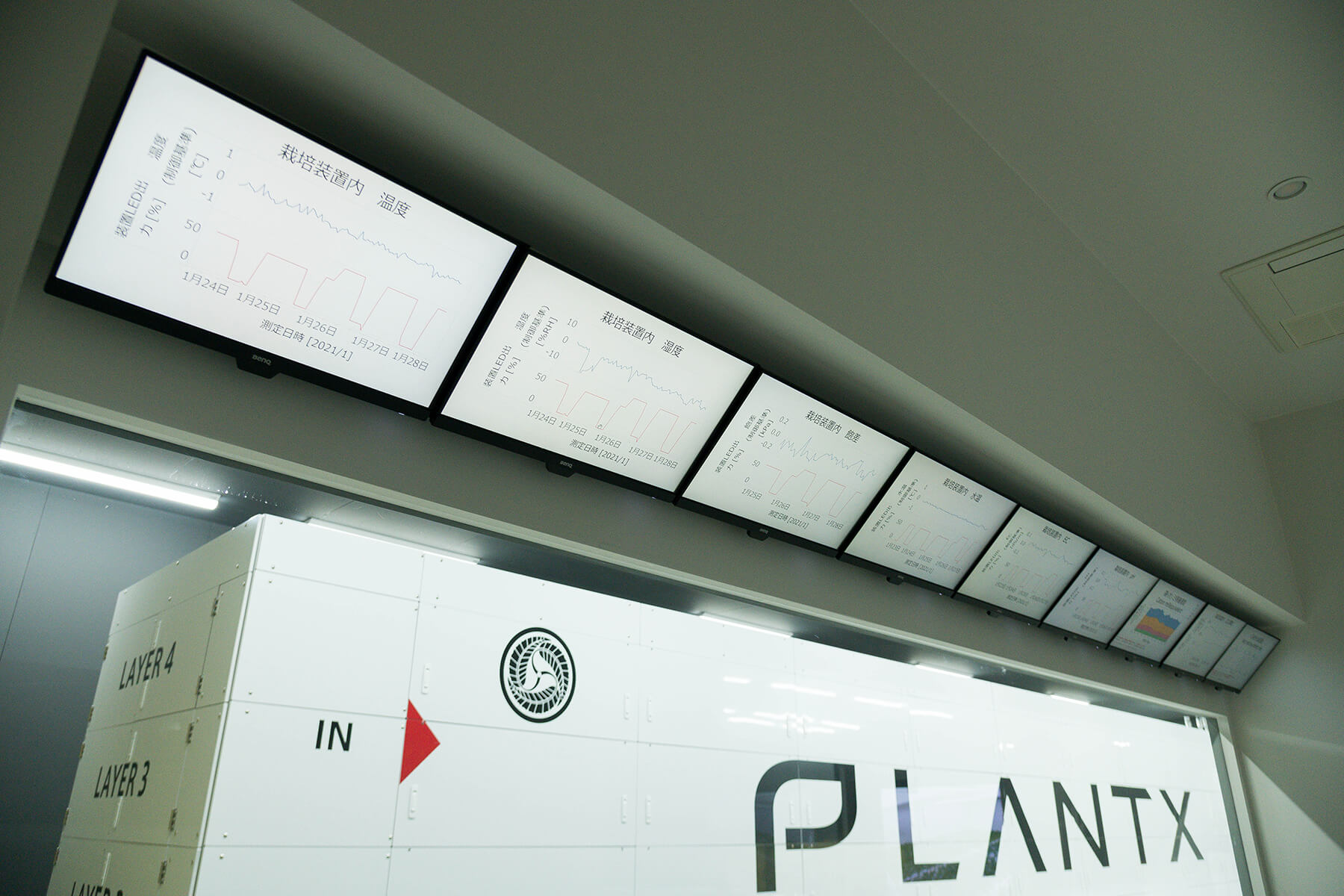 Approach/For the Future
Objectives of the PLANTX and Kubota Partnership
PLANTX is developing unique technologies to expand its plant factories, and Kubota is striving for a stable food supply. What do the two companies hope to achieve through their partnership? This is explained by Kosuke Yamada, founder and CEO of PLANTX, and Mitsuru Honda, a section manager of the Business Incubation Department at the Innovation Center.
Plant Factories are a Key Technology for Solving Food Problems
To begin, how did PLANTX get started in the plant factory business?
Yamada: It started when I first saw a plant factory in 2013. I was struck by this new form of food production, and at the same time, I thought I could make it perform even better by adding technological improvements. I put together a group of engineers, and we started development. The founding team worked unpaid for a period of two years, but we made it through that and managed to develop software and hardware that could fully demonstrate its performance.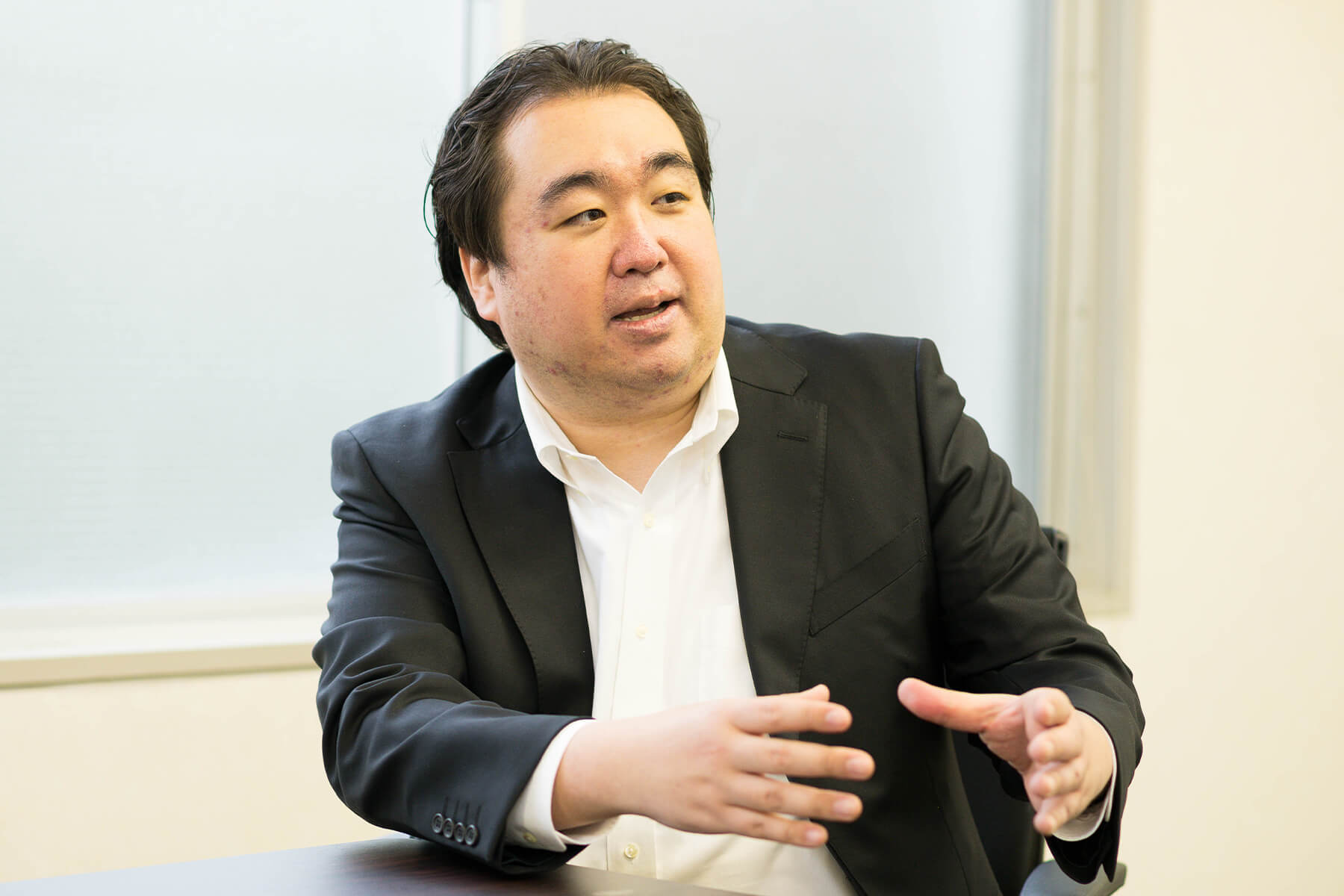 It must have been hard working without pay. How were you able to continue developing the system while facing such difficulties?
Yamada: Food-related needs are growing throughout the world, including people's wish to eat very fresh foods, and sustainable food production that takes water resources into consideration. Plant factories are a key technology that can address these global food problems, and I wanted to introduce them to the world. The other members of our founding team were also a source of encouragement for me. We faced many hardships, but the fact that none of these immensely talented people said they wanted to give up made me believe that there was great potential in plant factories and gave me the motivation to keep working.
Honda: PLANTX showed a thorough commitment to technologies and a desire to contribute to solving food problems, which were exactly in line with our approach at Kubota. Future global food shortages are a serious concern, but I think there are limits to how much we can expand land for cultivation. Plant factories can produce fresh food efficiently and stably in a small space, so they represent a new form of food production. I believe that a state of coexistence between open field farming, which offers price advantages and enables production of a variety of crops, and plant factories, which excel in high added value and stable production, could be a new form of agriculture.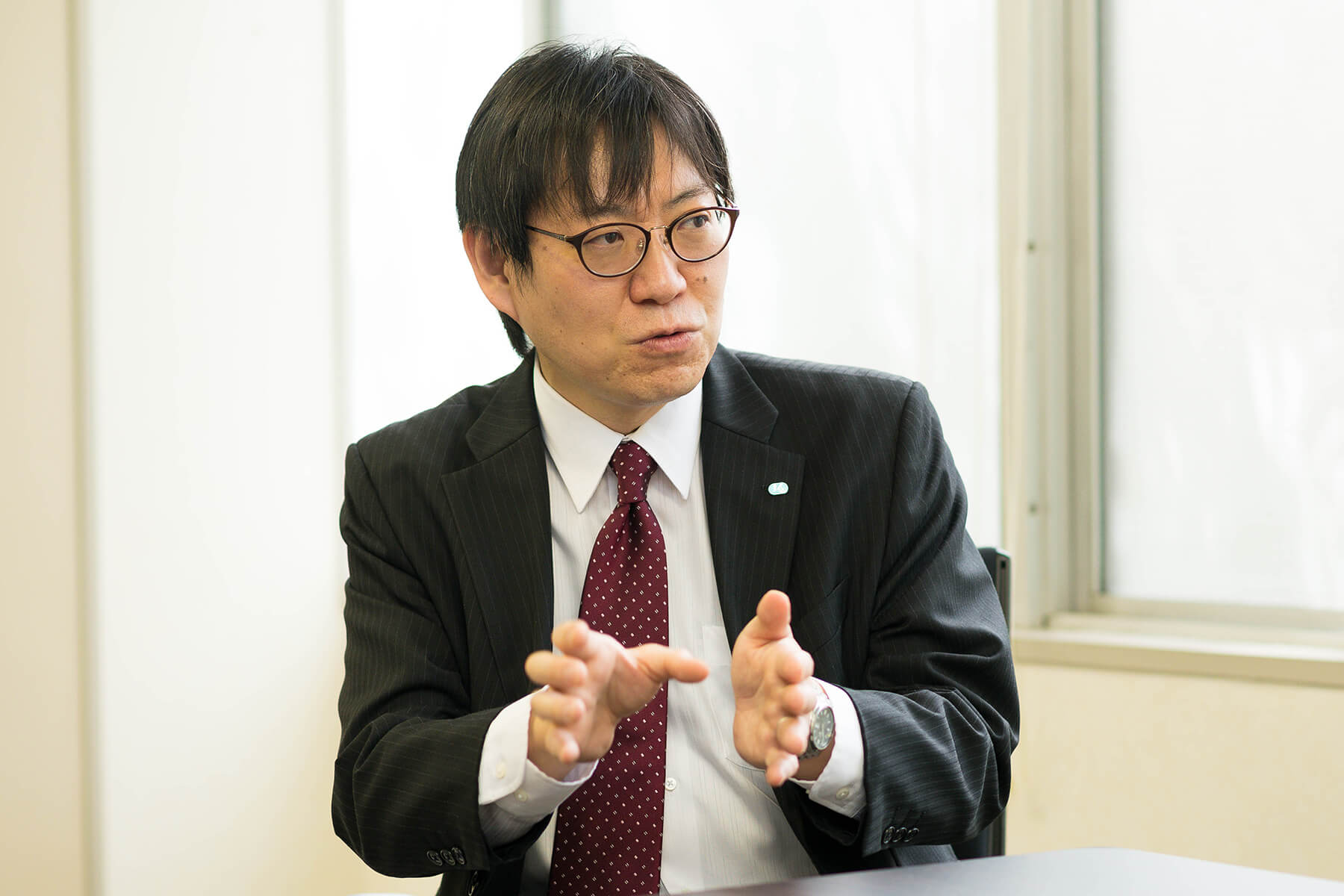 The Next Step for PLANTX After Receiving Funding
Of all the companies involved in plant factories, why did Kubota decided to invest in PLANTX?
Honda: We met with PLANTX almost every week since 2019, when we established contact with them after they opened a center in Tokyo equipped with a Culture Machine prototype. The main reason we decided to invest in PLANTX was their amazingly high level of engineering. They have achieved hardware and software with outstanding reproducibility, by which crops of consistent quality can be dependably grown when the same conditions are set. To develop plant factories as new methods for food production, I thought that Kubota could help with our expertise in manufacturing and development.
Yamada: Plant factory operations cannot exist with software alone. Precision hardware is required to make them effective. Kubota specializes in technologies related to water and air, which are vital for plant factories, so we see great potential for synergies in those areas.
How do PLANTX and Kubota aim to develop plant factories through this partnership?
Yamada: We have now reached the point that we are demonstrating the cultivation equipment and manufacturing the machines for mass production. Using the funding we have received, we plan to build a mother factory with multiple Culture Machines. There we intend to confirm the profitability and long-term stability of the plant factories, and we also hope to use it as a place to introduce, develop, and implement new technologies. One example is development of technologies for the full automation of the plant factory production process. We would also like to try growing diverse varieties of crops.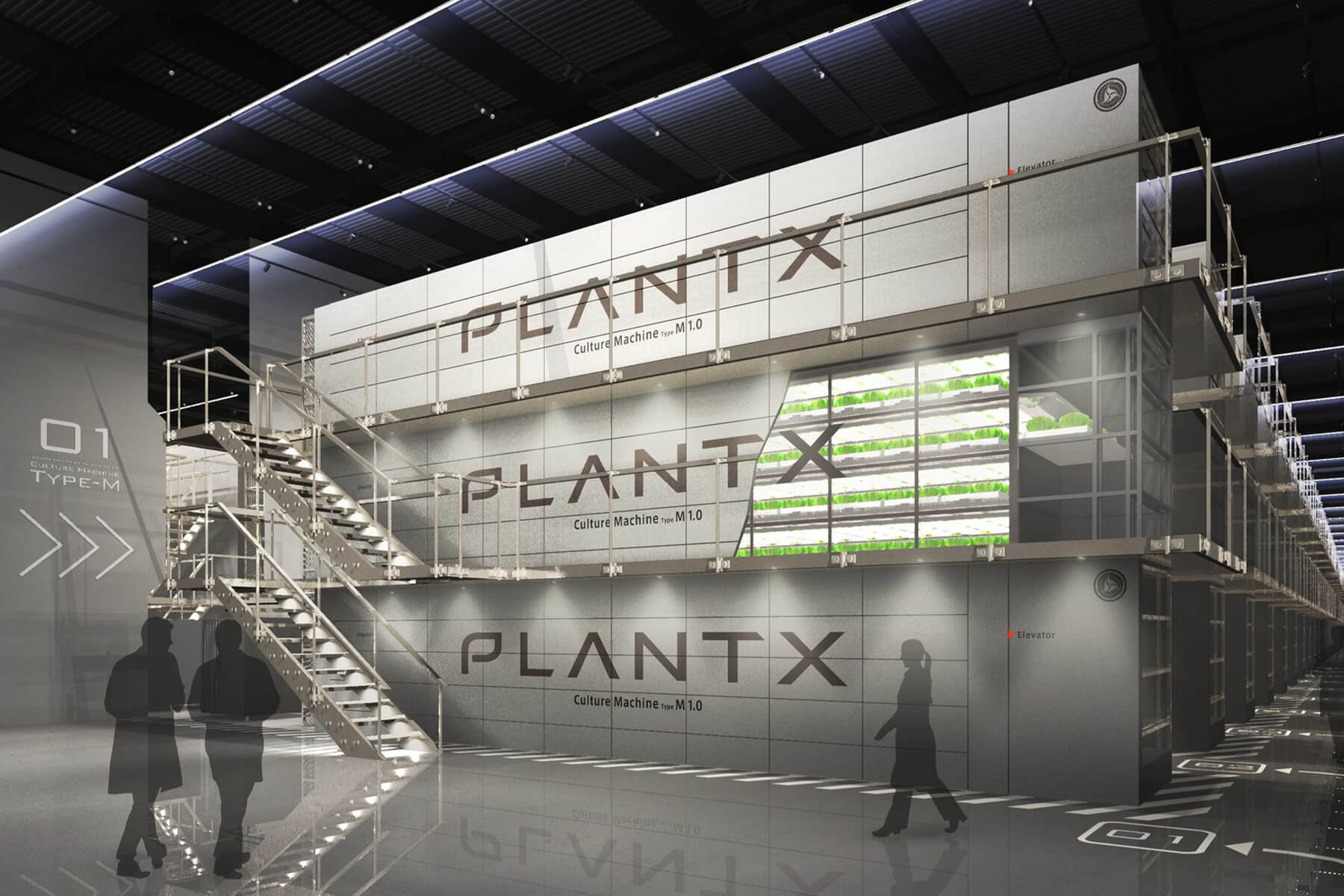 Honda: At Kubota, we believe that the air conditioning and water treatment technologies we have cultivated over the years could help with energy efficiency and labor-saving at the mother factory. In the steps after the mother factory is constructed, I envision a future in which Kubota and PLANTX work together to develop plant factories while we explore the areas in which we can best support them.
Growth of Plant Factories Can Bring Food Stability and Diversity
What benefits will plant factories offer to consumers like us?
Yamada: They already offer value in terms of crops being pesticide-free and hygienic, and consumers are beginning to take notice. In the future, I believe we will be able to create varieties of crops that can only be produced in plant factories. We can contribute to the functionality and diversity of food by making it possible to choose crops with nutrients adjusted to a person's physical condition or health, or by reviving crops that were no longer grown because they are vulnerable to disasters.
Honda: Vegetable prices tend to fluctuate greatly due to weather conditions and climate change, but the food service industry cannot afford to raise their prices to cover the increase when prices go up. Providing a stable supply of crops at fixed prices is one additional value. By satisfying the need for a stable supply, we will also be able to contribute to consumers in general.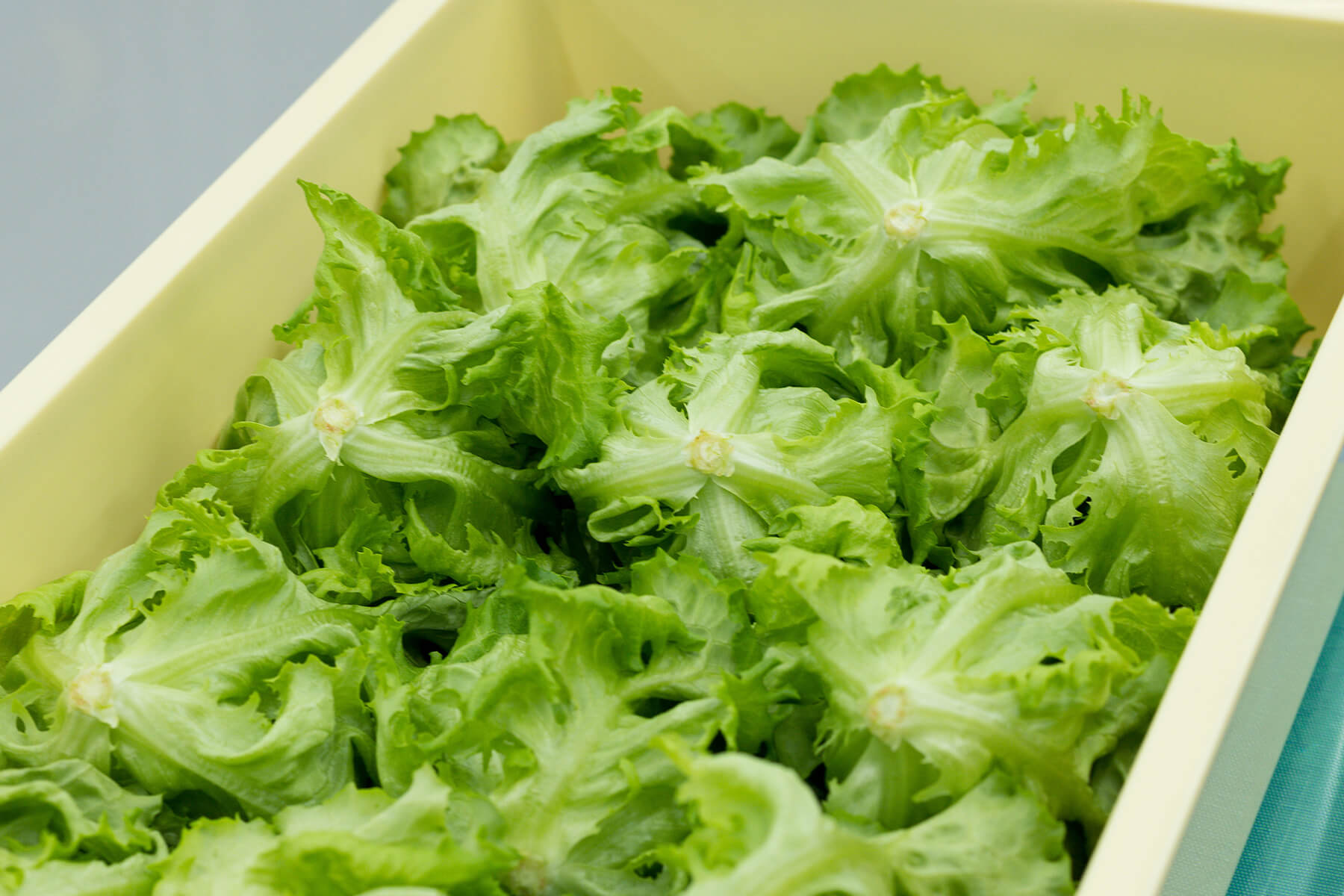 What do you think is required to develop plant factories and contribute to solving food production problems in the future?
Yamada: There are needs for plant factories around the world, and Japan currently has the advanced technologies to meet these needs. What will be important is speed. As plant factory initiatives gain momentum around the world, one start-up alone cannot work fast enough to introduce Japan's advanced technologies to the world. That's why we want to spread them globally together with Kubota, a global company.
Honda: The PLANTX system is not finished in its current stage, and I expect it to evolve even further. I would like to see PLANTX and Kubota work together to innovate the hardware and software and develop new recipes.
Smart agriculture is gaining notice as an advanced model of conventional agriculture that makes full use of AI and IoT, and plant factories are making progress as a new form of food production that differs from open field cultivation. A future awaits us in which open field cultivation and plant factories coexist, providing a stable supply of crops that meet a variety of needs. This interview gave us a strong sense of the potential in PLANTX and Kubota's open innovation initiatives, which are steadily advancing with the aim to provide a stable food supply using the power of technology.