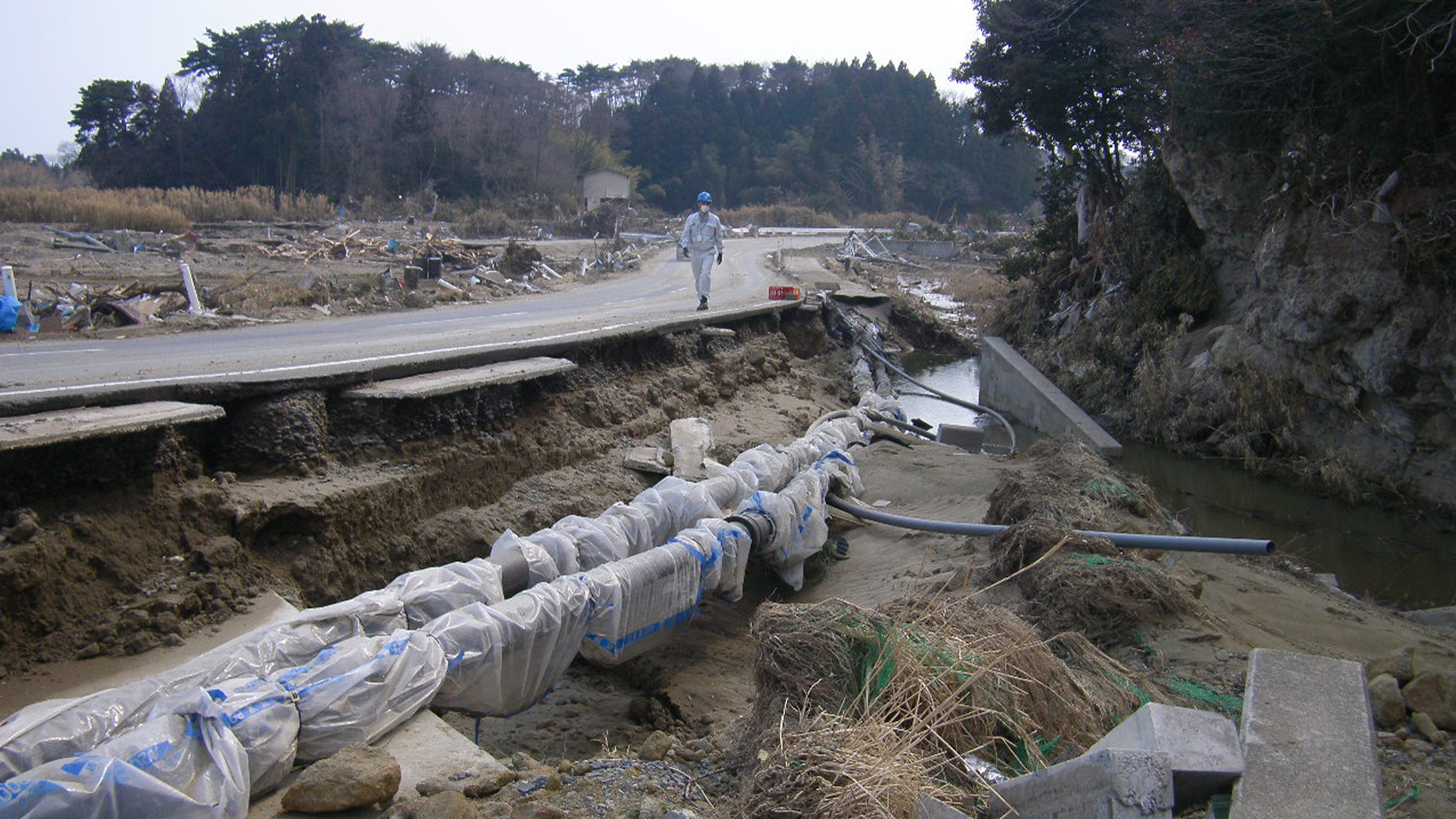 About 20% of the world's earthquakes of magnitude 6 or greater occur in or around Japan. Being such an earthquake-prone country has led to rapid advancements in construction and civil engineering technologies, with remarkable progress also being made in water pipe technologies. However, many of Japan's pipelines have exceeded their 40-year legal lifespan, and the increasing frequency of earthquakes in recent years has made renewing pipelines and improving their seismic resistance a source of major concern for society.
Water pipes are lifelines that are seldom seen by the general public. We talked to engineers involved in ductile iron pipes, the primary material in waterworks, about what's on their minds when they research and develop these pipes.
The Kubota Founder's Spirit Behind Ductile Iron Pipe Research
The history of Kubota's water pipe production in Japan dates back to 1893. The country was experiencing an outbreak of cholera and other water-borne infectious diseases, and waterworks facilities had become a pressing concern. With a spirit that said, "There is nothing we cannot do. We must never give up," Kubota's founder Gonshiro Kubota succeeded in mass producing the first water pipes in Japan, a task which other companies had abandoned as being too difficult.
Later, Kubota would begin research on so-called ductile iron pipes using a material called ductile cast iron. We have heard that Kubota faced a number of difficulties in the process of producing these pipes. What was its driving force?
Mr. Ishihara:
As engineers, we take a thoroughly hands-on approach and never give up. That's a spirit that has been handed down from our company's founder and from our predecessors.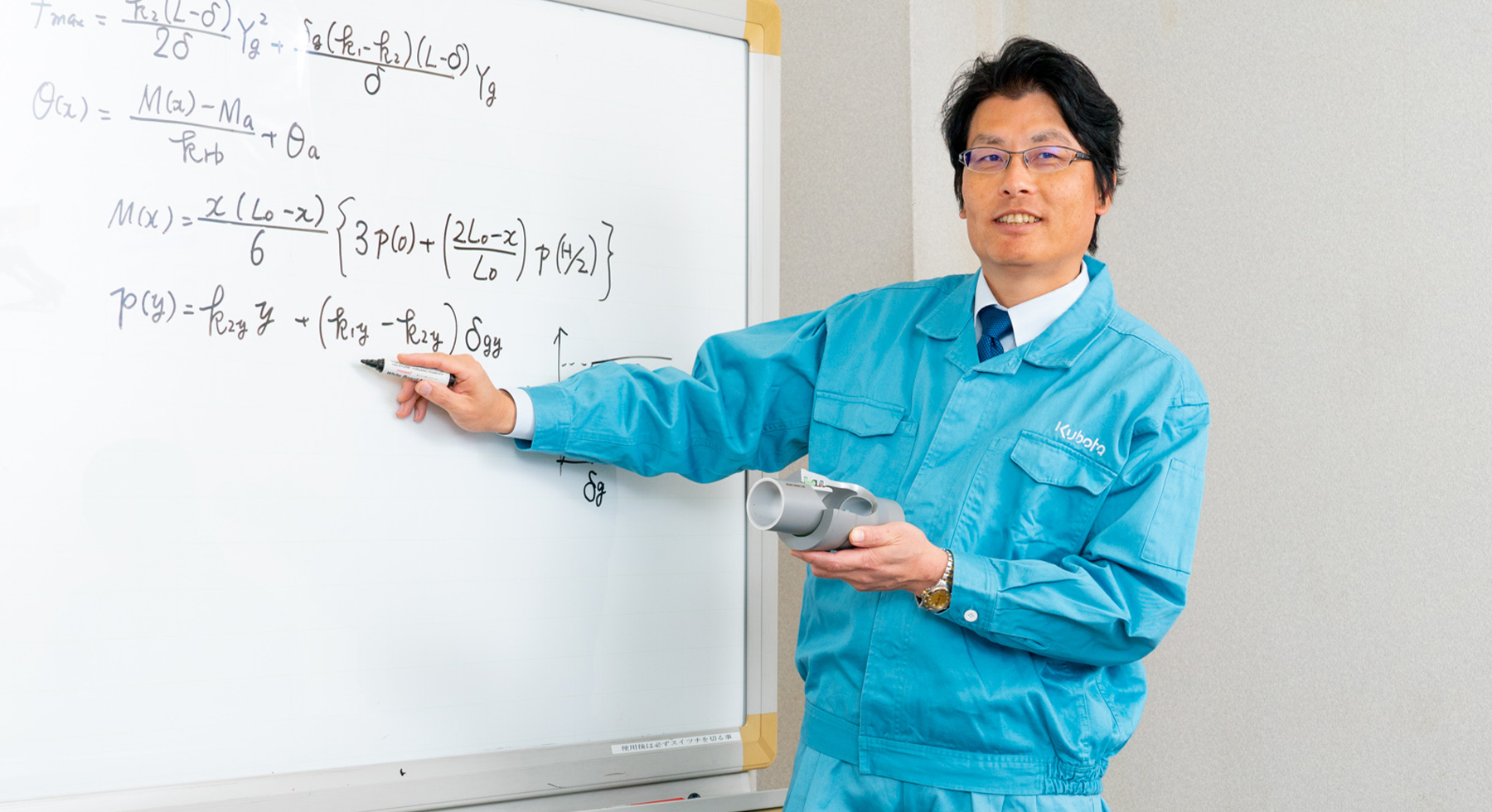 Mr. Ishihara:
For example, Japan's first earthquake-resistant ductile pipe was the S-type created in 1974. Its development was inspired by the 1964 Niigata earthquake, which registered a magnitude of 7.5. Engineers at the time realized the need for water pipelines that could withstand tremors, so they began researching the concept of earthquake-resistant joints and conducted ground deformation surveys at the site of the quake. Soon after that came the Tokachi-Oki earthquake, which registered a magnitude of 8.3. One city's water department suffered severe damage from this earthquake and made an urgent request for the development of earthquake-resistant water pipe joints. What we were already studying could fit perfectly with what customers needed. But in the end, making Japan's first earthquake-resistant ductile iron pipes for commercial use took nearly ten years from the Niigata earthquake. The driving force behind that success was our engineers' will to never give up until they created something useful for the world.
What inspires your sense of mission as an engineer?
Mr. Kishi:
The history of our ductile iron pipes was created by the founder of our company and the engineers who came before us. That means we've always felt a sense of both responsibility and pride as the engineers who carry on this history.
Mr. Kishi:
For Kubota, water pipes are the origins of our business. Today we handle a wide range of materials, from ductile iron pipes to PVC and polyethylene pipes. Kubota Group products are widely used in Japan, and as a leader in the field, we are committed to constantly developing new products and services that serve the needs of our customers.
Give us an example of the "hands-on approach" that Kubota values.
Mr. Kishi:
At the time of the Great Hanshin-Awaji Earthquake, engineers from what was then the Duct Iron Pipe R&D Department at the Hanshin Plant in Amagasaki City took off on motorbikes to visit the affected areas and conduct surveys. The engineers went around to multiple sites on their own and worked hard to collect information regarding where leaks had occurred and how badly pipes had been damaged. In the Great East Japan Earthquake, the scope of their surveys expanded to include areas affected by the tsunami. In places where roads had collapsed, they saw earthquake-resistant ductile iron pipes with joints that extended, contracted, and bent, but did not slip out. Seeing that, they were amazed that the water pipes survived such conditions. At the same time, this reconfirmed for me that our design concept that we had studied for so long and tested hundreds of times was correct.
Witnessing the devastation of an earthquake can be a painful experience. Yet we encourage our young engineers to visit affected areas as much as possible. We need to instill in them an awareness that our goal is to create water pipelines that can withstand even the worst conditions.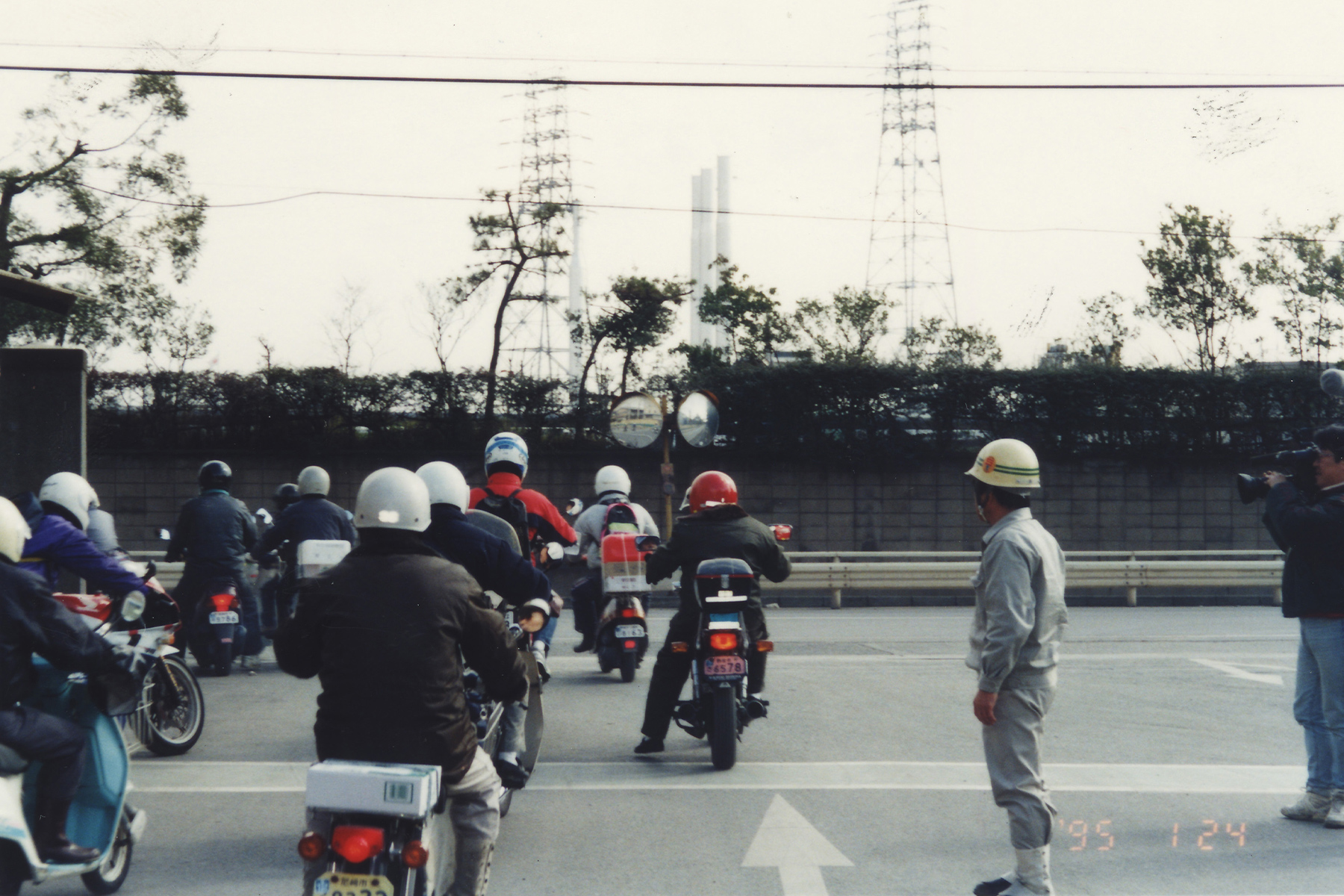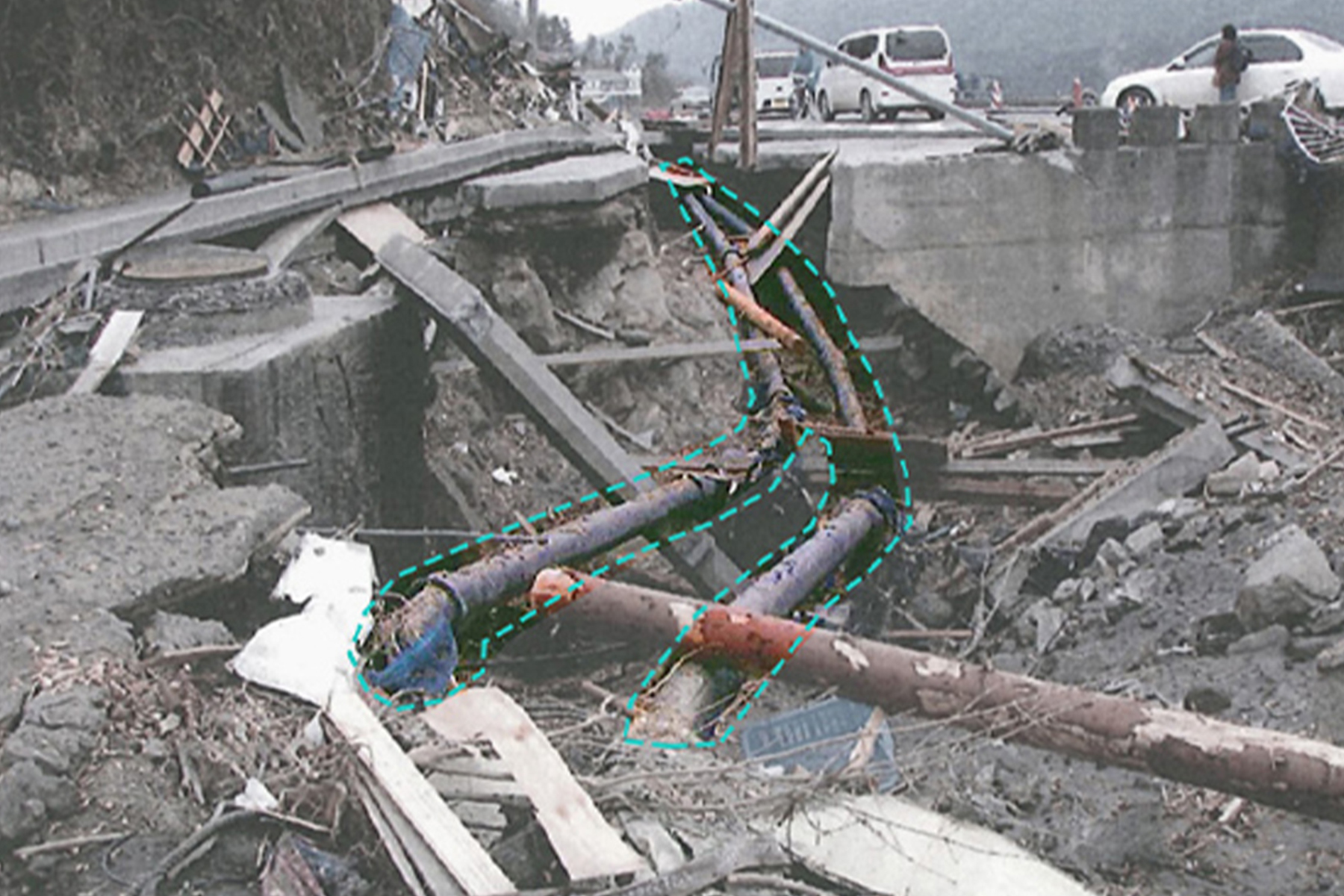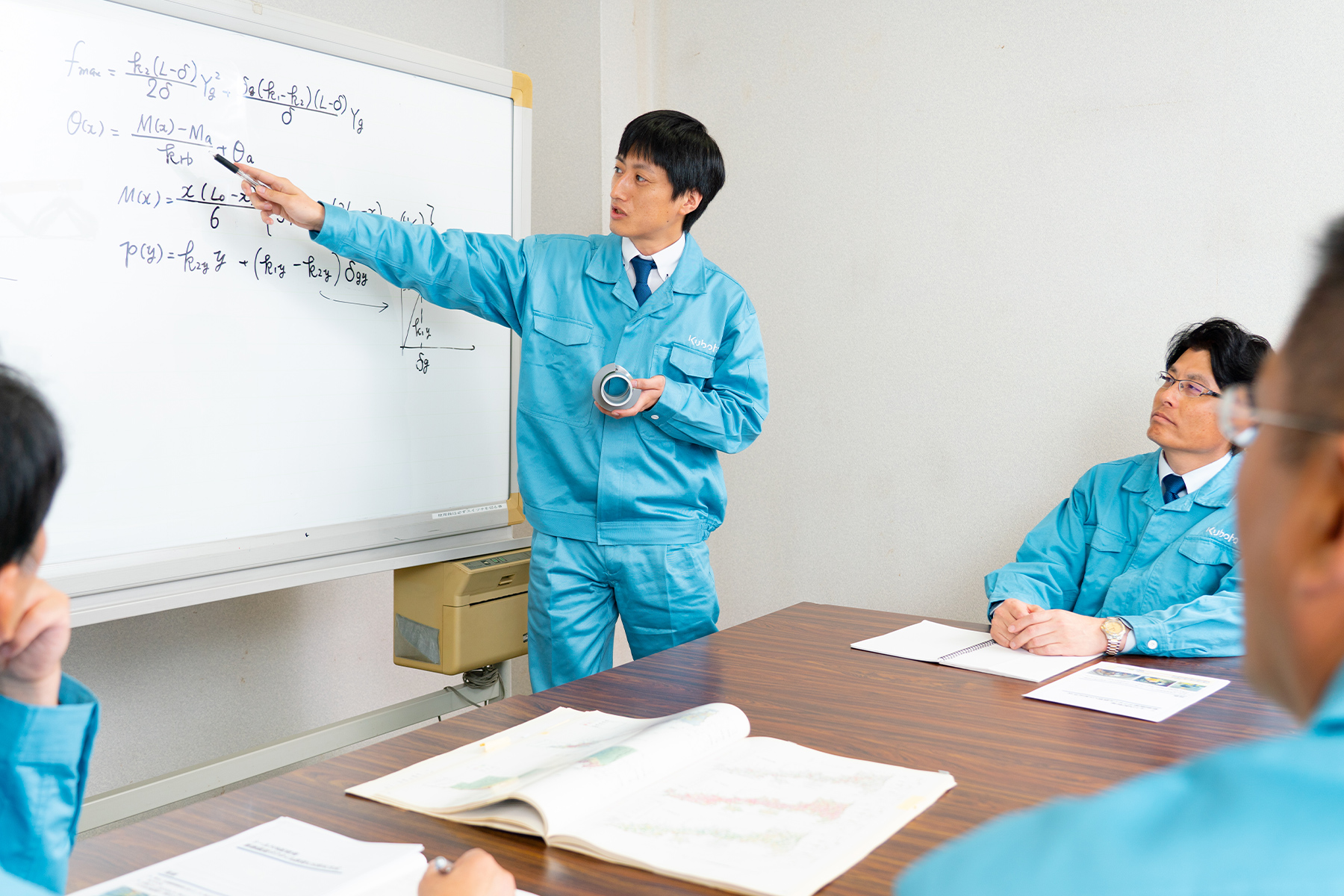 Engineers Study Earthquake-resistant Pipes with 100-Year Durability
GENEX is Kubota's next-generation earthquake-resistant ductile iron pipe. Developed in 2010, it is the first developed with a corrosion-resistant layer on the outer surface, with an expected lifespan of 100 years.
What was the hardest part about researching and developing these pipes?
Mr. Funahashi:
There were a number of challenges, such as adjusting the formulation of the zinc-based alloy used to form the corrosion-resistant external coating, and processing the alloy into a wire shape for spraying it on the surface of the iron. It was an unprecedented experiment.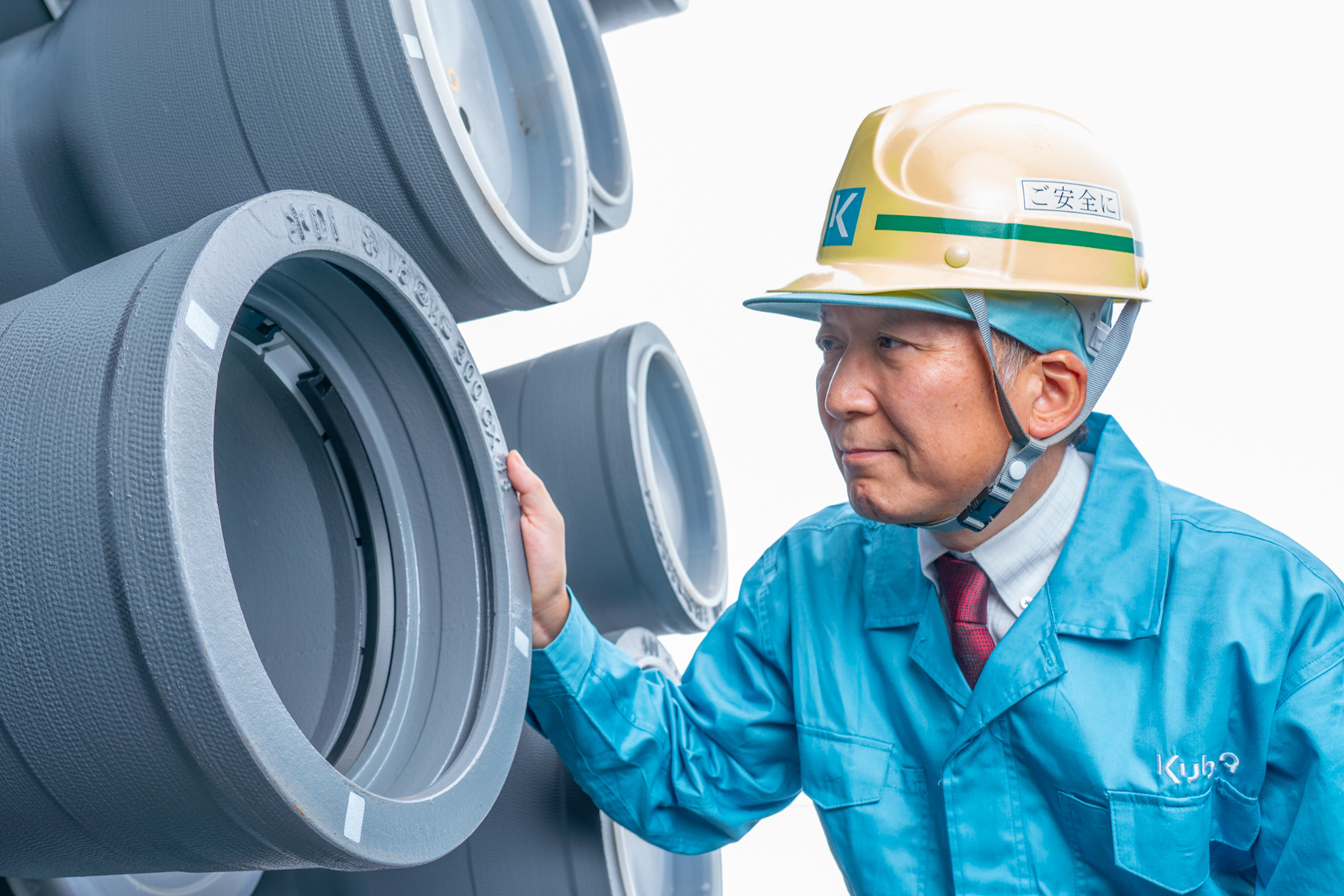 Mr. Funahashi:
One example is the zinc-based alloy coating that covers the surface of the pipe between the coating layer and the ductile iron part. This alloy is not commercially available, so we had to make it ourselves and repeatedly adjust the formulation. Also, we had to spray the hardened metal onto the steel pipe using a thermal spraying method. So the alloy had to be processed into a wire rod, and we had difficulty finding another company that would take on this task. We were turned down by major companies at first because nothing like this had been done before. I was at a loss, but I didn't give up searching for and negotiating with partner companies. Finally, one company agreed to take on the project. I remember how relieved I was.
As an engineer who keeps creating new things that never existed before, you must have felt a lot of pressure at times.
Mr. Ishihara:
When I introduce a new product or technology to the world, I have confidence that it will work. That's because we do repeated testing using actual products under harsh conditions. And I think our founder's spirit is the driving force that keeps us focused on researching and developing.
Kubota's earthquake-resistant ductile iron pipes are said to have enough seismic resistance to withstand repeated earthquakes, even if they make it through a major one. The engineers' research includes repeated testing and demonstrations, and the results of that research have been highly acclaimed for their excellent performance and reliability, leading the pipes to be adopted quickly throughout Japan.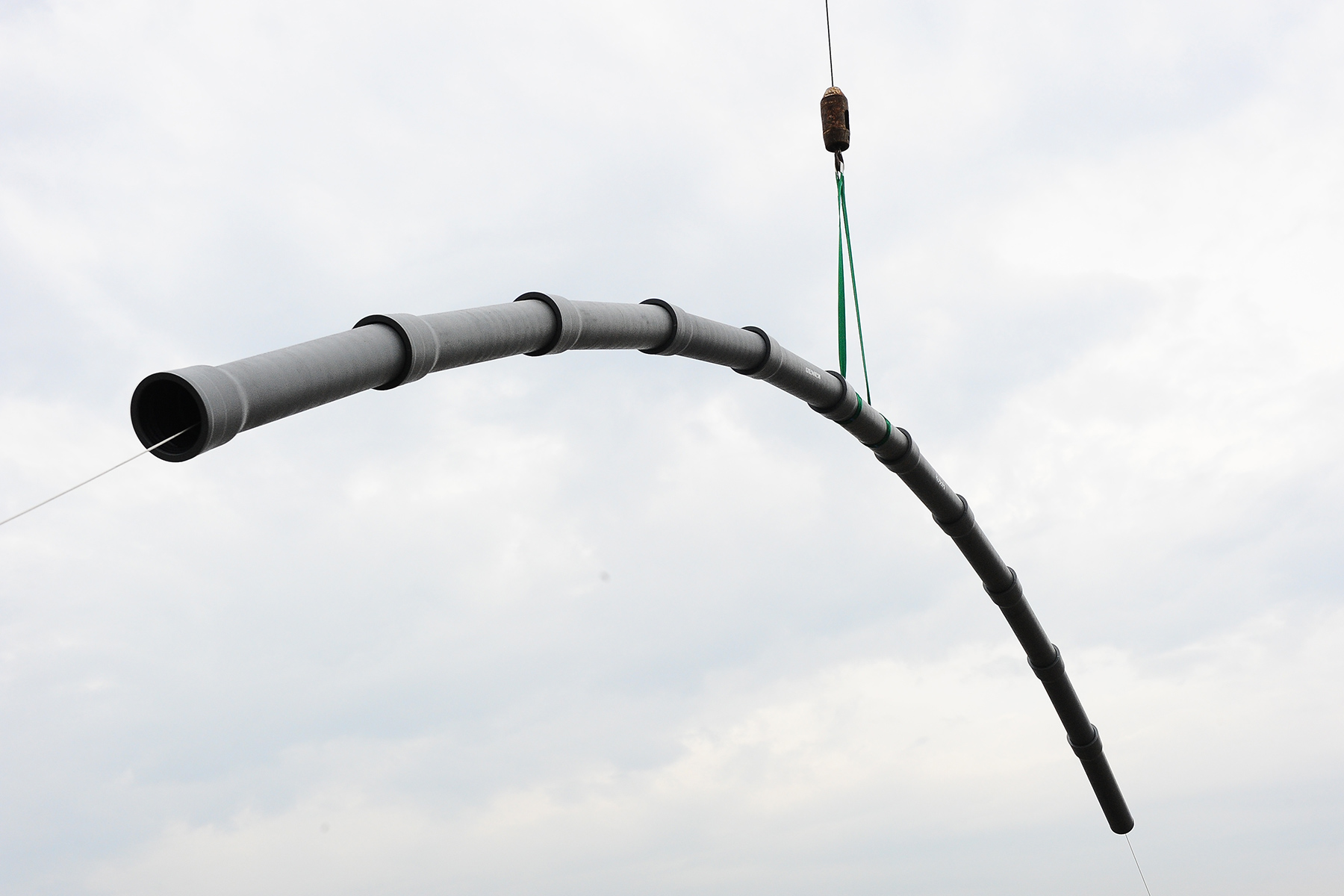 Taking Japan's Earthquake-resistant Pipes to the World
In 2012, Kubota's GENEX pipes were adopted on a trial basis in Los Angeles, U.S.
Tell us about your first overseas project.
Mr. Kishi:
The west coast of the United States is an area that experiences frequent earthquakes. A person who was part of the Los Angeles Department of Water and Power at the time was very interested in Kubota's earthquake-resistant ductile iron pipes because they resisted damage during the Kobe and Great East Japan Earthquakes. The department decided to adopt the pipes on a trial basis. Although the project was initially just a trial, Kubota engineers provided full-scale support from pipe design to on-site supervision of jointing work to alleviate the customer's concerns, which earned high praise from local officials. This has led to a steady increase in the number of projects using the earthquake-resistant ductile iron pipes developed in Japan, especially along the West Coast.
There are many more earthquake-prone countries throughout the world. We may have more opportunities for the pipes to be adopted in Official Development Assistance (ODA) and other such projects in developing countries.
What are your future goals and prospects as engineers?
Mr. Kishi:
Our goal is to contribute to the construction of water pipelines that are more resilient and enable people to get water from their faucets at any time. If there is an earthquake or other natural disaster, water is the first thing people will need. We want to help create a stronger infrastructure that can supply clean and safe water, so that is another reason we will continue to promote R&D that anticipates customer needs.
Mr. Ishihara:
In urban areas, there is an increasing demand for renewal of the vital main lines that are difficult to replace through open-cut construction due to the high volumes of road traffic. Given this situation, we need to keep developing new products and construction methods that can help solve problems faced by water utilities. In addition, some customers face issues such as declining budgets and shortages of engineers. For these customers, we will keep being proactive in our R&D so that we can provide new products and services enhanced with IoT to improve the productivity of waterworks.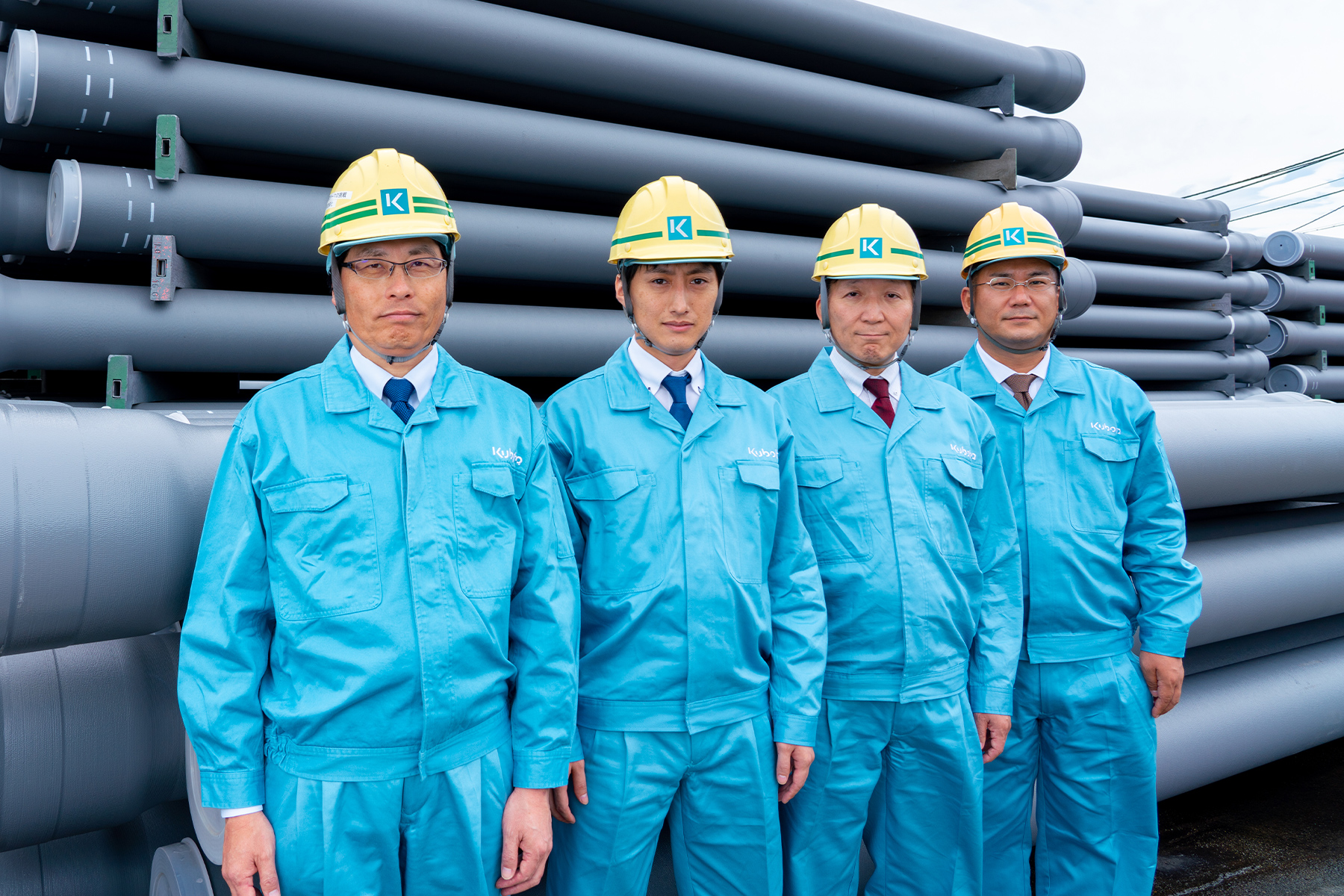 In the early Meiji era, founder Gonshiro Kubota's strong desire to "save people from the menace of water-borne infectious diseases" led to the production of Japan's first domestic water pipes. "I want to make something useful for the world," he said. "We can do it if we try. We must never give up." This spirit has been handed down to the engineers at Kubota for more than 130 years.