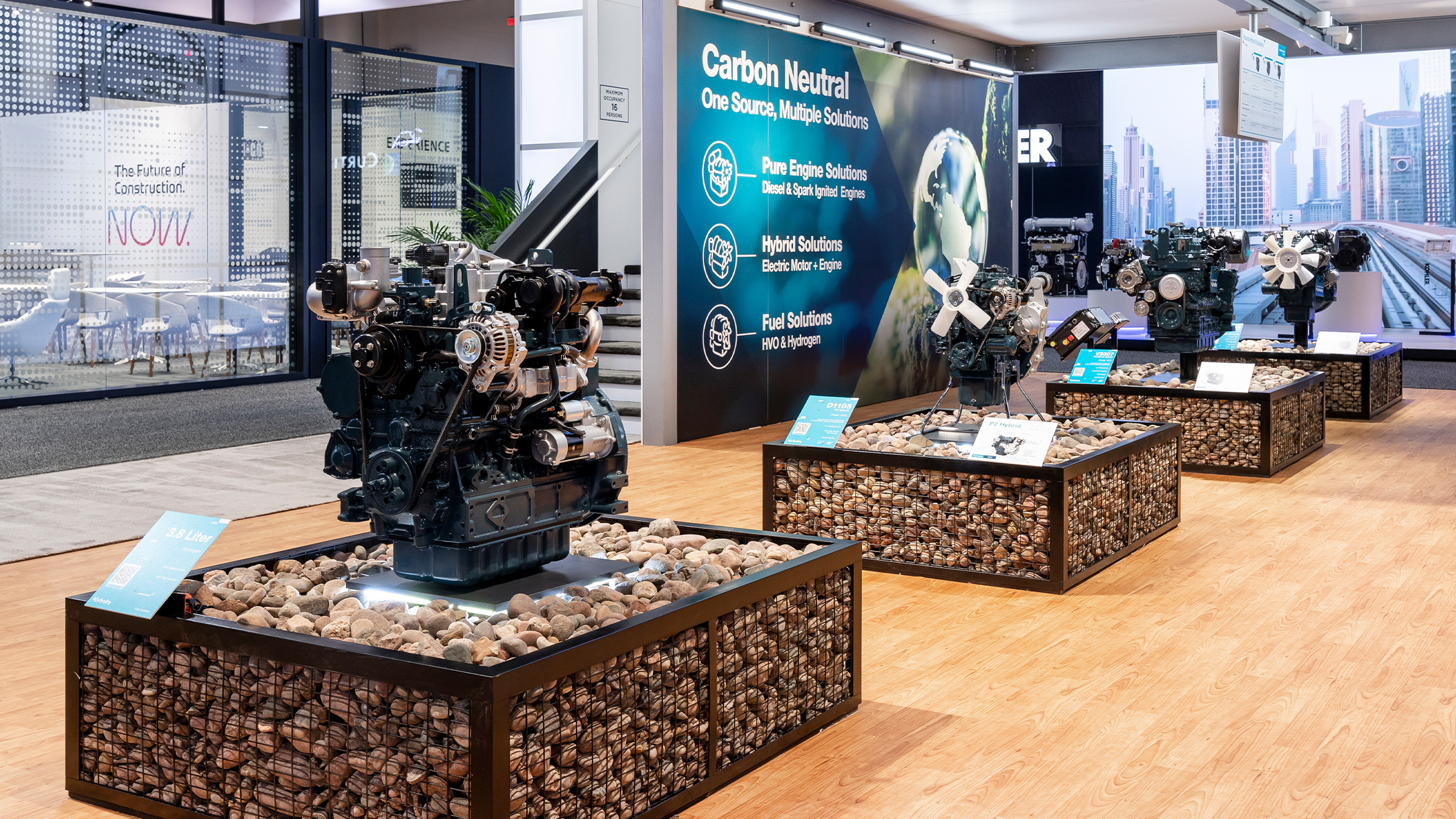 Today, regions and companies throughout the world are working to achieve carbon neutrality. Carbon neutrality of engines, the power sources for a wide range of industries, is one of the challenges that cannot be avoided. Kubota Engine is dedicated to addressing this challenge.
The Challenge
Diversifying Needs for Industrial Engines
The term carbon neutrality refers to efforts to balance the amounts of greenhouse gases emitted and absorbed, making them net zero. The Paris Agreement (2015), which provides an international framework for climate change issues from 2020, sets a target "to achieve a balance between anthropogenic emissions by sources and removals by sinks of greenhouse gases in the second half of this century." Regions and companies worldwide are making efforts to achieve this goal.

As with other sectors, the industrial world is ramping up its efforts toward achieving carbon neutrality, and companies are taking on the challenge of reducing their environmental burden. However, industrial machinery encompasses a wide variety of devices, including construction machinery, agricultural machinery, vehicles and power generators. These are used in different ways and in different environments, and they are covered by regulations that vary from region to region. For these reasons, there are many different approaches toward achieving carbon neutrality.
In their roles in serving as power sources for industrial machinery while contributing to carbon neutrality, industrial engines are facing an increasingly diverse array of needs.
Approach
Kubota Engines Continue To Meet OEM Demands
Kubota Engine offers the advantage of customization to fit the needs of industrial machinery made by OEMs. The company has always met the individual and specific needs of OEMs by developing more than 3,700 types* of engines to provide the power needs for a wide range of industrial machines.
Even today, as demand for carbon-neutral industrial engines increases, Kubota has maintained its policy of customizing engines to meet needs and has continued to provide engines that serve as options for OEMs. To meet new needs for carbon neutrality, Kubota is leveraging its technologies and experience gained through over 100 years in business and is promoting three solutions that further advance the low-carbon and decarbonization trend.
Solution
Kubota Engine Solutions That Contribute to Carbon Neutrality
Kubota's three solutions are Pure Engine Solutions, Hybrid Solutions and Fuel Solutions. Each takes a unique approach in the quest to realize carbon neutrality.
Pure Engine Solutions
Pure Engine Solutions are an effort to further improve the fuel efficiency of existing engines. For example, the D902-K electronically-controlled small engine, for which mass production began in 2022, employs TVCR, Kubota's exclusive combustion system.
TVCR uses the common rail electronic control system found in large diesel engines in a form optimized for small engines. This reduces emission of black smoke and achieves lower fuel consumption while maintaining the engine's compactness.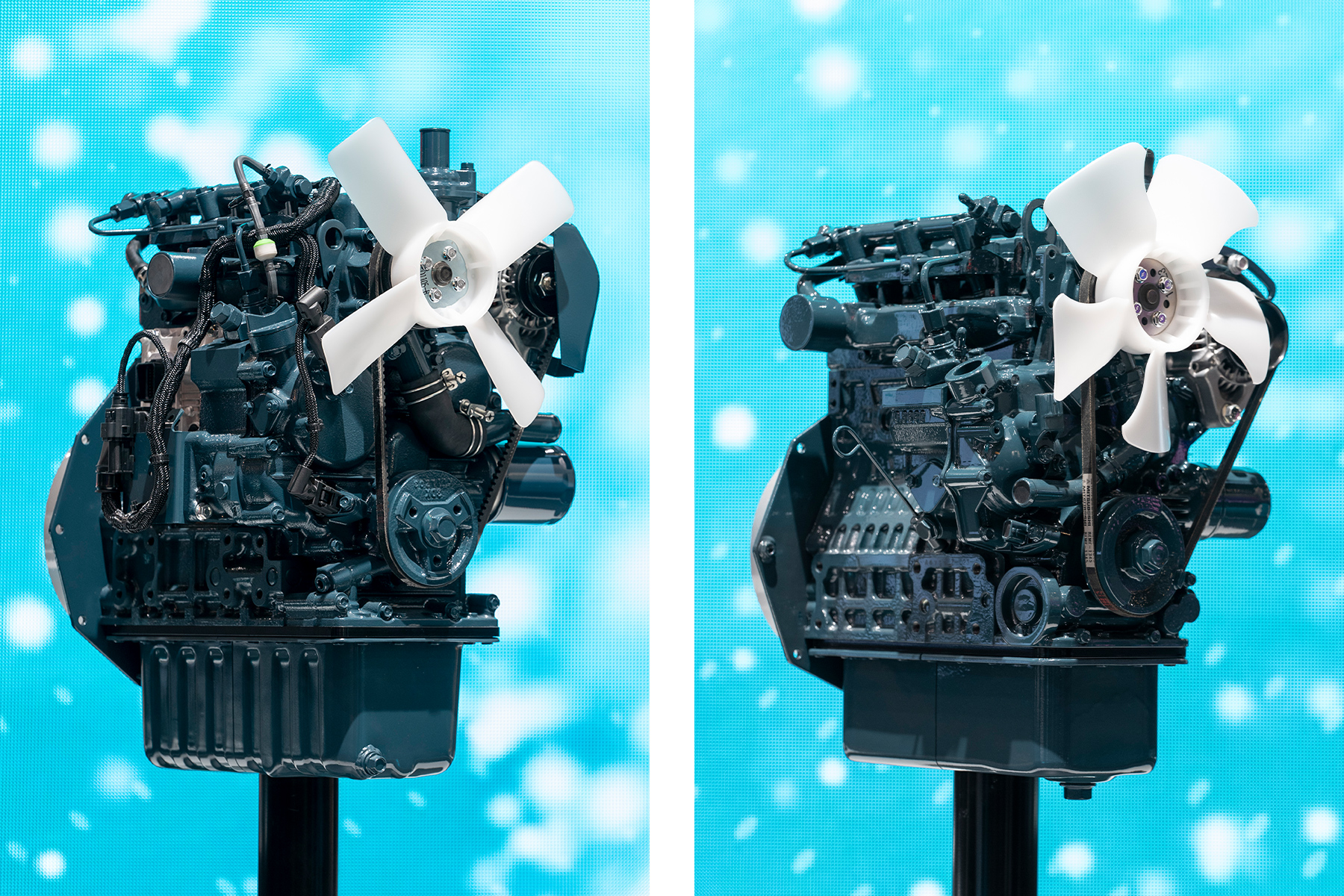 Hybrid Solutions
Hybrid Solutions combine an engine with an electric motor mechanism. When high output and load are required instantly, the electric motor compensates for the engine's output. This means a 2.4L or 1.8L class engine can be used where a 3L class engine would normally be needed, which helps to achieve downsizing and lower fuel consumption.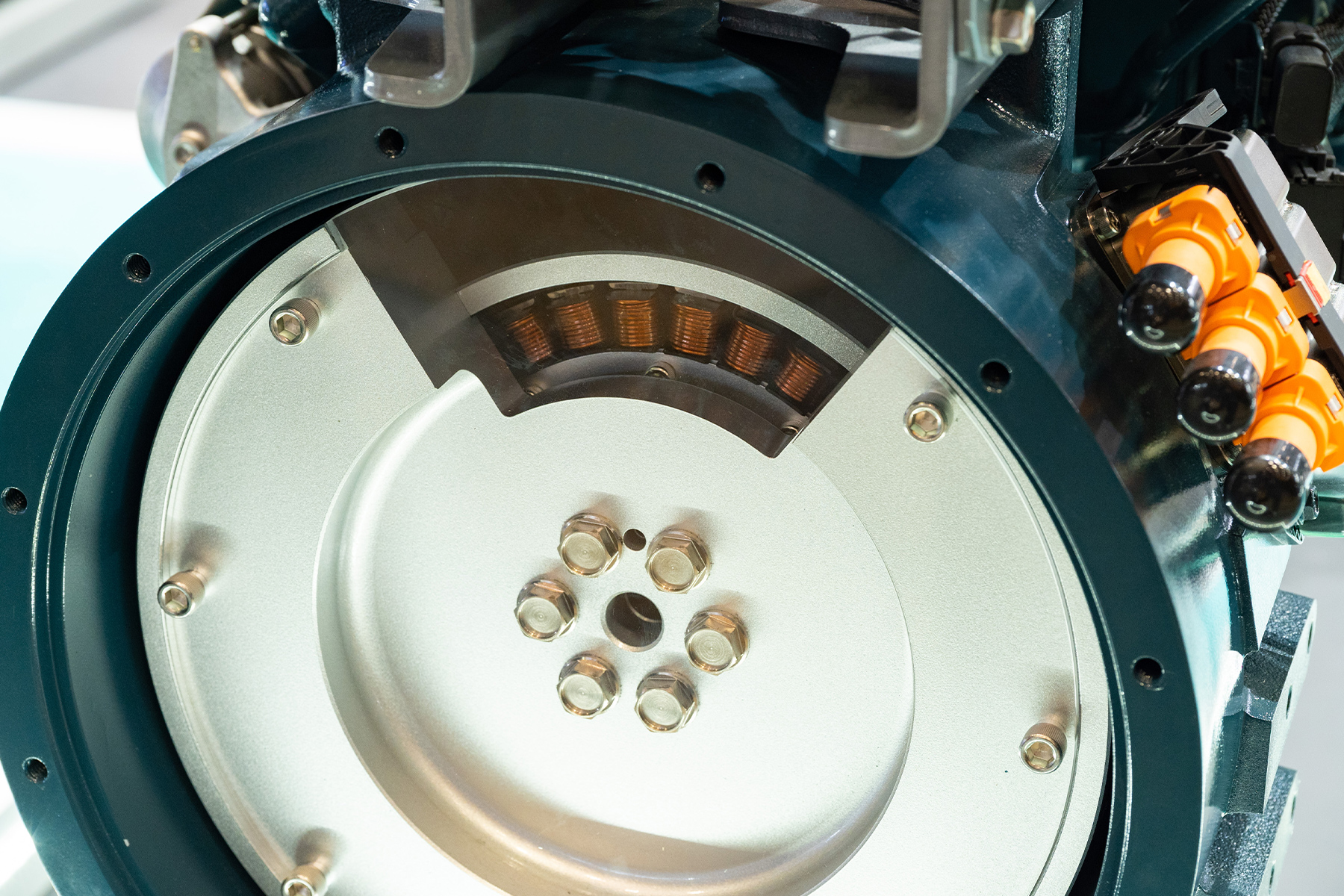 Fuel Solutions
Fuel Solutions enable the use of alternatives to fossil fuels. One example is the D1105-K engine that runs on hydrotreated vegetable oil (HVO), which is produced by introducing hydrogen to vegetable oil. HVO raw materials are plants, and plants consume CO2 when they grow. This offsets the CO2 emitted during combustion, and therefore HVO-compatible engines contribute to carbon neutrality.
Kubota is also working on development of a hydrogen-fueled industrial engine based on the engine technologies it has accumulated over its long history. The company aims to contribute to decarbonization through industrial engines that run on hydrogen, which emits no CO2 during combustion.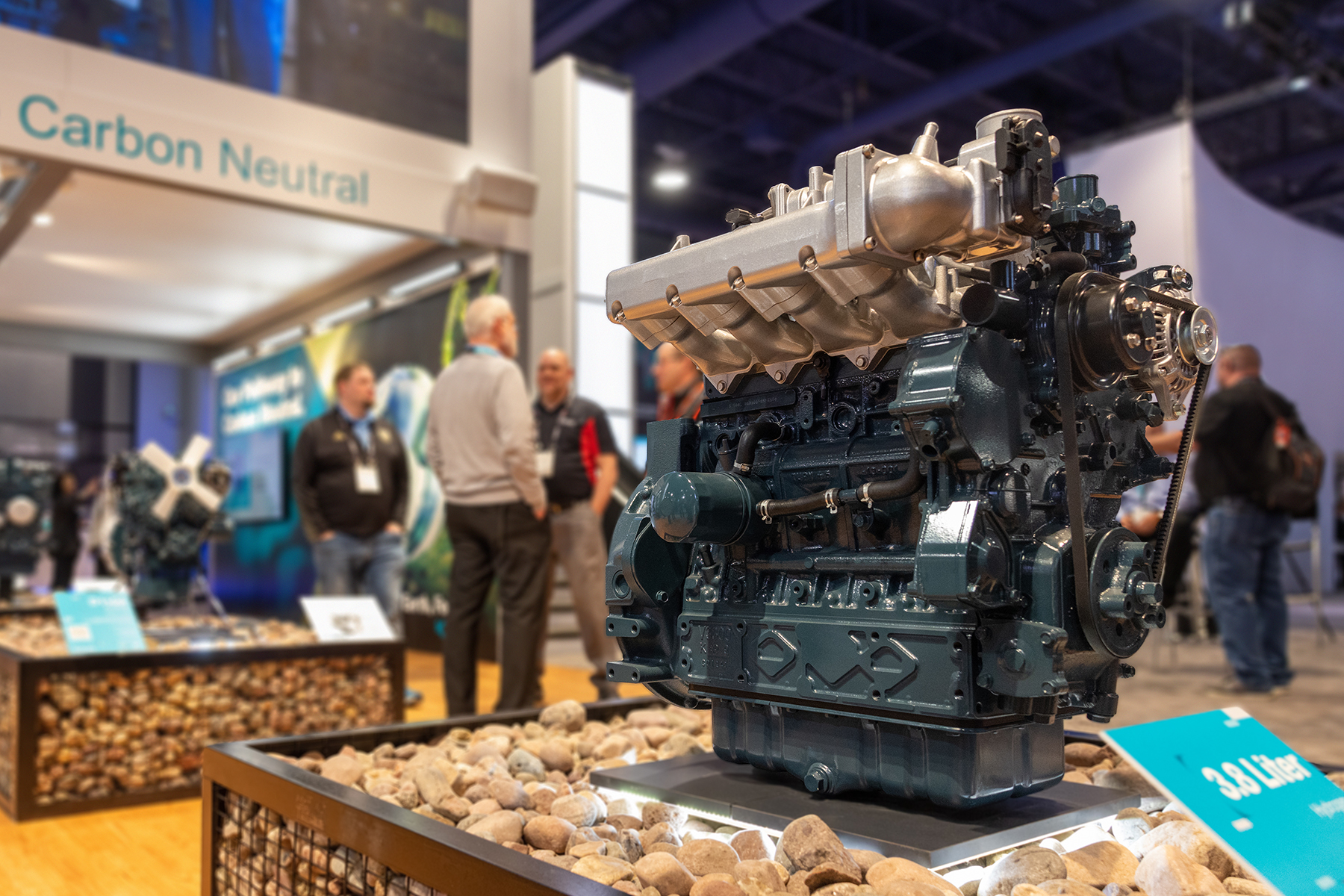 When talking about decarbonization of engines, electrification is often the most commonly discussed. But not all industrial equipment can be electrified because industrial machinery requires massive power output and is sometimes operated in locations where a power supply is not readily available. In order to enable the promotion of decarbonization in industrial equipment that cannot be easily switched to electric, Kubota is working to supply engines that are fuel-efficient, hybrid or can run on alternative fuels. Kubota is aiming for an environment in which manufacturers can choose the best engine solutions for their products from a wide range of options.
Kubota Engine's Globe-Spanning OEM Network and Personnel Support
"The success of Kubota's carbon-neutral initiative is driven by the organization's vast business information network and its dedicated team of forward-thinkers," says Toshiyuki Taneda, Kubota Executive Officer and General Manager of its Engine Division.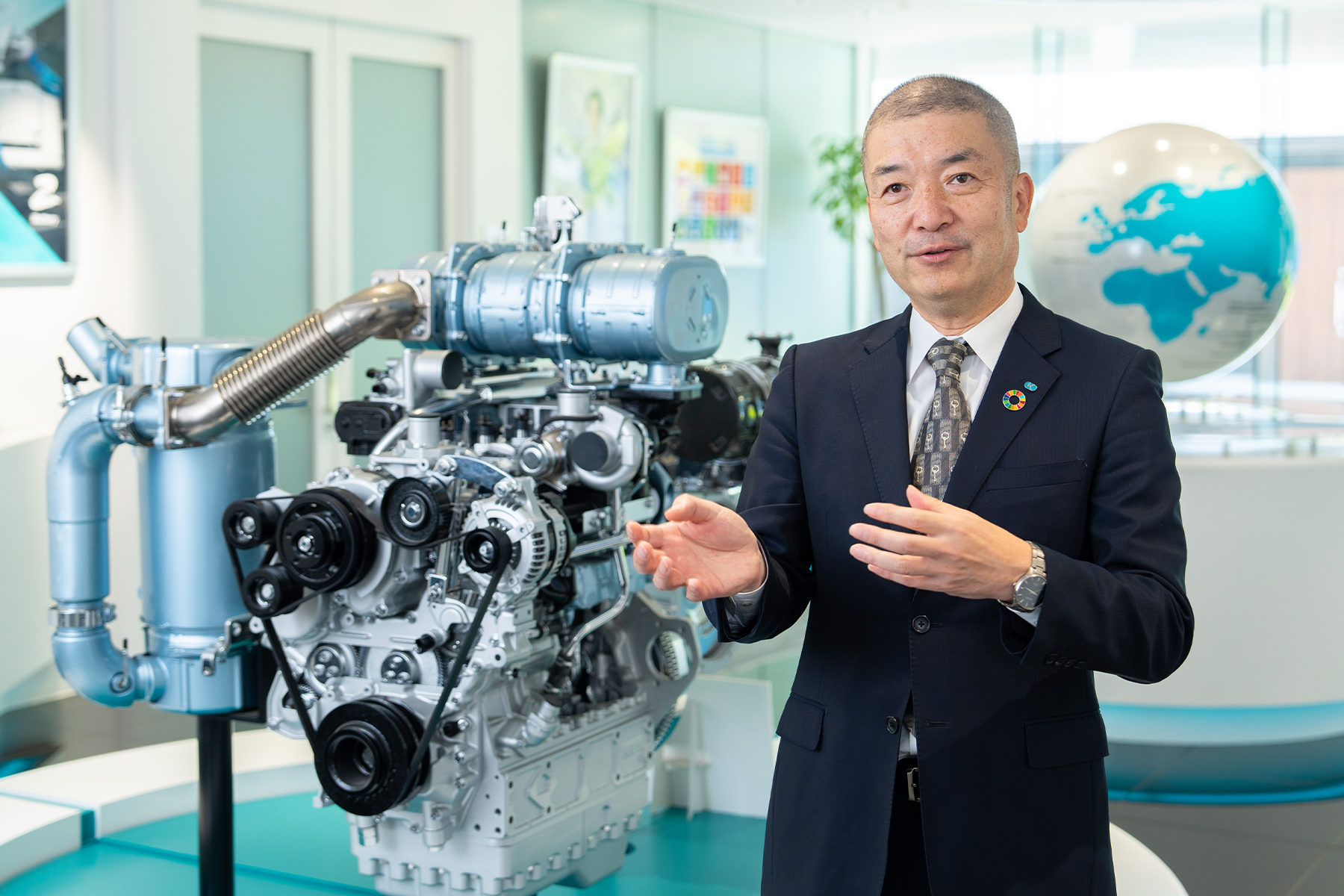 Kubota Engine is dedicated to expanding its footprint to best support its OEMs.
"As we expand our business globally, we are gathering information about market and political trends throughout the world as well as OEM demands. For example, when HVOs, which had not yet been distributed in Japan, started to be used in overseas markets, we set our business strategy based on that information and worked to contribute to carbon neutrality by making Kubota engines compatible with HVOs. Being able to provide engine solutions tailored to the usage environments, regulatory systems and current demands in various countries and territories is one of Kubota's main advantages," Taneda continued.
Taneda adds that the system Kubota has developed to demonstrate this advantage is one of its greatest resources.
"At Kubota Engine, we have a Sales Department that has discussions with OEMs to clarify what kind of customization they need, along with an Engineering Department, Manufacturing Plant, Production Department and Procurement Department that can provide this customization according to the OEM's needs, and a Service Department that provides comprehensive after-sales service for any of our thousands of engine types. We have built our organization to provide each and every OEM with choices of engines customized to match their requirements and the best possible service," Taneda included.
Focusing on a Continuous Supply of Compatible Engines
While Kubota promotes its Pure Engine Solutions, Hybrid Solutions and Fuel Solutions that meet today's needs, it places a special emphasis on compatibility with existing products in its product supply.
"With industrial machinery, it's not only cutting-edge technology that is being used," continues Taneda. "Legacy parts are also indispensable. For that reason, we are engaged in research and development on a daily basis to avoid the situation that companies suddenly cannot produce products if those parts become unavailable. This explains Kubota's focus on 'continuous supply' of engines."
Industrial machinery has an extremely long service life. If the shape of an engine changes, the design of the machinery that uses the engine must also be changed. But rebuilding the design is no easy task considering the long service life of industrial machinery. For this reason, Kubota is focused on continuing to produce engines in the same shape to the greatest extent possible as the company seeks to comply with increasingly stricter emissions standards.
"If we are only concerned about pursuing new value, I believe we will not be able to meet the needs of society. Our customers are also keenly interested in stability of supply, so what is important is how we can keep producing while fulfilling society's demands," Taneda said.
For the Future
Providing Engines That Contribute to Carbon Neutrality Worldwide
Engines make our daily lives possible through their work in places we do not usually see.
"We take pride in supporting society through our industrial engines. As we respond to new societal demands in terms of carbon neutrality, we hope to contribute to the realization of a more prosperous society," Taneda said.
To reduce industrial engines' carbon footprint, the Engineering, Sales and Service Departments, Manufacturing Plant and other parts of the company will join forces as One Kubota to deliver engines that contribute to carbon neutrality throughout the world. And our talks with the team let us know the passion behind their mission.
Today, carbon neutrality is being sought for industrial engines that power a wide range of industrial machinery. To support these new needs for decarbonization in industrial engines, Kubota is continuously dedicated to putting forward the best solutions.