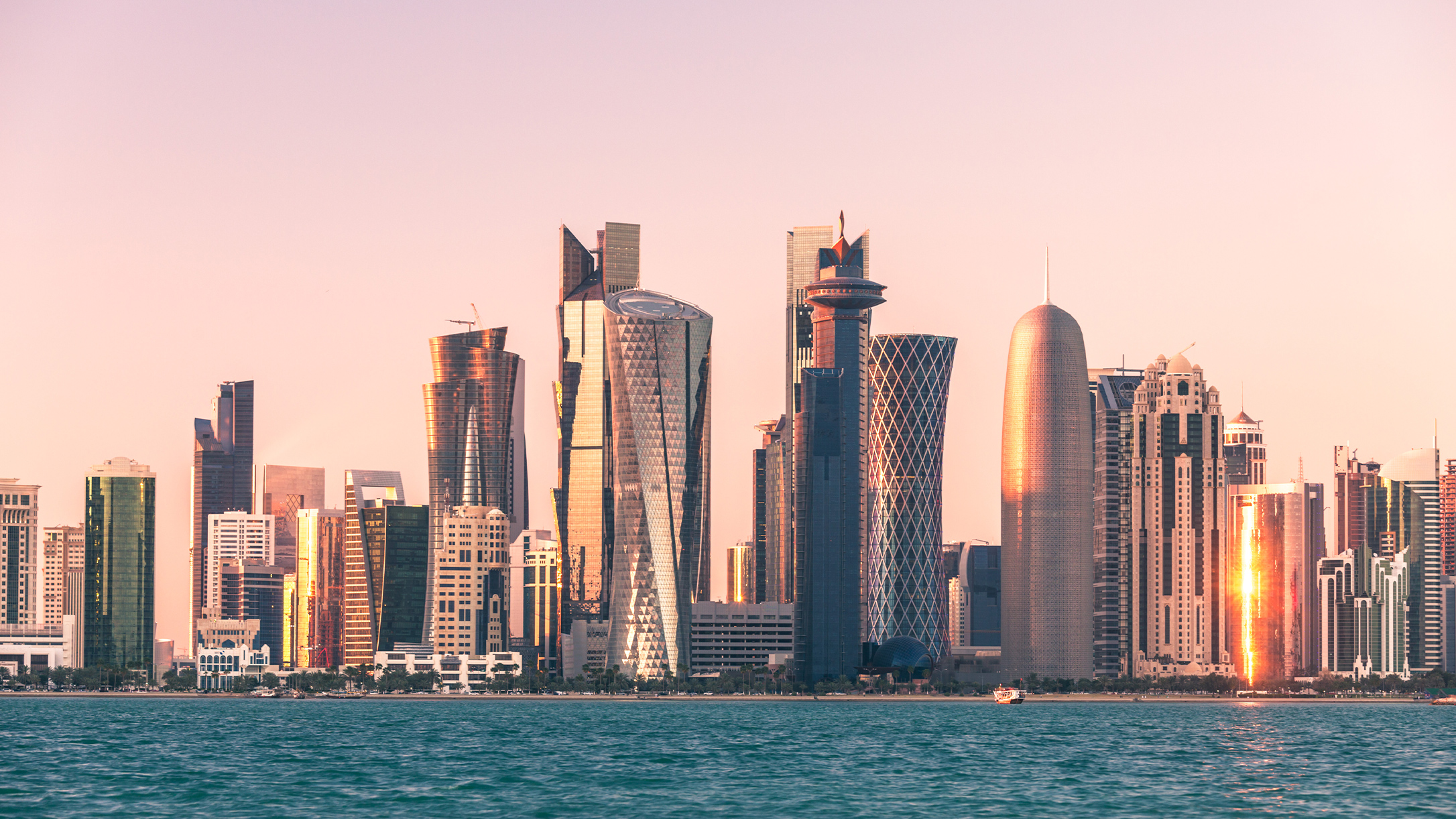 Qatar is attracting attention from around the world for its tremendous economic growth. Although many imagine it to be a desert nation, its capital city Doha has a rich landscape with rows of skyscrapers and fountains all about. This abundant water symbolizes the city's prosperity, and Kubota helps to make it possible.
A Desert Nation Takes On a "World-Class" Project
The annual precipitation in Qatar is just 74 millimeters (compared to 1,668 mm in Japan)*1. Although water for everyday use is supplied through desalination of seawater, reservoirs used to only store enough for two days. In 2010, the Qatar government launched its Water Security Mega Reservoirs Project to provide seven days of storage in case of an emergency. Technologies and people came together from around the world to make one of the largest water-supply projects in the world possible.
"What a huge project. It is beyond all imagination."
That was the reaction of Satoshi Masuko, the head of sales at the International Water and Environmental Engineering Department, when he first heard about the project.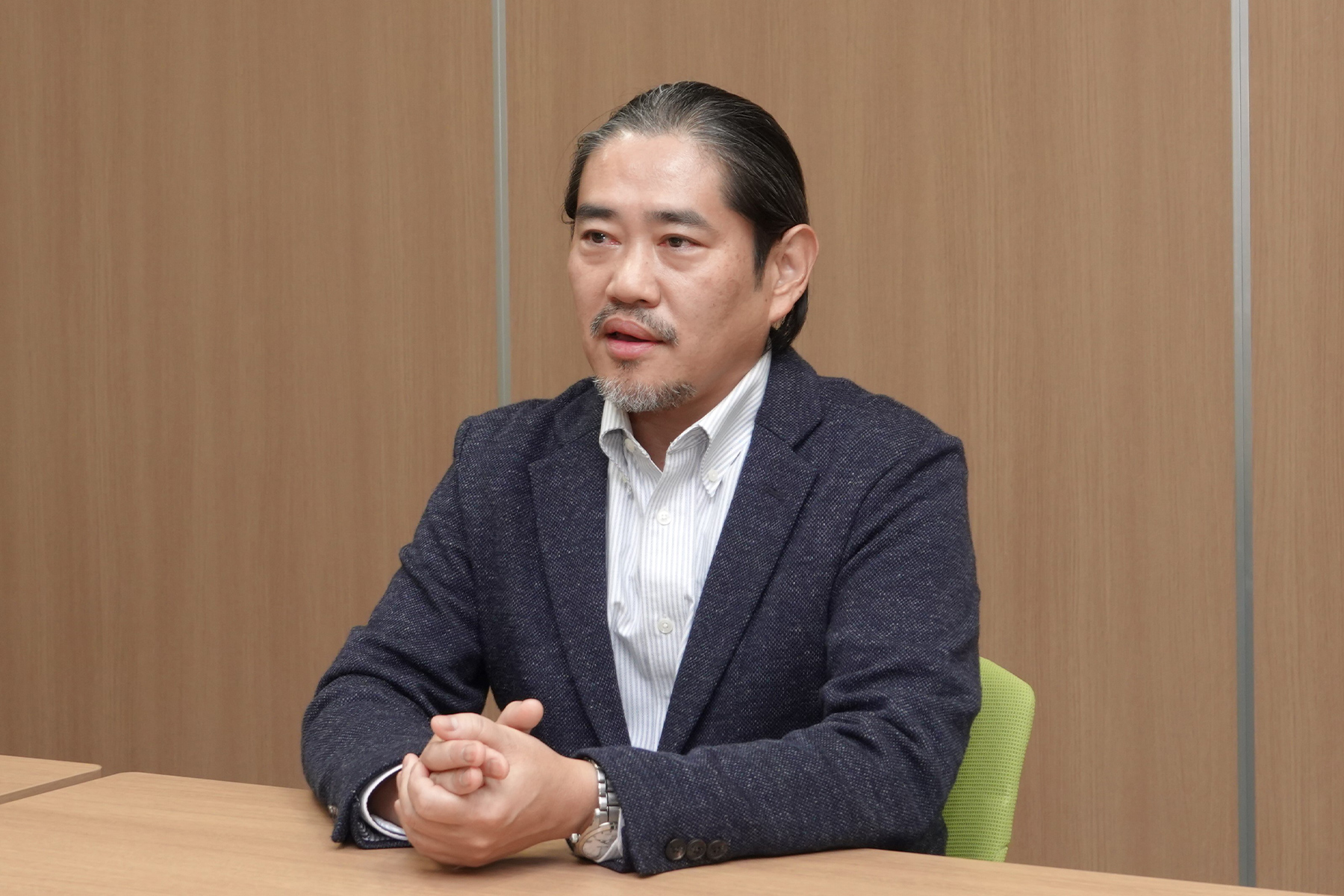 The plan was to build huge reservoirs in five locations surrounding the Doha city center, where more than a million people*2 live, and connect them with about 480 kilometers of pipelines. In terms of both scale and concept, it was the first project of its kind ever in the world.
With such a construction project, the challenges were also unprecedented. Kubota received orders for approximately 33,000 water pipes covering about 300 kilometers. The construction required a large volume of products with dependable quality, manufactured in a short time of about a year and a half and delivered simultaneously to multiple sites. If construction had to be stopped due to delivery delays, costs in the hundreds of millions would be incurred.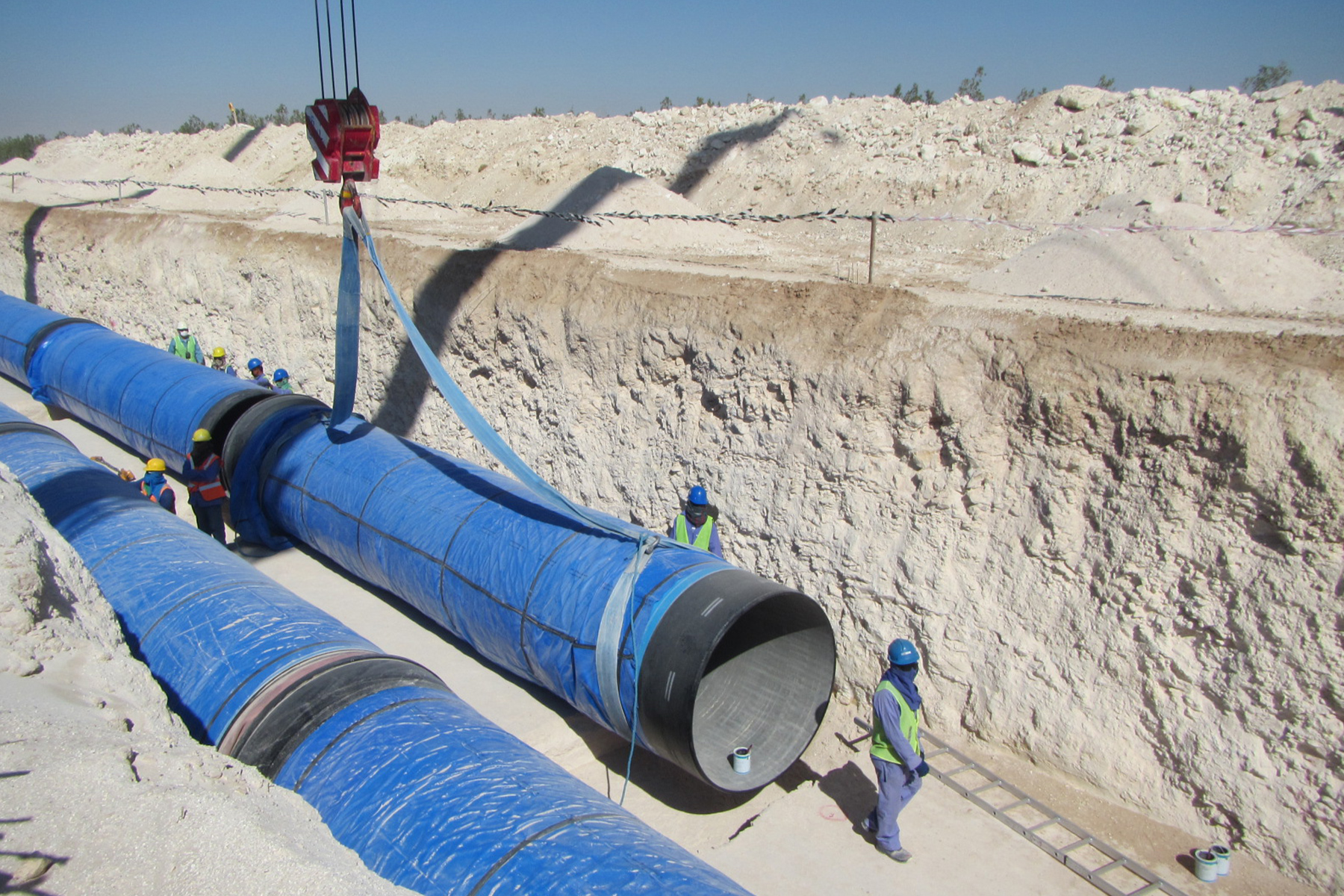 The Keiyo Plant (Funabashi City, Chiba Prefecture), which manufactures water pipes, and the Hanshin Plant (Amagasaki City, Hyogo Prefecture), which makes fittings such as bends and tees to change direction and branch pipelines, handled the work by extending their operating hours. "We also had to arrange for ships to transport large amounts of products, and to keep them for shipments," recalls Masuko. "The fact that we accomplished this without any major setbacks was a result of the collective effort by everyone involved, from manufacturing and quality assurance to logistics."
He adds that this teamwork was enhanced by the pride that everyone felt about supporting society from behind the scenes.
"I am personally delighted by the fact that this work let us be useful to society without calling attention to ourselves," he says. "I'm sure others involved felt the same way."
Masuko also points out "the technologies and trust that Kubota has built up over many years." As further evidence, he recalls one story that exemplifies the trust built by successive generations of Kubota representatives since the company entered the Middle Eastern market in the 1970s.
One day, an engineer from a Qatari water utility showed Masuko a photo and asked him, "Do you know what this is?" It was a photo of a water pipe supplied by Kubota in the 1980s, taken when the pipe was dug up for redevelopment. The pipe was in such excellent condition that it was hard to believe it had been laid 30 years before. "It's as good as new," he said. "We can still use it. Kubota truly offers the best quality." Hearing these words, Masuko felt certain this quality led to the trust they had earned.
Behind the choice of Kubota from among global competitors was its stellar record of solving water-related problems in the 130 years since its founding.
Technology and People to Realize Custom-Made Projects
Another Kubota product used for the project was the pumps that deliver water through the pipelines. There are 34 pumps and 8 models in total. This also presented a huge challenge.
To achieve the objective of dependable water supply, strict demands are placed on pumps, such as adaptably changing the rate and direction of the water flow even if a disaster occurs. This could be a job for Kubota's technologies that can efficiently handle both low and high volumes of water. However, satisfying the customer's complex demands meant that close communication among Kubota's departments, from design and manufacturing to quality assurance, was also essential.
The one who took on this challenge was Ryuji Morishima, who is in charge of engineering proposal in the International Water and Environmental Engineering Department.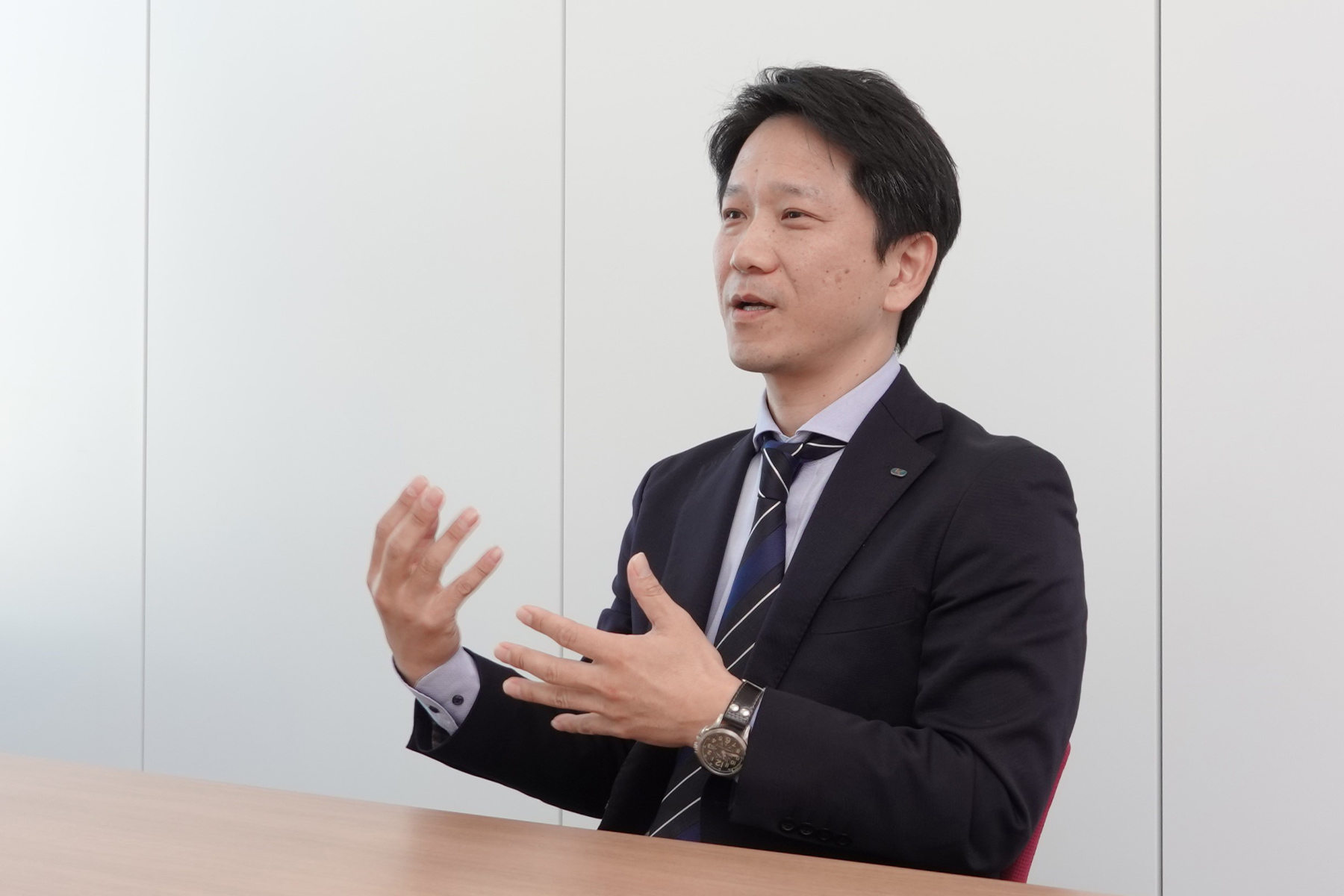 Kubota's pump business excels at its ability to handle "custom-made" orders where the specifications are ironed out through discussions with the customer. Morishima likens the process to custom-built homes. Just as the lifestyle of the occupant is reflected in the way a house is designed, custom-made orders require more than just buying and selling products; they require communication between people.
"No matter how good the products are, if the manufacturer's representatives do not give customers the support that meets their requirements, then they will not live up to the customers' expectations," says Morishima. "Our product is the pump, of course, but I myself can also be considered a product."
As the project manager, Morishima has to understand and convey requests back and forth between the customer and the design department over and over as the project goes forward. "To understand the customer's needs and the story behind them, and to propose the best possible solution that Kubota can achieve – that is the ultimate service," he believes.
As the project moved along, Morishima was also surprised by the Qatari people's consciousness toward the importance of water. The customers placed particular priority on product quality and made frequent trips to the plants in Japan to witness all steps in the process, from casting, water pressure testing, and painting to performance testing for all 34 pumps. The production line had to be stopped each time to accommodate their requests.
"From the plant supervisors' view, it was unheard of," says Morishima. "But it showed me how much the Qatari people care about water." This experience made him realize the weight of Kubota's responsibility as a partner in this nationally vital project.
Reflecting on this experience, Morishima says that the Mega Reservoirs Project can be called the culmination of Kubota's water business.
"Social infrastructure affects people's lives, so failure is not an option. What our clients prioritize is sufficient experience that shows we can fulfill a role. In this project, one of the key factors was Kubota's history of experience and trust in water pipes. The project was a total solution that combined the pumps that send out water with the water pipes that deliver the water, so in that sense it could be called the culmination of Kubota's water-related businesses."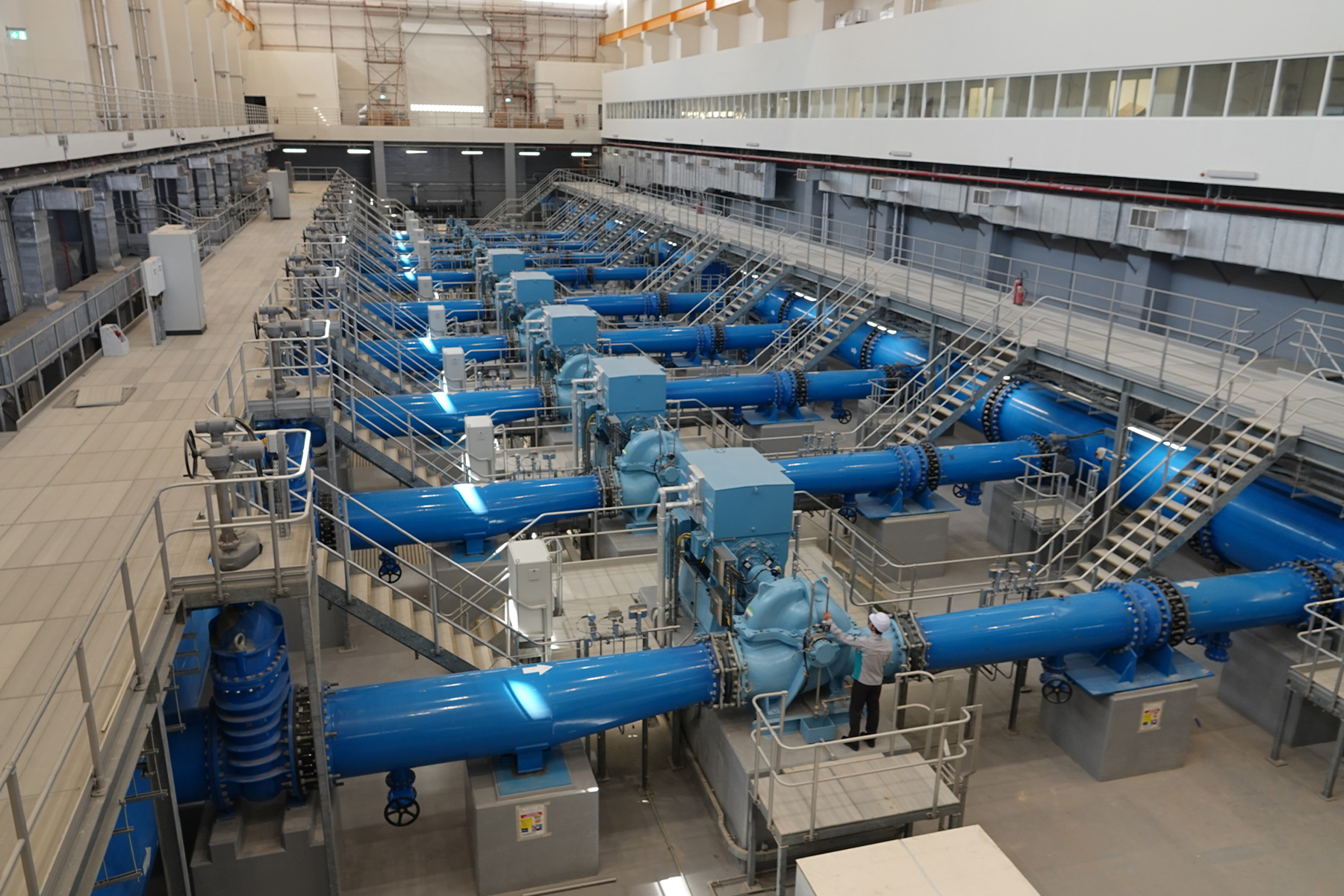 Solving New Issues with Technology and Trust
With their experience in the Mega Reservoirs Project, the two are now turning their attention to new markets.
Masuko is engaged in the promotion of water pipes that can withstand earthquakes, hurricanes, landslides, and other natural disasters in North America. These pipes are only known in certain earthquake-prone regions, but he aims to build relationships of mutual trust with the local people similar to what he achieved in Qatar. "In the future, I want everyone to think of Kubota first when they need water pipes or equipment that is highly resistant to disasters," he says.
One of Morishima's projects is a water intake pump for use in the Dead Sea (Jordan). Its water has a salinity of 20 to 30%, about ten times that of typical seawater. This creates challenges in welding and processing special stainless steel to withstand this concentration of salt, and special designs are required. "If there's any place we think the customers have a concern, we want to handle it immediately. Even if we don't know the answer immediately, we want to pass the ball back to them with the best performance we can give at the time. That's something I learned in Qatar."
Kubota is also engaged in market research in North America for drainage pump vehicles, which can be used when rivers overflow or when roads are flooded by torrential rains.
Each travels the world today with the hope in their hearts to support water, a wish that continues from the time of Kubota's founding.