K-PL Steel Pipe Pile/Steel Pipe Sheet Pile (Heavy-duty Anti-corrosion Type)
Steel pipe piles and steel pipe sheet piles used in highly corrosive environments are required to have high resistance to corrosion. K-PL steel pipe piles and steel pipe sheet piles (heavy-duty anti-corrosion type) are used in such environments.
Applications
Harbor structures

River structures
Advantages
High Resistance to Corrosion

The urethane elastomer material has high resistance to weather, seawater, impact, and chemicals, which gives the product long-lasting anti-corrosion properties.

Superior Cost Performance

The urethane elastomer coating can prevent corrosion over an extended period, thereby substantially reducing corrosion control costs. Because they enable designs with no need for additional protective measures, such as electrolytic protection, these piles and sheet piles offer superior cost performance.

Factory Coating Under Strict Quality Control

The urethane elastomer coating process, carried out under strict quality control system within our factory, provides excellent long-term corrosion resistance.

Optional Coloring (Top Coating)

Color coating on top of the urethane elastomer surface is available on request.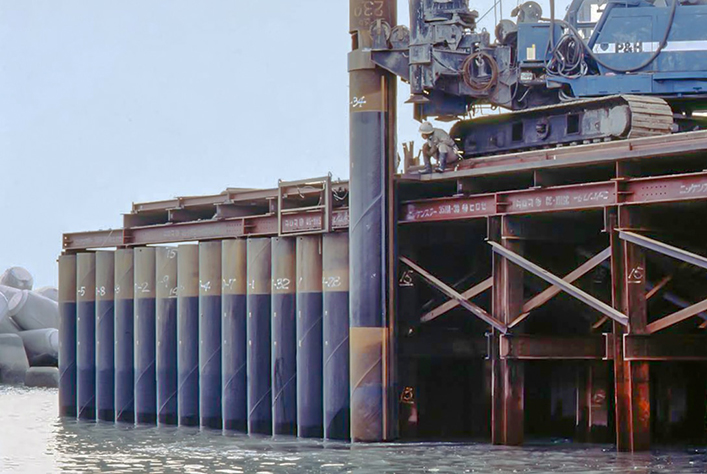 Contact Us
To inquire about a product, service, maintenance, or any other matter, please contact your nearest Kubota location directly by phone or contact us by email. Before making an inquiry, we recommend that you check out our customer support information, including FAQs, as you might be able to find the answer to your question more quickly there.