Materials Development
We seek to develop next-generation technologies based on a market-in approach across a broad spectrum of industrial fields through the high-level connection of materials engineering, manufacturing technology, production engineering, product design engineering, and materials evaluation technology. We offer a wide variety of materials which are selected based on our long experience and record of success so that the one with the most suitable properties is available for any environment. Combining heat-resistant alloys, corrosion-resistant alloys, low-alloy steels, and abrasion-resistant materials originally developed by Kubota, in addition to international-industrial standard materials, with various casting technologies, we can propose the best materials to meet ever-diversifying market needs.
Core Technologies
Materials engineering contributes to "creations" in diverse industrial fields
1. Heat-resistant alloy
Kubota developed its first heat-resistant alloy in the 1960s for reformer tubes to be used in petroleum refining plants. Having engaged in research and development of heat-resistant alloys for more than 50 years since then, we can supply steel materials that meet different requirements for a variety of products, including high-temperature strength in a range between 900°C and 1200°C, oxidation resistance, carburization resistance, and thermal shock resistance.

This is a list of typical standard materials and Kubota original materials.
The above materials KHR12C (improved HH 〔SCH13: 0.4C-25Cr-12Ni〕) / KHR16C / KHR35H / KHR35C / KHR48N / KHR48NCo / KHRS2 / KHRS3 / KHRSA are KUBOTA's original materials.
Main uses:CGL・CAL Furnace (Hearth) rolls and Coiler drums, Retorts, etc
2. Carburization-resistant/creep-resistant materials
It is known that adding Si or Al generally improves carburization resistance, while adding Ti, Nb or W improves creep rupture strength. However, these additional elements can weaken other characteristics such as thermal shock resistance or weldability. To address this, we can offer various materials with carburization resistance and creep rupture strength by designing alloys tailored for the different service temperature ranges and operating environment of our users.

This is a list of typical materials of Kubota original materials.
All the above materials KHR24C / KHR35C / KHR35CT / KHR32C / KHR35CL / KHR30A / KHR35H-HiSi / KHR35W / KHR35CW / KHR35C-HiSi / KHR35CT-HiSi / KHR45A / UCX are all KUBOTA's original materials.
Main uses:Reformer tubes,External parts of a furnace,Cracking tubes
3. Materials with high compressive strength at high temperatures
Materials with high compressive strength at high temperature are used mainly for skid buttons for heating furnaces in steelmaking processes. They are required to have high resistance to compressive deformation and oxidation.
Kubota has successfully developed Cr-base casting alloy with a high melting point usable at temperature higher than 1,300°C, which helps steelmaking processes further improve the quality of their products. Besides conventional Co-base casting alloys, we also offer more eco-friendly Co-free alloys.

This is a list of typical materials of Kubota original materials.
All the above materials KNC01 (Cr base) / KHR50CM (equivalent material of Co-based heat-resistant material 〔50Co-30Cr-20Fe〕) / KHR40CM (Co base) / KHR22CM (Co contained) / KNC03 (Co-less, Ni base material) are all KUBOTA's original materials.
Main uses: Skid Riders (buttons) for reheating furnace, etc
4. Corrosion-resistant alloy
We have developed corrosion-resistant alloys for uses such as paper mill rolls and conductor rolls. Each alloy has specific corrosion resistance, high corrosion fatigue strength, and/or high resistance to stress corrosion cracking, and it is used in special applications where standard corrosion-resistant alloys are inappropriate.

This is a list of typical materials of Kubota original materials.
All the above materials are Kubota's original materials. KCR100 / KCR A894 / KCR110 are a duplex (austenite and ferrite) / KCR C169 is a martensitic material.
Main uses: Sink rolls, Suction rolls, etc
5. Low/medium alloy
Low/medium alloys, used mainly as conveying rolls for hot-rolled or cold-rolled steel sheets in steelmaking processes, must have high tensile strength and abrasion resistance. Kubota's low/medium alloys meet all of those requirements while having small residual stress as centrifugal casting products. The hardness can be varied by changing C%.

This is a list of typical materials of Kubota original materials.
All the above materials KCP3/ KCC7M / KCP12 / KCP15 are all KUBOTA's original materials.
Main uses: Table rollers, Coiling winders and Spools, etc
Analytical technologies supporting materials quality
1. Scanning electron microscope and electron probe micro analyzer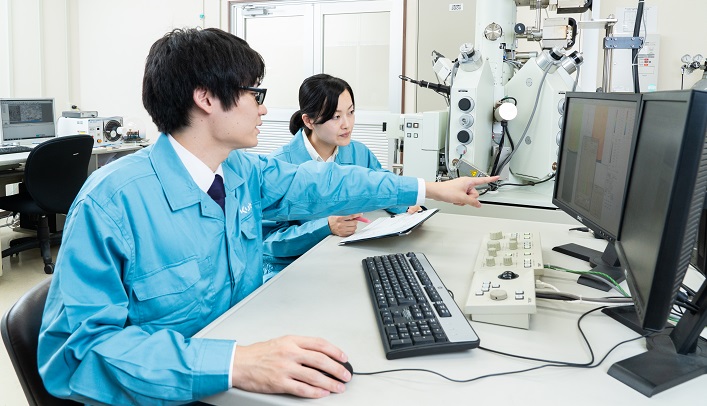 We evaluate the microbehaviors of materials microstructures under various environmental conditions, such as high temperature conditions or corrosive environments, through observations via a scanning electron microscope (SEM) to develop optimal materials for various service environments.
2. Analytical technologies
1) FEM analysis
In materials design, stress on each area of a structure is calculated through FEM analysis to determine the optimal material and shape.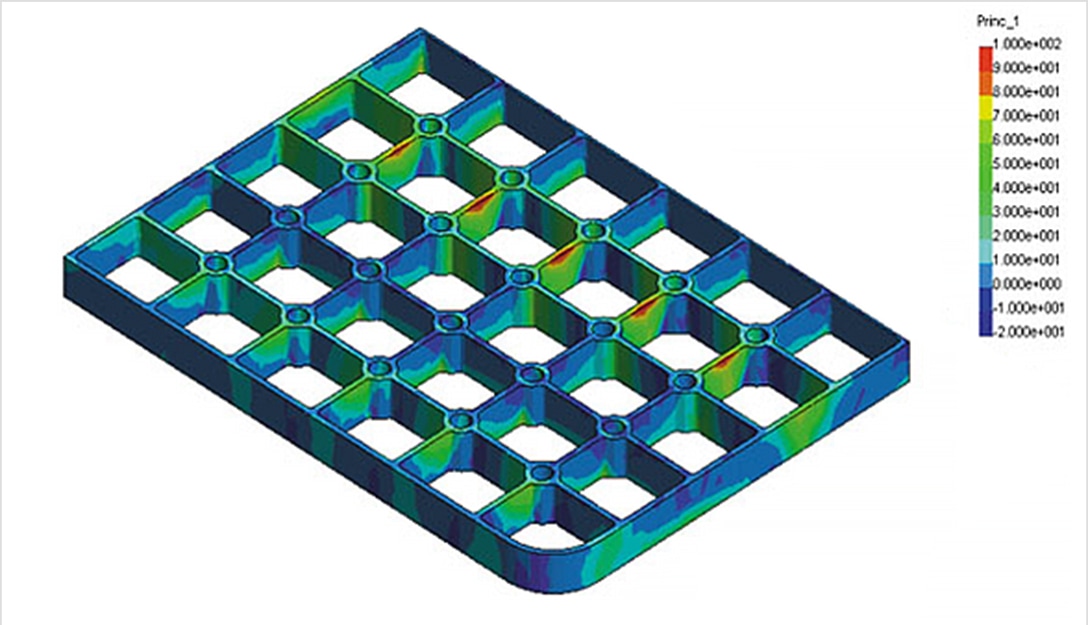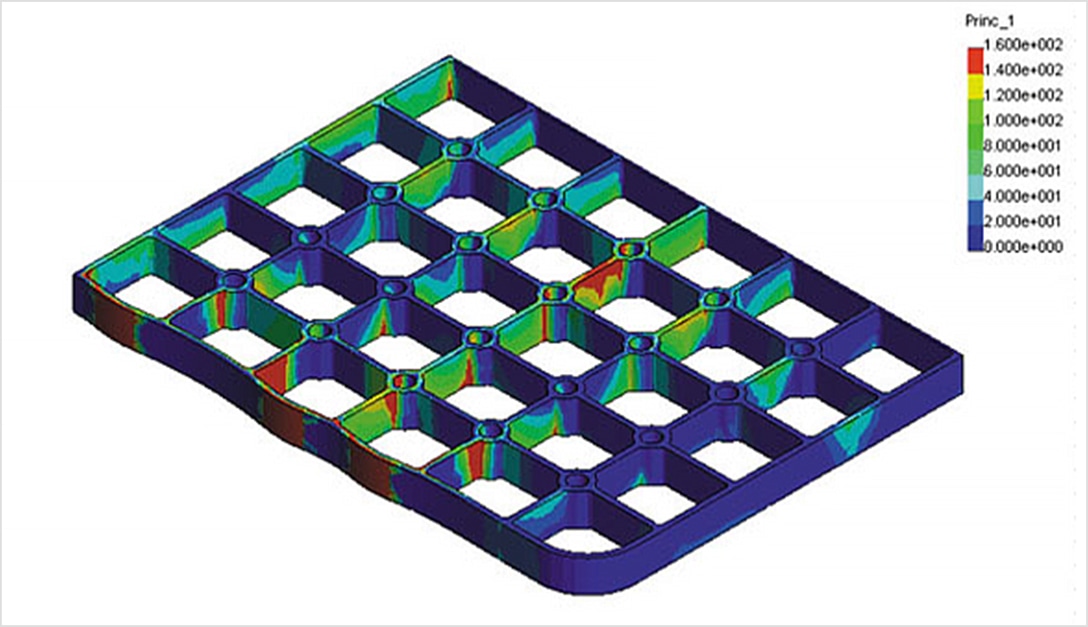 Examples of FEM analysis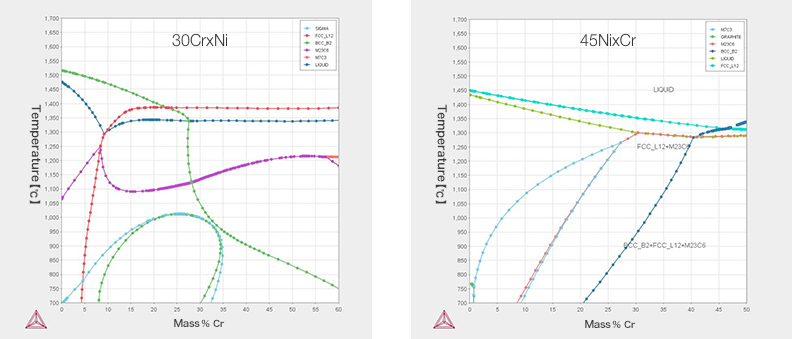 Thermo-Calc is thermodynamic equilibrium and phase diagram calculation software which uses multiple thermodynamic databases.
The data concerning microstructures with different chemical compositions obtained through this analysis are utilized to rapidly develop materials which have the characteristics customer requirements.
Related Products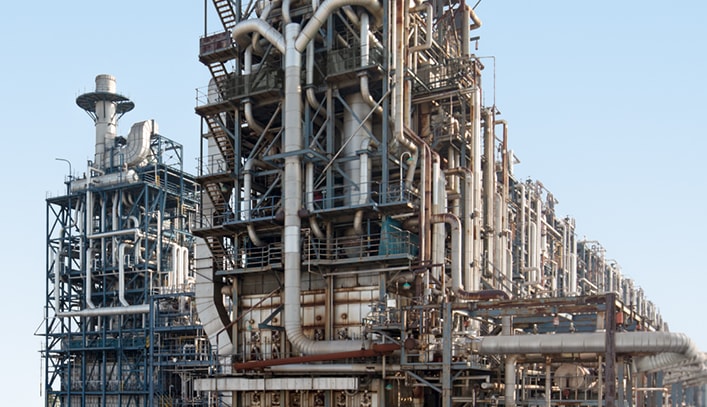 Cracking tubes are used in the manufacturing processes for ethylene and propylene, which are the raw materials of petrochemical products.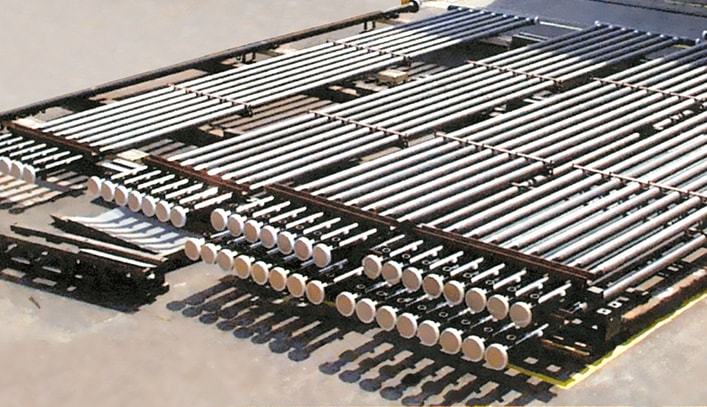 Heat-resistant cast steel reformer tubes are employed in such processes as oil refining, methanol manufacture, and ammonia synthesis.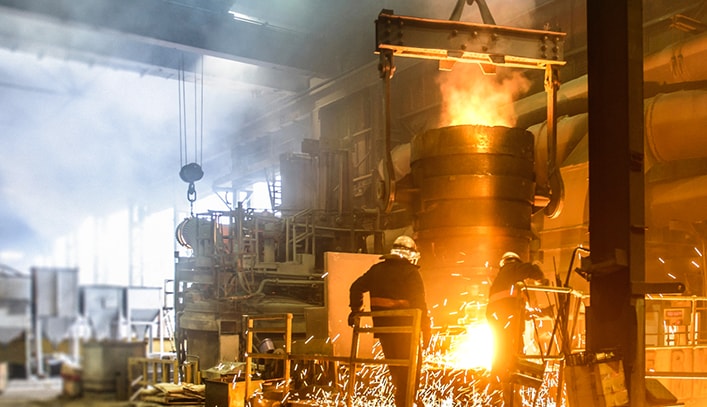 We have established an organization to cover all stages from research through manufacturing and inspection of alloy materials for industrial equipment to be used in extreme environments. By using our proprietary casting process technologies, we are able to offer a wide range of products that are highly resistant to heat, corrosion and abrasion for different service environments and to meet different property requirements.
Related Technologies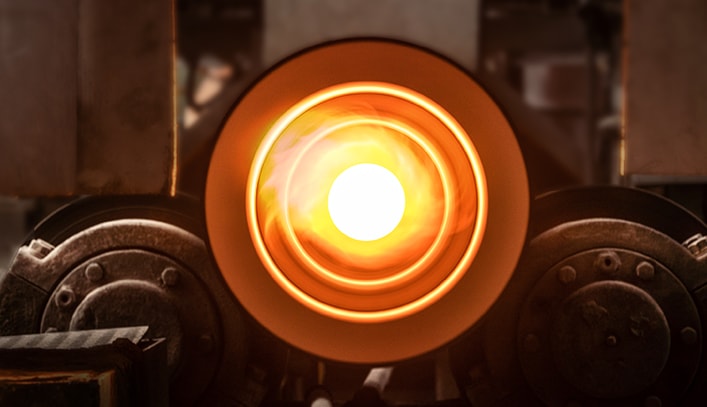 We offer high-quality casting products that are restrained the generation of pinholes and inclusions in sizes to meet any outer diameter and length requirement. Kubota's centrifugal casting technology can realize multilayer casting products with different properties between the outer and inner surfaces.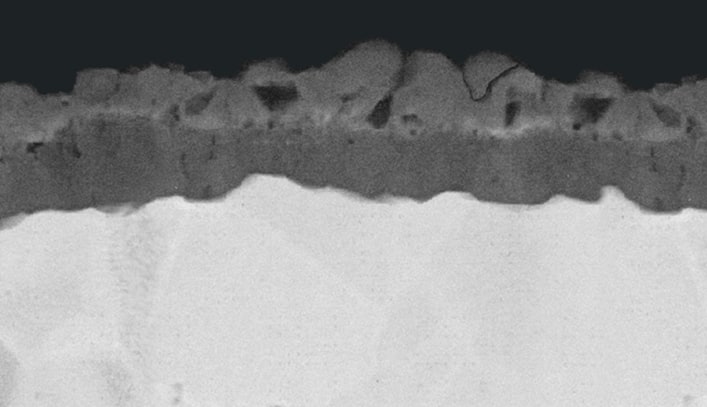 Surface modification refers to giving a new function to a base material through altering the composition or structure of the material surface by applying a special treatment or process. Kubota has been meeting customer needs by combining its metallic materials technologies and surface treatment technologies to improve material performance.
Related Industries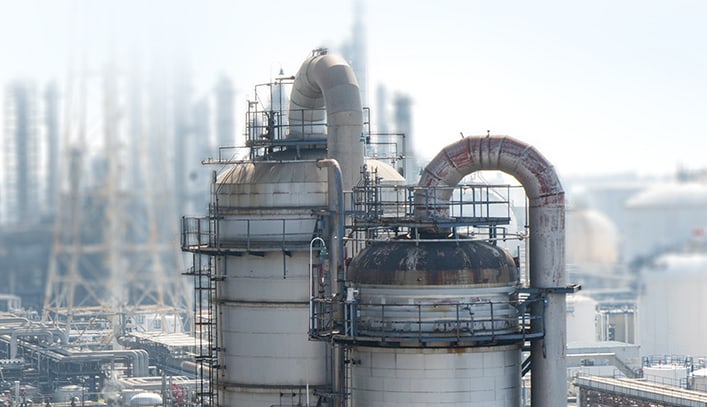 We develop long-life materials that possess superior heat resistance, corrosion resistance, and creep characteristics needed to withstand severe environments in industrial furnaces. We also offer high-performance piping products with tailored interior shapes or interior surface modifications using our proprietary technologies to improve the efficiency and performance of industrial furnaces.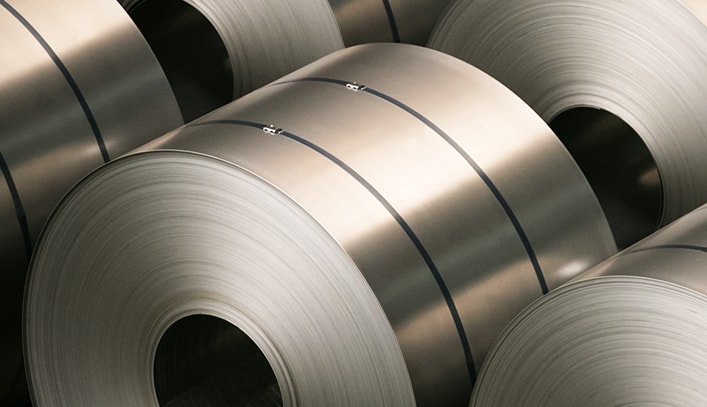 Super heat-resistant refractory materials and rolling-mill rolls are our main products for steel industry users. Castings are finished into functional products using our precision machining techniques. We can meet a variety of machining requirements, such as simultaneously machining the inner and outer surfaces of a large-diameter long pipe, or finishing the inner surface of a small-diameter pipe with a pull boring tool.
Contact Us
To inquire about a product, service, maintenance, or any other matter, please contact your nearest Kubota location directly by phone or contact us by email. Before making an inquiry, we recommend that you check out our customer support information, including FAQs, as you might be able to find the answer to your question more quickly there.