Steel Pipe Sheet Piles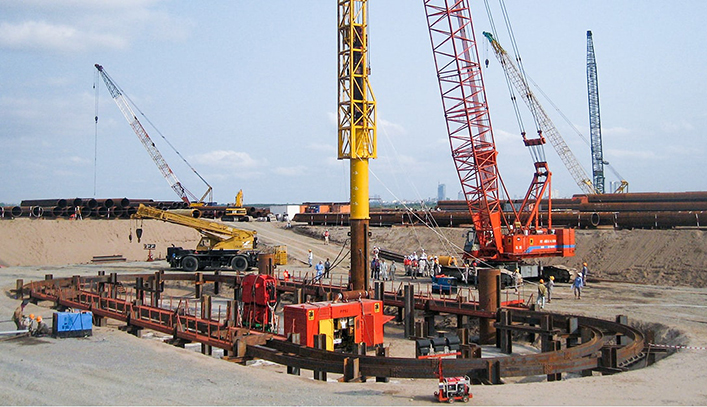 Manufacturing Process
(JIS A 5530 - Steel pipe sheet piles)

Steel pipe sheet piles, which consist of steel pipes with joints welded onto them, are widely used as retaining walls and as riverside and harbor revetments. Steel pipe sheet piles can be used to make a circular, oval or rectangular shaped well foundation which combines the functions of foundation piles and a cofferdam, realizing efficient and economical design and construction processes. Having large cross-section properties, steel pipe sheet piles can realize compact foundation designs that minimize interference with river flows.
Applications
Bridge foundations

Harbor structures

River structures

Others
Advantages
Lateral Resistance Larger than that of Steel Sheet Piles

Since steel pipe sheet piles have greater lateral resistance than that of steel sheet piles, it is easy to construct large wall structures or free-standing walls without tie rods.

Can Function as Both Wall and Foundation Pile

Being capable of withstanding not only lateral loads but also large vertical loads, steel pipe sheet piles can combine the functions of sheet pile walls and foundation piles.

Sheet Piles Can be Joined into any Shape

Steel pipe sheet piles can be shaped freely by changing joint positions, whether into a curved line or straight line.

Joint Shape Varieties for Different Applications

Steel pipe sheet pile joints are available in three types: P-P, L-T and P-T. You can choose joint designs to suit your applications, whether for revetment structures, bridge foundations, cofferdam walls or retaining walls. The P-P type, in particular, can deliver superior cut-off performance through use of a waterstop treatment.
They also offer all of the advantages of steel pipe piles in addition to the above-mentioned ones.
Applications
Revetments, Quay Walls, etc.

Inner breakwaters, closing levees, cut-off walls, cofferdams, retaining walls, pipe-roofs, etc.

Steel Pipe Sheet Pile Foundations

Bridge pier foundations, abutment foundations, etc.

Types of Steel Pipe Sheet Pile Foundations

Steel pipe sheet pile foundations are broadly classified into the following types by structure , construction method and cross-sectional shape.
Shapes/Dimensions
Three types of joint designs are available, as shown below. Select the most appropriate type for your application and purpose.