Directors and Senior Management
Directors and Audit & Supervisory Board Members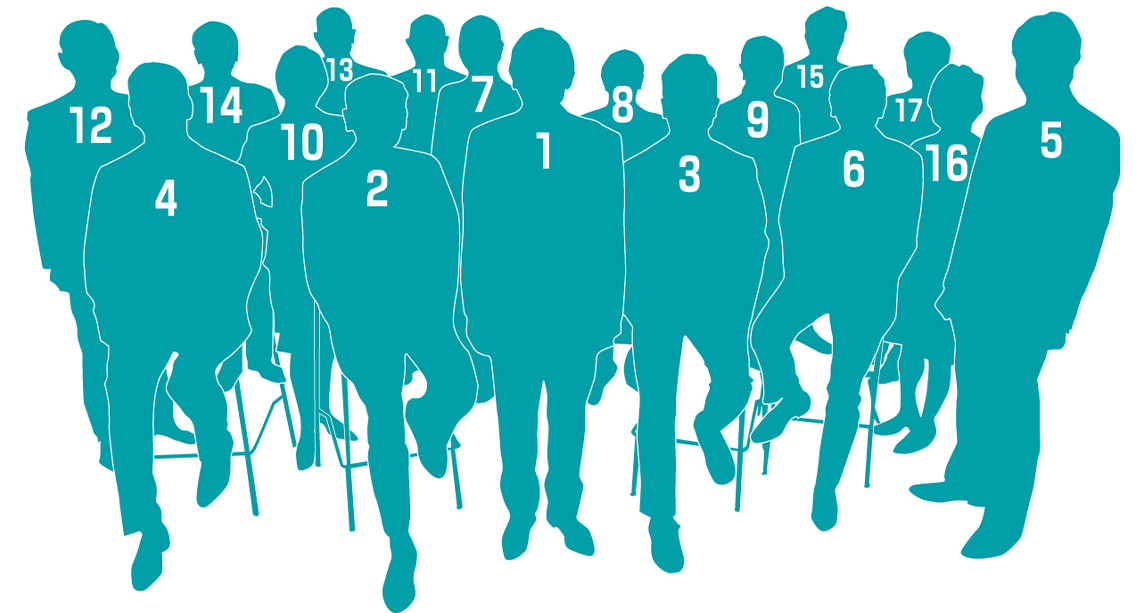 1.

President and Representative Director

Yuichi Kitao

2.

Executive Vice President and Representative Director

Masato Yoshikawa

3.

Director and Executive Vice President

Dai Watanabe

4.

Director and Senior Managing Executive Officer

Hiroto Kimura

5.

Director and Senior Managing Executive Officer

Eiji Yoshioka

6.

Director and Managing Executive Officer

Shingo Hanada

7.

Outside Director

Yuzuru Matsuda

8.

Outside Director

Koichi Ina

9.

Outside Director

Yutaro Shintaku

10.

Outside Director

Kumi Arakane

11.

Outside Director

Koichi Kawana

12.

Audit & Supervisory Board Member

Toshikazu Fukuyama

13.

Audit & Supervisory Board Member

Yasuhiko Hiyama

14.

Audit & Supervisory Board Member

Masashi Tsunematsu

15.

Outside Audit & Supervisory Board Member

Yuichi Yamada

16.

Outside Audit & Supervisory Board Member

Yuri Furusawa

17.

Outside Audit & Supervisory Board Member

Keijiro Kimura
Senior Managing Executive Officers
Senior Managing Executive Officer

Yuji Tomiyama

Senior Managing Executive Officer

Kazuhiro Kimura

Senior Managing Executive Officer

Nikhil Nanda

Senior Managing Executive Officer

Nobuyuki Ishii
Managing Executive Officers
Managing Executive Officer

Kazunari Shimokawa

Managing Executive Officer

Ryuichi Minami

Managing Executive Officer

Yoshimitsu Ishibashi

Managing Executive Officer

Yasukazu Kamada

Managing Executive Officer

Katsuhiko Yukawa

Managing Executive Officer

Muneji Okamoto

Managing Executive Officer

Koichi Yamamoto

Managing Executive Officer

Hirohiko Arai
Senior Executive Officers
Senior Executive Officer

Koichiro Kan

Senior Executive Officer

Tomohiro Iitsuka

Senior Executive Officer

Kazushi Ito

Senior Executive Officer

Mampei Yamamoto

Senior Executive Officer

Nobushige Ichikawa

Senior Executive Officer

Shinichi Fukuhara

Senior Executive Officer

Hideki Mori

Senior Executive Officer

Junji Ota

Senior Executive Officer

Takanobu Azuma
Executive Officer

Hideo Takigawa

Executive Officer

Takashi Ichikawa

Executive Officer

Wataru Kondo

Executive Officer

Hiroyuki Tanihara

Executive Officer

Toshiyuki Taneda

Executive Officer

Shiro Watanabe

Executive Officer

Todd Stucke

Executive Officer

Hiroyuki Araki

Executive Officer

Yoshifumi Makino

Executive Officer

Tadahito Suzui

Executive Officer

Koichi Nakagawa

Executive Officer

Kazunori Tani

Executive Officer

Yuji Kambara

Executive Officer

Shinya Tsuruda

Executive Officer

Patrick Verheecke

Executive Officer

Sumio Morioka

Executive Officer

Shinichi Yamada

Executive Officer

Hitoshi Sasaki

Executive Officer

Satoshi Suzuki
The Company configures its Board of Directors from the perspectives of maintaining the number of members appropriate for ensuring effective discussions at the meetings of the Board of Directors, manifesting its function as a board of directors and ensuring its diversity and maintaining soundness and transparency in management. The Company also considers that the Board of Directors requires skills in areas such as Kubota Production System (KPS), global management, innovation, digital transformation (DX), and ESG management as the business foundations to be strengthened in order to realize Long-Term Vision "GMB2030."
It is important for members of the Board of Directors to complement each other by using their knowledge, experience, and skills, based on diverse values. Shown below is how skills required to realize the Company's Long-Term Vision "GMB2030" correspond to their specialties and experience.

1. Experience in corporate management among the items of the list above refers to experience as president at listed companies.
2. In the list above, up to three of the major skills expected of each member of the Board of Directors based on their experience are marked ●. These skills do not replesent the entirety of the knowledge possesed by each member.
3. The attendance of the Meetings of the Board of Directors and the Audit & Supervisory Board held during fiscal 2022.
4. Executive Officers in charge of the relevant fields attend the meetings of the Board of Directors, depending on the agenda, to provide explanations on those agendas in order to improve the effectiveness of the Board.