Kubota Corporation's basic policy for the return of profit to shareholders is to maintain a stable level of dividends and raise dividends. Kubota Corporation decides how to allocate its retained earnings in consideration of maintaining sound business operations and accommodating the future business environment.
In accordance with its basic policy, Kubota Corporation pays dividends twice a year an interim dividend and a year-end dividend with appropriation from retained earnings. Dividends are resolved at the Meetings of the Board of Directors.
Kubota Corporation stipulates in its Articles of Incorporation the possibility of resolution of interim dividends, which is defined under Article 454, Paragraph 5 of the Companies Act. For further details, please refer to 5. Stock-Related Administration of Kubota Corporation.
Mid-Term Target for Shareholder Return
Set the target of over 40% in shareholder return ratio, and aim at 50%.
Continue share buy-bucks and prompt retirement of treasury share.
Annual Cash Dividend Per Share and Shareholder Return Ratio*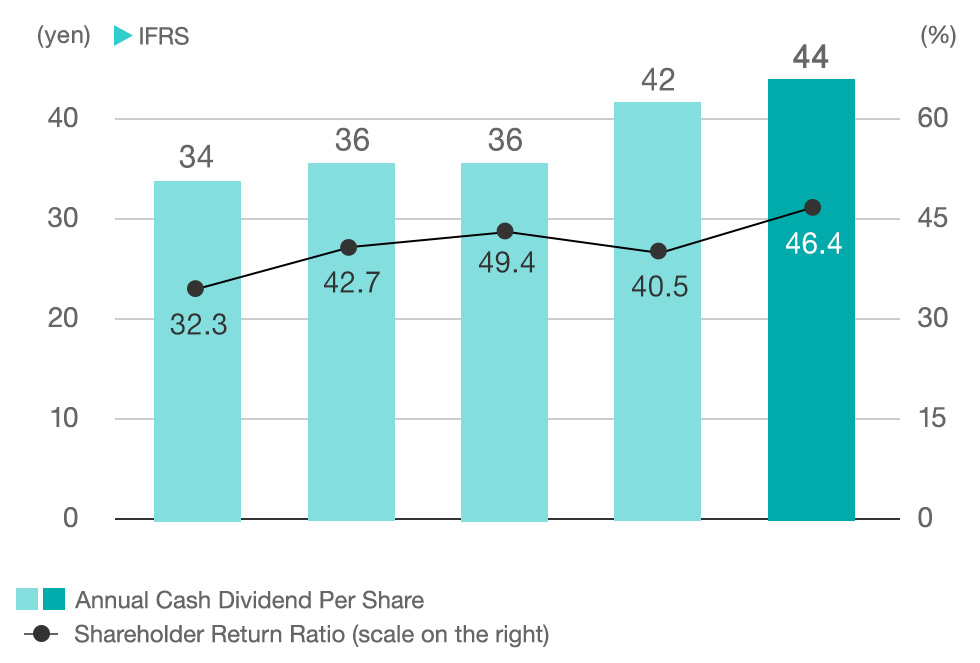 2018.12

2019.12

2020.12

2021.12

2022.12
Shareholder Return Ratio:(Annual cash dividend + Retirement of own shares) ÷ Profit attributable to owners of the parent