Steel Pipe Piles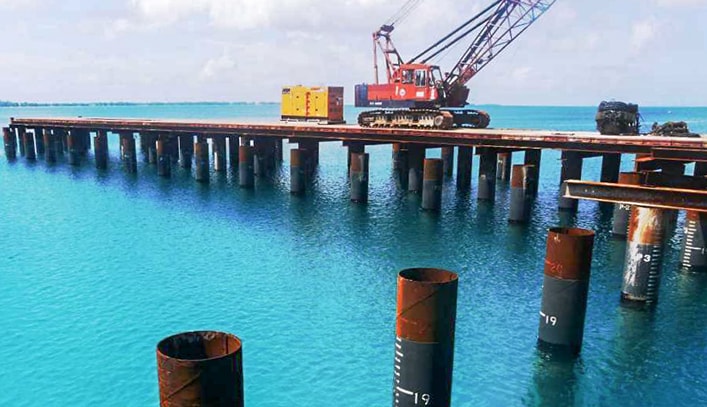 Manufacturing Process
(JIS A 5525 - Steel pipe piles)

Today, with advances in industry and technology, some of the world's largest structures are being built in Japan. The numbers of large-scale construction projects on soft ground or in coastal areas, and of marine civil engineering projects, are also on the increase, making earthquake-resistance of structures an even more important issue. Hence, foundation piles are now required to deliver high yield strength, construction efficiency, and reliability. Kubota's steel pipe piles can meet all of these requirements. Because they have high strength and earthquake resistance, steel pipe piles can make highly reliable foundations; accordingly, they are widely used as foundation piles for civil engineering and construction works.
Installation/Construction Methods
Applications
Bridge foundations

Building foundations

Harbor structures

River structures

Others (landslide prevention piles, etc.)
Advantages
Large Bearing Capacity

Due to its high material strength, a steel pipe pile can be driven with strong impact to ensure that it reaches a hard bearing stratum, thereby realizing large bearing capacity.

Large Lateral Resistance

Having high yield strength and bending resistance, steel pipe piles offer strong resistance to lateral loads in the event of earthquakes.

Long pile construction are available

Due to open-ended steel pipe piles are easy to drive, they are suitable for projects that require use of long piles.

Reasonable Designs are Available

For steel pipe piles, users can select from a wide choice of outside diameters, thicknesses and lengths, enabling reasonable designs for their particular design loads.

Easy Superstructure Connection

A steel pipe pile provided with reinforcement bars on the pile head can be readily connected with a concrete superstructure.

Easy Transportation and Handling

Being lighter and materially stronger than concrete piles, steel pipe piles are easier to convey and handle.

Superior Cost Performance

Steel pipe piles offer superior cost performance because they have the above-mentioned advantages; using them can shorten construction periods and save on construction costs.