KJ type

Sedimentation-separation anaerobic filter moving bed process
・All types of wastewater treatment plants (johkasou) are designed shallow, with an overall height of 1,550 mm, and a 50 mm vertical space between the bottom of the inflow and discharge pipes.
・Environmentally friendly with ability to eliminate BOD, nitrogen and suspended solids.
・Simple maintenance by using parts with enhanced visibility and operability, and without the need for backwash cleaning.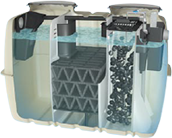 Specifications (inf. BOD 200 mg/L)
Model
KJ-5
KJ-7
KJ-10
Flow rate (m3/day)
1.0
1.4
2.0
Dimensions
(mm)
Length A
2,190
2,790
3,060
Width B
1,120
1,200
1,660
Height C
1,550
1,550
1,550
Manhole
number
Φ450
-
2
1
Φ600
2
1
2
Inf.eff.pipe dia. (mm)
Φ100
Air pipe dia. (mm)
Φ13
Capacity
(m3)
Removal for trash tank
0.752
1.058
1.504
Anaerobic filter tank
0.753
1.053
1.510
Moving Bed tank
0.469
0.626
0.899
Sedimentation separation tank
0.320
0.461
0.705
Disinfection tank
0.021
0.021
0.021
Total capacity
2.315
3.219
4.639
Blower air flow rate (L/min)
60
80
120
Drawing example