Basics

Kubota's environmental friendly wastewater treatment plants
Kubota wastewater treatment plants, which have achieved 90% or higher BOD removal rate, deliver excellent treated water quality with BOD of 20 mg/l or less (in case influent BOD is 200 mg/l).
Their compact body fits any installation place while providing powerful treatment performance comparable to a sewage system.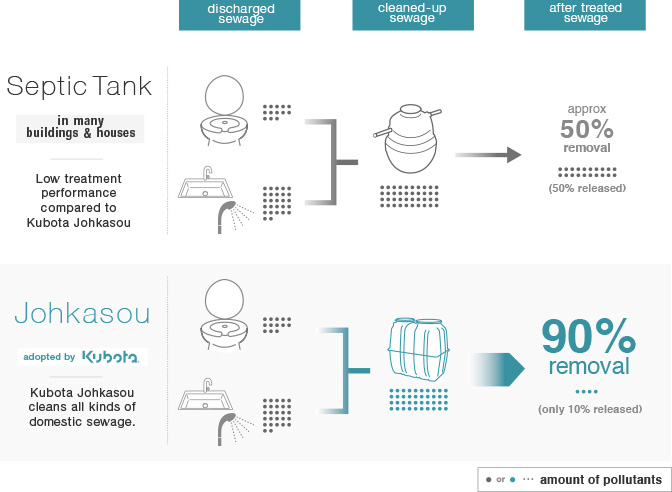 Reducing a large amount of pollutants (BOD)
Typical BOD of household wastewater per person per day is 40g. Kubota wastewater treatment plant can reduce BOD to less than ten times (only 4g or less), with its excellent BOD removal rate of 90% or higher.
On the other hand, Septic Tank removes only approximately 50% of BOD.
Therefore, we strongly recommend you our wastewater treatment plants for aquatic conservation of rivers, oceans, and lakes.

* BOD (Biochemical Oxygen Demand)
An indicator of contamination of water expressed in the unit of mg/l. It is the amount of dissolved oxygen needed by biological organisms to decompose contamination of water.
More oxygen is needed and BOD becomes higher if water is polluted more (containing more organic substances). BOD becomes low if water is clean.
Treatment using microorganisms
Kubota wastewater treatment plants use microorganisms to cleanse household wastewater. Basically, there are 2 types of microorganisms: anaerobic microorganisms which do not require oxygen and aerobic microorganisms requiring oxygen.
Old traditional Septic Tank, using only anaerobic microorganisms for treatment, can reduce only approximately 50% of contaminants in wastewater. Whereas, Kubota wastewater treatment plants can achieve much higher performance by combining both anaerobic and aerobic microorganisms.
Microorganisms play a key role
Vorticella

Wheel animalcule

Litonotus
Aspidisca, Carchesium, Daphnia, Macrobiotus, Aeolosoma and other various microorganisms are active in our systems. Kubota Johkasou provides an optimum environment to maximize activities of individual microorganisms.