Membrane Bioreactor System

The pinnacle of water treatment technology demonstate highly advanced and stable water treatment performance.
Removal of T-N, T-P

Since it processes high-concentration activated sludge, it is easily possible to remove not only organic pollution such as BOD, but also nitrogen. Phosphorus can be removed through direct coagulant dosing into the nitrification tank.

Compact installation space

Since it processes high-concentration activated sludge, no sedimentation tank or sludge thickening tank is required. Installation space can be designed 30〜60% smaller compared with conventional

Reusable treated water

Since treated water is discharged through small membrane pores (0.4 μm), treated water is stable and with high quality effluent. Most microorganisms cannot pass through the membrane, so treated water can be reused without the high-treatment facilities.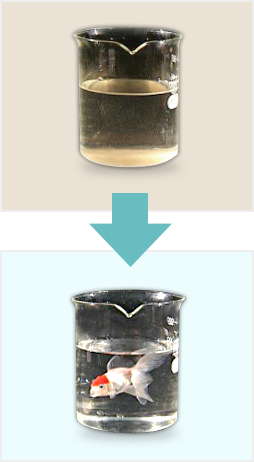 KUBOTA Submerged Membrane Unit®
The KUBOTA Submerged Membrane Unit® incorporates microporous membranes made from polyolefin. Although fluids which are smaller than the membrane's micropores can permeate the membrane, contaminated ingredients cannot permeate it due to their larger sizes. Furthermore, contaminants are pulled to the membrane surface. Water flow created by aeration, and air bubbles contact the membrane's surface and move upward while vibrating the surface. This keeps the membrane surface always clean and prevents the micropores from clogging.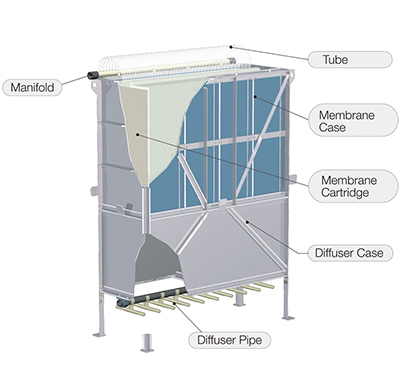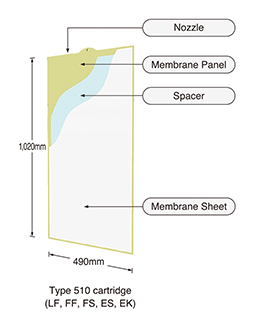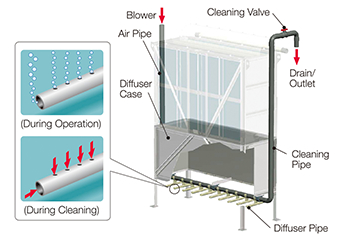 'KUBOTA Submerged Membrane Unit®' is a registered trademark of KUBOTA Corporation in Australia, Benelux, China, Germany, Spain, France, U.K., Hong Kong, Israel, Italy, Turkey and USA.