A pioneer of Membrane Bioreactor (MBR) market.
From design to maintenance of MBR facility for various kinds of wastewater, Kubota has spread out the application of KUBOTA Submerged Membrane Unit® all over the world.
For further information about this product in your local area:
Excellent Permeate Quality

MBR treatment removes suspended solids (SS) via the physical barrier of a membrane filter, making MBR effluent extremely clear. Similarly E. Coli is completely removed, as it is larger than the membrane's pore size, so MBR effluent is safe and clean for many recycle uses. The longer Sludge Retention Time (SRT) of MBR systems can improve removal of organic material and total nitrogen (TN) removal and result in a more stable operation. As a result, effluent is cleaner and odorless. This makes MBR effluent good for both the environment and humans, and enables its reuse for groundwater recharge, irrigation, washing, and many other applications.

Remarkably Small Footprint

The Kubota MBR system requires less aerated volume than a CAS system. This is accomplished by increasing solids loading and MLSS concentration up to three times higher than a CAS system can handle. This is made possible by the large hydraulic capacity of the Kubota MBR System. Kubota's MBR systems also do not require a primary or secondary clarifier, since the membranes physically separate the water from the solids. Furthermore, excess sludge can be wasted from the membrane tank where it is already partially thickened, reducing the amount of sludge thickening required. As a result, the footprint of the MBR system is considerably smaller than that of a CAS system. Due to these advantages, retrofitting an existing plant with a Kubota MBR System can lead to increased treatment capacity without requiring any new tanks.

Enlarge

Simple Maintenance

The Kubota MBR system does not need a secondary clarifier, so microbe observation and adjustment of the Return of Activated Sludge (RAS) is not unnecessary. This reduces operator training needs and simplifies maintenance overall.

Enlarge
Kubota offers a variety of sizes and configurations to meet customer's specific requirements.
Kubota's membrane solutions are cores of wastewater treatment.
Introducing various technologies which have been utilized in our products.

Kubota will propose and provide proper MBR system according to the technology and experience cultivated in wastewater treatment in more than 5,500 installations.

Kubota is a general manufacturer of wastewater treatment process equipment.
Kubota emphasizes after-sale service for comfortable use of customers.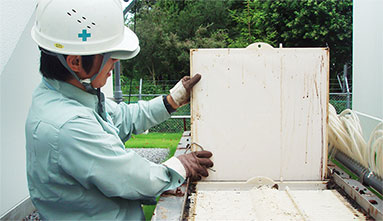 Our offices and subsidiaries
Our history from business start to date
Please contact us from here for any inquiries
'KUBOTA Submerged Membrane Unit®' is a registered trademark of KUBOTA Corporation in Australia, Benelux, China, Germany, Spain, France, U.K., Hong Kong, Israel, Italy, Turkey and USA.
For further information about this product in your local area: