Think on your own, and take action "The philosophy of a salesperson of

mini excavator"
Thomas Leflot
Export Sales Representative, Construction Machinery Division, KUBOTA EUROPE S.A.S. (KE)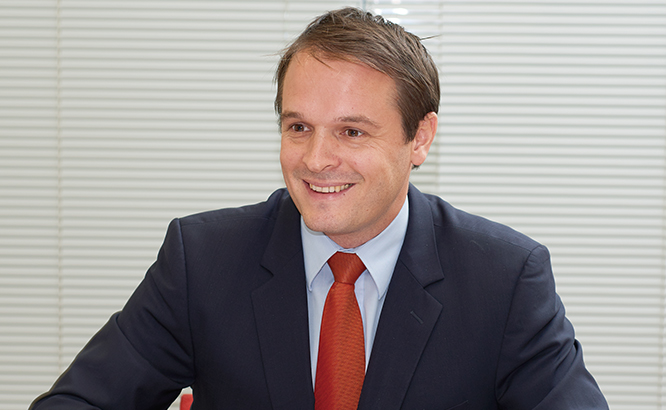 Traveling around in Europe to support local dealers
In my previous job, I was responsible for developing construction machinery business at another company and I decided to join Kubota, seeking new opportunities for growth. Kubota is known for its high quality in the field of mini excavator and has the top share in the European market. Since Kubota does business not only in Europe but also globally, I wanted to test my ability on the international stage. I considered that Kubota was the place where I could improve myself as a businessperson.
Since joining Kubota, my mission has been to expand the sales of Kubota's mini excavator in Europe. My specific activities start with approaching local distributors and accurately grasping the needs in each country. For example, I interview distributors and dealers in each countries to find out what issues they face in selling our products and then take action to solve those issues. If the product knowledge of a dealer is insufficient, I will organize a product training program; and also if sales performance is not powerful enough, I will organize a sales training program. Another major role for me is to help the dealers increase sales, by supporting their marketing activities and sales initiatives.
Working closely with dealers through face-to-face communication
While KE cover the whole 23 countries in Europe, it is becoming increasingly important to focus on mid size markets such as Eastern European countries in order to boost sales and market share. For example, expanding market share in Romania and Portugal is one of our big mission. I take various approaches such as organizing product training sessions to hear the dealers' opinions and help solve their problems. Each of these actions helps motivate the dealers and steadily increase our market share and participation. I am always striving to work closely with the dealers through face-to-face communication. Through these efforts, I believe we can build stronger partnerships and trusting relationships.
Kubota's european mini excavator strategy is to achieve a 30% share on our territory. To do that, it is essential to strengthen the dealer network. It is also important to ensure that the dealers have the several skills required to satisfy our final customers. To implement these initiatives, I am planning to various measures and actions to support the dealers.
After starting my career at Kubota, I have strongly felt that Kubota's products are highly valued and trusted throughout Europe. In terms of my job, the company gives me freedom and authority, even though I am relatively new to the company. I feel that Kubota has developed a corporate culture of respecting the will and initiative of each employee. In this environment where I can make full use of my abilities, I am determined to focus on my achievements and to keep growing as a businessperson. That is my objective so far.