K-ESG Management and Materiality
Promoting 12 points of materiality to realize our long-term vision

What is K-ESG Management?
The Ethical and Behavioral Code to Accomplish the Goals of Our Long-Term Vision GMB2030
Ever since its founding in 1890, Kubota has been working for the resolution of issues related to food, water, and the environment, all of which are indispensable to the survival of humankind. In recent years, as such issues have become more complex and serious globally, Kubota established its long-term vision GMB2030 to convey the role it intends to play and the value it intends to provide for sustainability.
K-ESG Management lies at the core of our effort to realize GMB2030. As a company engaged in the reduction of environmental impact and the resolution of social issues in food, water, and the environment, we have defined K-ESG as the Kubota Group's own ESG measures – Environmental, Social and Governance measures that are rooted in the Group's corporate principles (the Kubota Global Identity). K-ESG Management is will provide the ethical and behavioral code to achieve GMB2030 and beyond, as we become a Global Major Brand.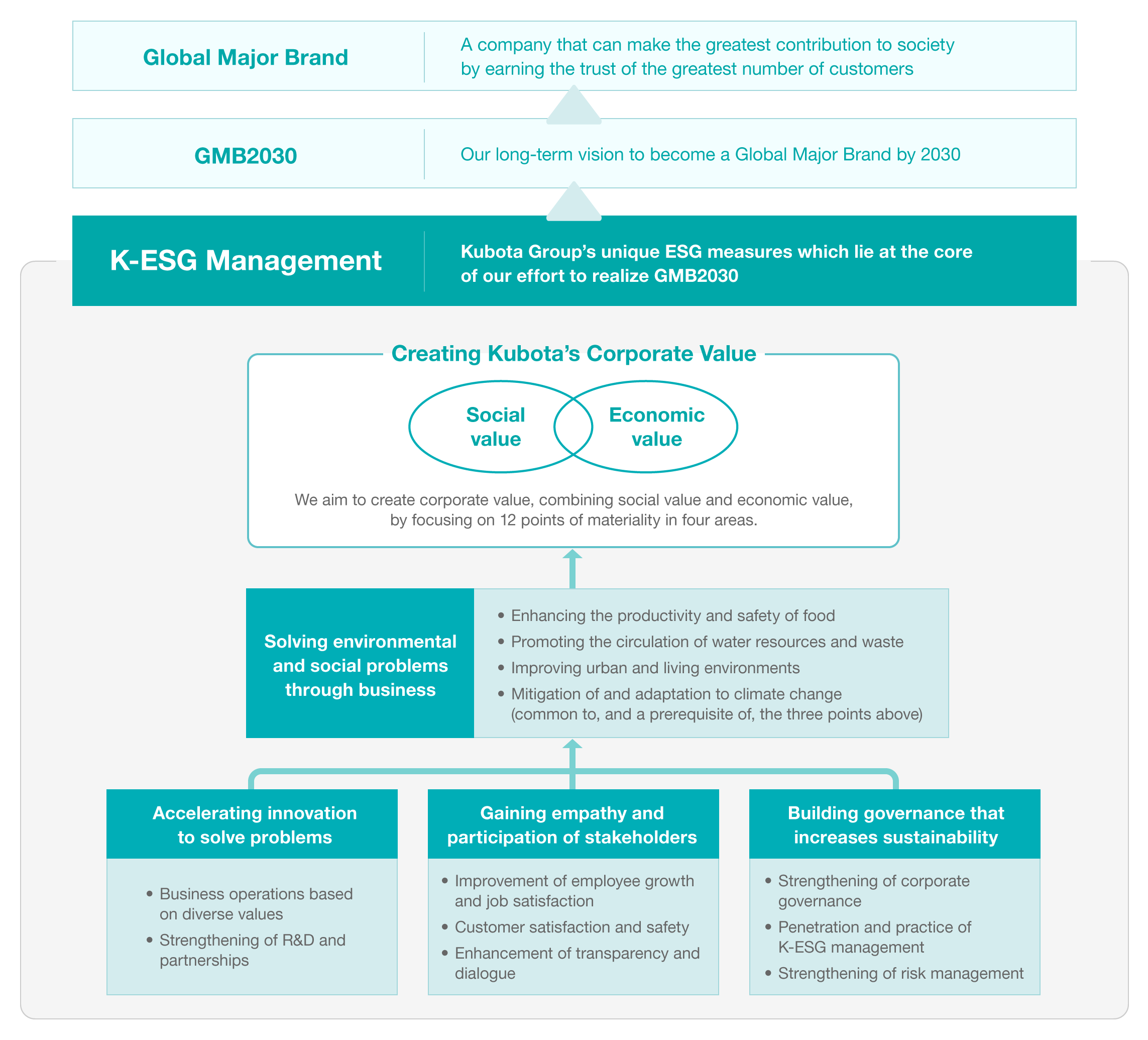 At the core of K-ESG is the goal of creating corporate value that combines social value and economic value achieved by solving social issues through our business. To this end, it is important that Kubota not only solve environmental and social issues through its business, but also accelerate innovation, gain the empathy and participation of our stakeholders, and create a corporate governance system that make our initiatives sustainable.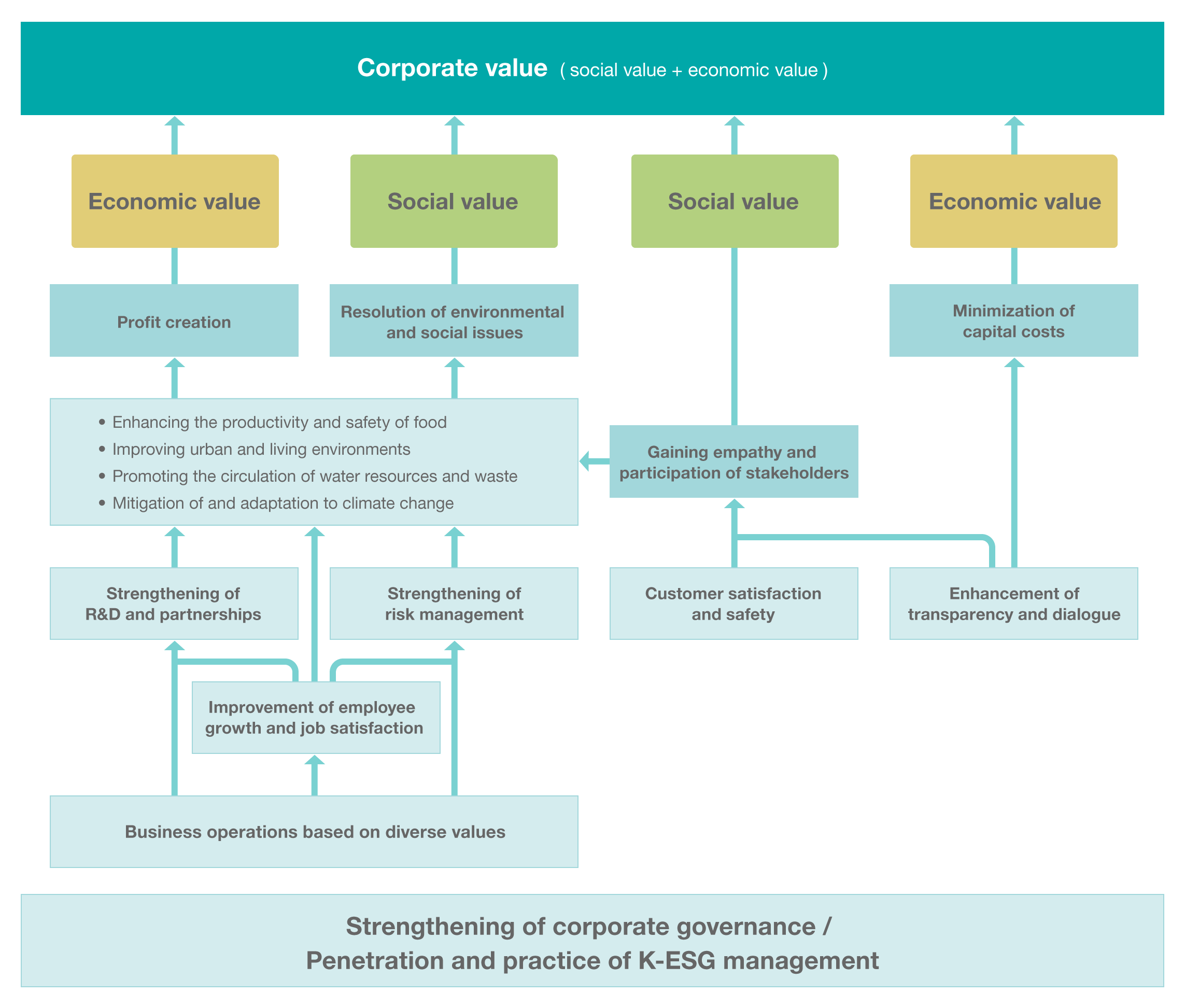 Materiality in K-ESG Management
4 Areas and 12 Points of Materiality
For K-ESG Management, Kubota has identified four areas and 12 points of materiality, that reflect the demands of global society and our stakeholders, in line with our vision and management direction.
The four areas are: solving environmental and social issues through our business; accelerating innovation to resolve issues; gaining empathy and participation of stakeholders; and building governance that enhance sustainability. The 12 points of materiality linked to these were formulated in line with the direction and importance of management policies, especially GMB2030 and our Mid-term Business Plan 2025, and in line also with social principles.
Materiality Objectives and Indicators
(excerpt)
Materiality
Ultimate objectives
Indicators
Enhancing the productivity and safety of food
An "Essentials Innovator for Supporting Life," committed to a prosperous society and cycle of nature

Progress of smart agriculture and other new solutions

Promoting the circulation of water resources and waste

Progress of resource recovery and other new solutions

Improving urban and living environments

Progress of water environment platform and other new solutions

Mitigation of and adaptation to climate change
Alongside the challenge to achieve zero environmental impact, we will contribute to realizing a carbon-neutral and resilient society in the fields of food, water, and the environment.

Emissions in Scopes 1, 2, and 3

Business operations based on diverse values
Our employment will be fair and will provide employees with equal opportunities, regardless of race, gender, nationality, age, or disability. On a global level, we will construct a positive, open culture where everyone can share their frank opinions, and put in place an environment where diverse employees can demonstrate their true capabilities.

Progress on diversity among executive officers
Proportion of female managers

Strengthening of R&D and partnerships
In order to foresee the ever-changing society and the issues that arise, and to proactively solve them, we can make better decisions. To enable this, we will take on board the latest expertise and opinions, embody them quickly and continuously in products and services that we can continue to offer society.

Progress on the R&D system
R&D results

Improvement of employee growth and job satisfaction
In order for employees to get a sense of their own growth and the contribution that they are making to society and to their colleagues, we will aspire to be an organization that has developed an appropriate culture, systems, and mechanism so that employees can be motivated and feel a desire to work.

Employee engagement score
DX personnel

Customer satisfaction and safety
We aim not only to satisfy all our customers through our products and services, but also to impress them by exceeding their expectations.

Customer satisfaction and safety

Enhancement of transparency and dialogue
By disclosing information on our corporate activities in a way that is highly transparent and appropriate, and through dialogue, we aim to provide stakeholders with an accurate understanding of its activities. This will help to gain their trust and empathy, and encourage more participation in our corporate activities.

External institution rating

Strengthening of corporate governance
Whatever the social landscape or the business environment we find ourselves in, we will continue to be a self-directed organization that can realize sustainable growth. To that end, our aim is to construct a governance system that has both auditing and executive functions that help to improve the quality of both, to achieve that permanence.

Effectiveness of the Board of Directors

Penetration and practice of K-ESG management
Every executive and employee in the Kubota Group understands our corporate principles, our vision, and our K-ESG govemment, and will work under our "One Kubota" approach to solve environmental and social issues.

Penetration of the corporate pripadvisory employees

Strengthening of risk management
We update our list of risks as they appear due to advances over time or changes to the social landscape or business environment and work to control them. We also possess the high-level capabilities to respond to arises, should they occur. Around the world, we will roll out the systems and mechanisms that allow us to do this, so that we can make decisions, and respond, swiftly.

Progress toward the creation of a risk management system
Each points of materiality was identified based on discussions at the ESG Management Strategy Meetings under the direct control of the President, and based also on opinions and evaluations received from investors and shareholders. They were then reported to the Board of Directors for their decision.

Instead of regarding the materiality and its indicators as unchangeable, we will constantly review them in light of current social trends and our business circumstances, thereby raising the level of K-ESG Management. Going forward, we will set specific KPIs and steadily advance them, creating corporate value through the resolution of environmental and social issues, while maintaining relationships that ensure the empathy of stakeholders and their participation.
See here for more information:
External Institution Rating
The Kubota Group has been highly evaluated for its ESG initiatives and selected as a constituent of multiple ESG indices in Japan and overseas. In addition to the Asia Pacific Index of the Dow Jones Sustainability Indices (DJSI), which is a global ESG investment index, and the ESG Investment Index* adopted by the Government Pension Investment Fund (GPIF), Kubota has been selected as a constituent of the following indices.
Inclusion in ESG Indices
■Environment Themed Index
MSCI indexes, logos, and trademarks, etc.
THE INCLUSION OF KUBOTA CORPORATION IN ANY MSCI INDEX, AND THE USE OF MSCI LOGOS, TRADEMARKS, SERVICE MARKS OR INDEX NAMES HEREIN, DO NOT CONSTITUTE A SPONSORSHIP, ENDORSEMENT OR PROMOTION OF KUBOTA CORPORATION BY MSCI OR ANY OF ITS AFFILIATES. THE MSCI INDEXES ARE THE EXCLUSIVE PROPERTY OF MSCI. MSCI AND THE MSCI INDEX NAMES AND LOGOS ARE TRADEMARKS OR SERVICE MARKS OF MSCI OR ITS AFFILIATES.


(As of June 1, 2023)