Since our founding in 1890, Kubota has been working to achieve solutions to social issues related to food, water, and the environment.
In recent years, many kinds of problems have become complexly intertwined in society.
To confront these increasingly serious social issues and to protect our sustainable everyday lives, Kubota has established GMB2030, our long-term vision indicating the roles that Kubota should play and the guidelines for our group-wide efforts.
The Kubota Group will strive to realize GMB2030 so that it can become a Global Major Brand (GMB), meaning "a company that can make the greatest contribution to society by earning the trust of the greatest number of customers," which we consider to be our ideal role.
Kubota's Ideal Roles
An "Essentials Innovator for Supporting Life," Committed to a Prosperous Society and Cycle of Nature
This is the meaning contained within the vision to which we aspire.
Committed to a Prosperous Society and Cycle of Nature
With renewed awareness that we have contributed to solutions through our businesses in the fields of food, water, and the environment throughout the over 130 years since our founding, we will continue our support for prosperity in society and the cycle of nature.
Essentials Innovator for Supporting Life
We make it our mission to continuously contribute to society in the fields of food, water, and the environment, and we strive to become an essentials innovator that is indispensable to all who use Kubota products and services in these fields.
The Value that Kubota Provides
In light of the many social issues throughout the world that are growing in complexity and severity, including environmental problems such as global warming and climate change, increasing demand for food and shortage of water resources due to population growth, and global economic and political issues, we are focusing on four megatrends.
The Megatrends in Our Focus

Balancing Economic Growth with Resource Recycling
(Circular Economy)

Unlike conventional economies that lead to mass-production, mass-consumption, and mass-disposal, the circular economy preserves and maintains the value of products and resources for as long as possible and minimizes the generation of waste.

Net Zero Greenhouse Gas Emissions
(Carbon Neutrality)

This approach seeks to avoid changes in the total amount of carbon on Earth. It refers to using energy and building systems in ways that keep CO2 emissions and absorption at net zero.

A Society Where the Marginal Cost of Products is Close to Zero through Recycling and Sharing

A society in which the marginal cost, or costs incurred when production of goods increases, is reduced to zero through recycling, sharing, and IoT.

Formation of New Small- and Medium-Sized Communities that are Not Obsessed Only with Global Capitalism

Forming a fragmented, community-based society through a shift from centralized power to autonomous models by promoting technological innovation in social infrastructure fields.
For these four megatrends, Kubota provides value to the world in the following three areas.
Value
Providing solutions to support infrastructure in the fields of food, water, and the environment
Value
Realizing development of a sustainable society and a natural circulation loop
Value
Contributing to resolving social issues in a variety of communities
The Kubota Group's Initiatives
We will expand the products, services, and service areas of our existing businesses in ways that are better suited to society.
We will then take on initiatives to provide three new solutions by linking our products and services in the fields of food, water, and the environment.
Enhance the productivity and safety of food

Promote the circulation of water resources and waste

Improve urban and living environments
Example of Our Solutions
In our smart agriculture business that is already under development, we aim to improve crop yields, crop quality, and agricultural productivity by providing equipment with advanced sensing functions that link data, as well as an automated farm management system that utilizes AI. We will also help to reduce food loss through an open agri-platform that collaborates with the agricultural sector as well as other industries and by providing solutions for the entire food value chain.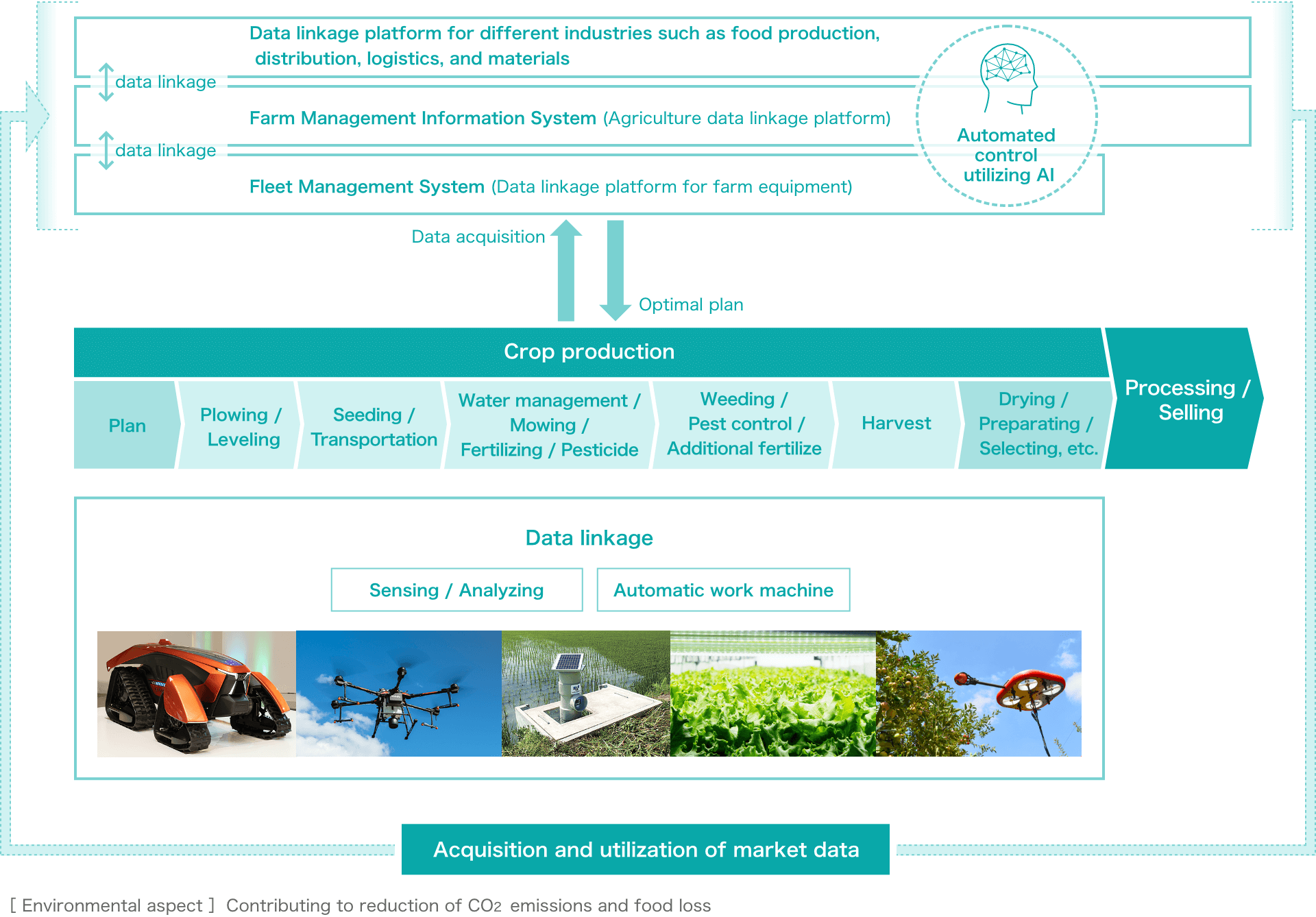 Enlarge
Our Initiatives for New Solutions
To provide the new solutions that lead to the realization of GMB2030, Kubota will strengthen these six business foundations.
Innovation
Building a foundation to create innovation
DX
Digital transformation
Investment
Investment for strengthening our business structure
Kubota Production System
(KPS)
Management efficiency improvements focused on streamlining of manufacturing
Global Management
Global management and utilizing human resources
ESG
Management based on comprehensive corporate value
These six areas form the foundation we need to support the expansion of our existing businesses and the new solutions we provide as an extension of them.
We will make continuous progress in strengthening these business foundations in our Mid-Term Business Plan with a view toward 2025.
Toward GMB2030
Since our establishment, we at Kubota have made our mission contributing to society in the fields of food, water, and the environment, which are indispensable for the survival of human beings, and to support the future of the Earth and its people.
From here onward, we will use this mission as our foundation, serving as an "'Essentials Innovator for Supporting Life,' Committed to a Prosperous Society and Cycle of Nature," to protect the environment of this beautiful Earth as we support greater abundance in people's lives.