Kubota's Vision for
Smart Water Solutions
IoT-Based Solutions for Water Environments that Realize Sustainable Infrastructure
to Withstand Population Decline and Natural Disasters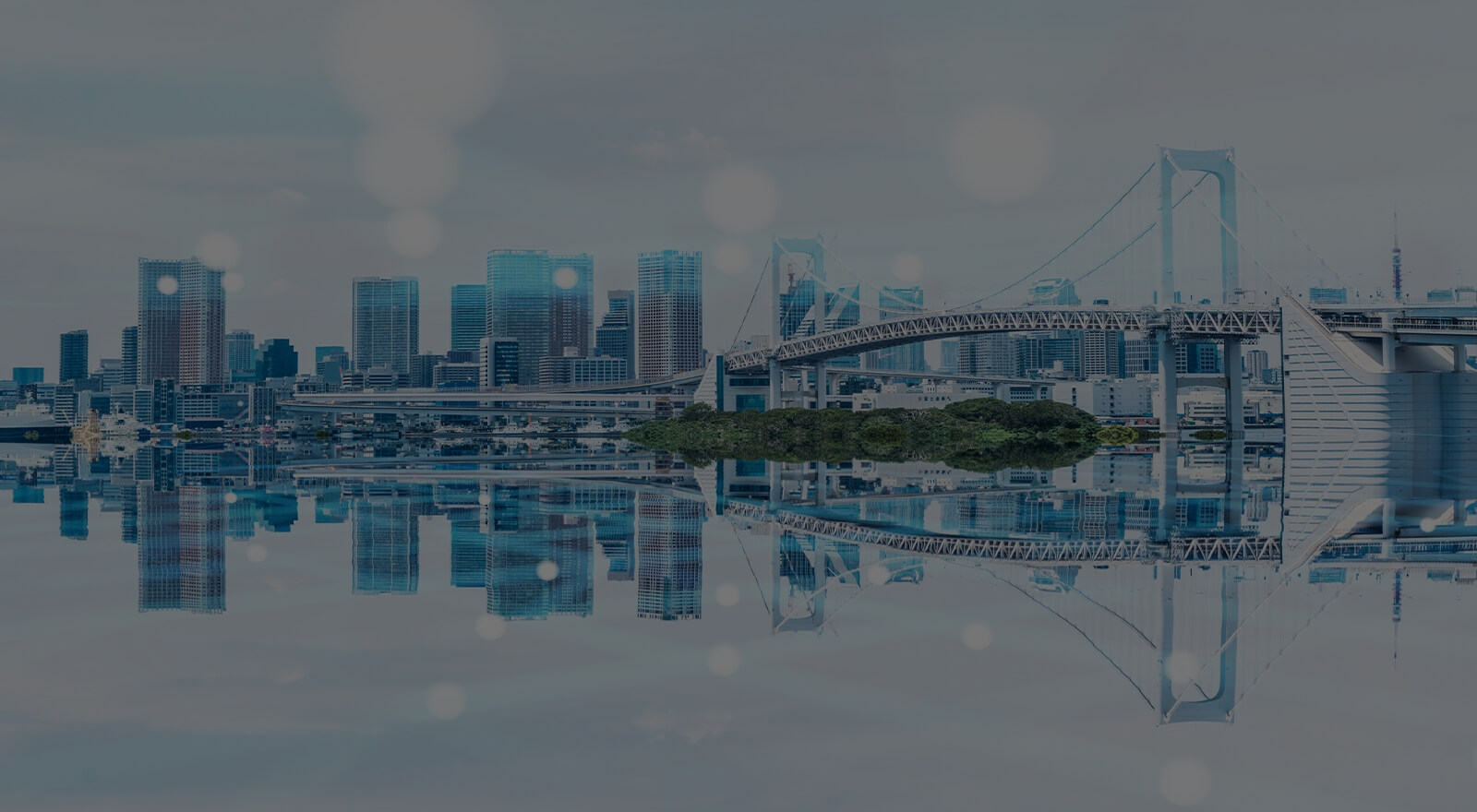 Water infrastructure is indispensable for people's lives, but today it faces a number of challenges, including declining populations, threats of natural disasters, and aging water facilities. Kubota's Smart Water Solutions will be the way we strive to address these issues using IoT.
For more than 130 years, Kubota has been involved in the development of a wide range of product development as well as facilities design, construction, and operation for the entire water cycle, from upstream to reuse to downstream. Because we have constantly been considering ways to provide new value, we will take on new challenges in solving water infrastructure issues in Japan and worldwide using the IoT solutions that only Kubota can offer.
Our Challenge
Issues Facing Water Infrastructure
Japan's water infrastructure is facing challenges that stem from three main causes: population decline, climate change, and an increase in natural disasters. Maintenance of this infrastructure was traditionally dependent on economic growth, but that has become a challenge, and methods will need to be revised under new social structures.
Dealing with Population Decline

Japan is facing a rapidly aging population and declining birthrate, and further population decline is forecast for the future. A smaller population means fewer people using water services, and this will directly result in decreased revenues for the municipalities that manage water systems. There are concerns about this leading to insufficient budgets for maintaining a reliable water infrastructure, including maintenance of pipelines and facilities.

There are also concerns about a decrease in the number of engineers and the aging of personnel as the population declines, so it will be necessary to reduce the amount of workforce and labor required to operate and manage water infrastructure, and to hand down technical skills to future generations.
Handling the Aging of Facilities and Pipelines

Japan's water infrastructure, with its world-leading quality, was mostly developed during the country's postwar economic boom. Now, more than half a century later, the time has come for upgrades to the system's facilities and pipelines. Efficient and steady upgrades will be an unavoidable challenge for maintaining a reliable water infrastructure for the coming years.
Resilience to Natural Disasters

Today, the risk of disasters throughout the world is heightened by global warming and climate change. In Japan, flooding caused by typhoons and torrential rains has been occurring more frequently, and communities and infrastructure need to be resilient against these disasters.
Our Approach
Today, there are calls for the construction and operation of more sustainable water infrastructure, including management improvements in local governments, while confronting the challenges at hand. For this to happen, IoT will be indispensable for utilizing the information from the real world in digital form and achieving efficiency and labor-saving in various aspects. Kubota aims to realize value in five areas through solutions utilizing IoT.

Our Strength
Advantages Kubota Can Bring to Water Infrastructure Utilizing IoT
From upstream to reuse to downstream, Kubota has comprehensive knowledge of all water processes. It offers advantages in terms of its collective capabilities in combining its products, operations, maintenance, and IoT. Utilizing the data gained from water infrastructure in the best ways possible, Kubota aims to realize its unique Smart Water Solutions that contribute to safe and secure water infrastructure.
A Wide-Ranging Lineup of High-Quality Products
In the early 1900s, Kubota became the first company in Japan to begin mass domestic production of iron pipes for waterworks. In the years since then, Kubota has continuously produced high-quality products including iron pipes, valves, pumps, and submerged membranes that show the culmination of more than 100 years of technologies. Kubota offers a wide-ranging lineup of products for all stages from upstream to reuse to downstream, providing a one-stop service to cover all water infrastructure needs.
Service and Maintenance Made Possible by Involvement in Products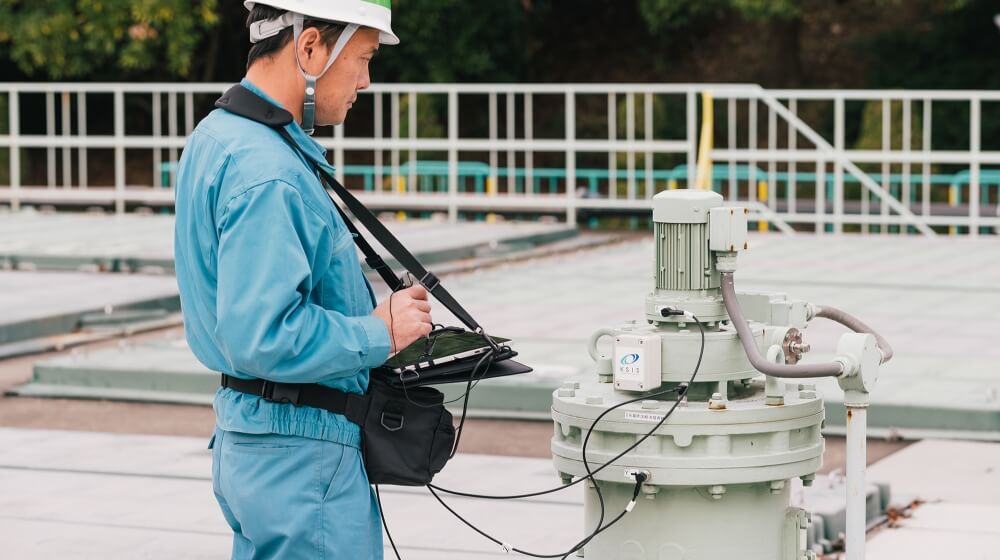 In addition to supplying products, Kubota handles the engineering design, procurement, construction, and maintenance of facilities and equipment for water infrastructure. What products are needed for these facilities? And what features do our products offer once they are delivered? Because we are involved in the hardware or physical aspects of products, we can provide optimized operations and maintenance for facilities and equipment.
And because Kubota offers a wide range of water infrastructure related products and services, we can provide products, service, and maintenance in a variety of formats, including stand-alone products, PFI/PPP*1, and EPC*2, to meet the diverse needs of local governments.
*1.

PPP (Public and Private Partnership) refers to a scheme in which the public and private sectors cooperate to provide public services. PFI (Private Finance Initiative) refers to a PPP method in which the construction, maintenance, management, and operation of public facilities and other aspects are carried out using private-sector funds, management capabilities, and technical expertise.

*2.

EPC (Engineering, Procurement, and Construction) refers to a full series of processes that includes engineering design, procurement of materials and equipment, fabrication, and construction work.
Utilizing IoT in Coordination with Products
As population declines pick up speed, labor-saving and efficiency in management and operation of water infrastructure will be more important than ever. The key to achieving these goals is the utilization of IoT. Kubota provides KSIS (KUBOTA Smart Infrastructure System), which enables remote management of water infrastructure facilities and equipment and visualization of their operating status, as well as prediction of irregularities in advance using analysis of monitoring data. Kubota also provides software such as WATERS-Cloud, a digitalized pipeline map that can also support water and sewage systems in which other manufacturers' products are used.
In addition to monitoring, diagnosis, forecasting, and control of pipes and facilities in waterworks, sewage, industrial waste water, agricultural water, and river water, KSIS also provides IoT-based solutions for waterworks repair sites. Hachinohe City in Aomori Prefecture, Japan has introduced one such construction information system, and it is contributing to solving the issues faced by the local government, such as improvements in accuracy of construction management and labor-saving.

Because Kubota is closely involved in making the products and has thorough knowledge of their characteristics and features, we have a firm grasp on which data should be collected, and we can provide the optimum coordination of data and product groups. Using Kubota's advanced sensing technologies and AI utilization, we can store and analyze data acquired from products and facilities, and put those results back into products and services. This helps us provide equipment lifecycle management, reduce LCC*3, and support labor-saving and efficiency in facilities management and operation.
*3.

Life Cycle Cost. This refers to the total cost required for a product or building, from procurement and production to use and disposal.
Comprehensive Capabilities Generated through Integration of Individual Strengths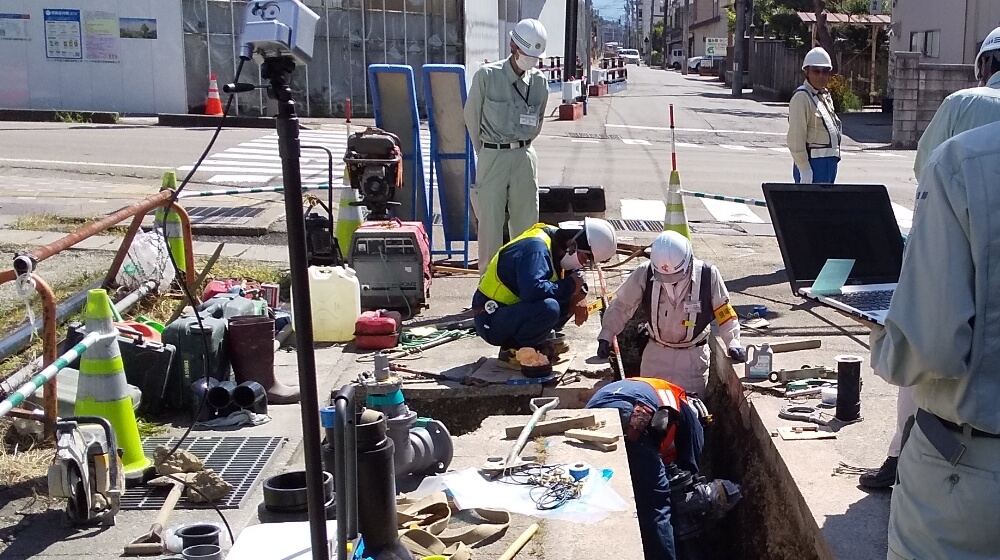 Kubota's true strength lies in its comprehensive capabilities in providing organically integrated products, services, maintenance, and IoT utilization. We go beyond merely providing the products that a facility needs; we have thorough expertise in making products work together in effective ways, along with the required maintenance and the best data to extract for them. We can provide these in a made-to-order format tailored to customer needs.
One example is Aizuwakamatsu City in Fukushima Prefecture, which has introduced a Smart City concept and is promoting digital transformation for its waterworks. This city implemented a construction information system and pipeline map using Kubota's solutions and conducted field tests related to monitoring of pipeline leakage. The decisive factor for introducing and implementing the system was that Kubota could provide integrated and comprehensive design, construction, and solutions. The city has used this fusion of water infrastructure and IoT to promote more reliable and consistent construction management and greater administrative efficiency, along with more efficient pipeline maintenance and effective risk management.
As a water specialist involved in all aspects of water infrastructure from upstream to reuse and downstream, Kubota has the flexibility to meet a variety of needs.
Vision
Kubota's Vision of Future Smart Water Solutions
In our day-to-day living environments, the cities where society is active, and industrial environments, a stable water infrastructure is an absolute necessity. Kubota, through its IoT-based Smart Water Solutions, will contribute to problem-solving and envision a future where water is delivered to people safely and securely through continuous advancements in water infrastructure.
Kubota's concept of Smart Water Solutions combines the hardware-related water infrastructure product groups with the relevant expertise and technology integrated with sensing technologies, AI, and IoT in software-related aspects. These aim to solve the challenges in water infrastructure by monitoring, diagnosing, controlling, and predicting through data. By putting the knowledge gained through these processes back into our product groups and services, we will contribute to achieving a society where water is supplied safely, securely, and stably, in both ordinary and extraordinary times.
As an "Essentials Innovator for Supporting Life," Kubota will work to achieve the future it envisions through its Smart Water Solutions by developing these technologies and advancing hardware-software coordination. And by making water infrastructure smarter in Japan and throughout the world and promoting the five areas of Accurate Condition Monitoring and Lifespan Prediction for Facilities and Pipelines, Cost Management, More Efficient Operational Systems and Methods, Risk Management, and Transfer of Knowledge, we will help to build safe and secure water infrastructure.