The developer's point of view: Always visualize the user
Aya Motoki
Mgr. E501 Project Team, Tractor Engineering Dept.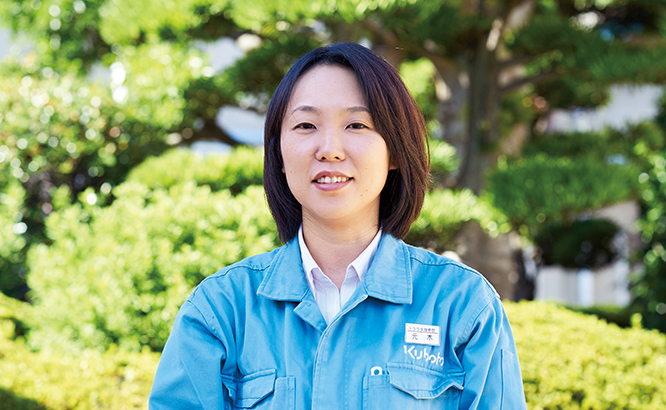 The developer's joy, expanding from Japan to the world
I have been involved in the development of L-series tractors ever since joining Kubota. Since majoring in mechanical engineering at college, I have always felt the satisfaction of seeing a product created from my drawings. I decided to join Kubota because I could feel the company's enthusiasm for manufacturing, and because I was strongly attracted to Kubota's proactive hiring of women for technical positions.
Initially, I was assigned to L-series tractors for the domestic market, and mainly involved in electrical component design. Starting in my fifth year, I was responsible for the development of the cabin (operating room). I adopted a rounded cabin instead of the traditional square shape. Since it was the first time a rounded cabin had been introduced to L-series tractors, we had difficulty developing prototypes. It was a day-to-day struggle. We didn't give up, however, and we were able to finally reach mass production. This product was subsequently selected for the "Good Design Award 2007" (Organizer: The Japan Institute of Design Promotion), which gave me great joy as a developer.
The next milestone was in my eleventh year when I was assigned to overseas models. The target country was the United States. I went to survey of U.S. market for the development of new models and visited our dealers in various locations from Chicago to Texas to conduct market research. We incorporated the requests that we received during that trip into our development plan for the new model, and the product was a blockbuster when we introduced it to the market. When I visited the U.S. later, a dealer told me that "the tractor is very popular and selling well," and I was overjoyed.
I want to deliver Kubota tractors to markets around the world
I am now in charge of Europe. Prior to introducing the new models, I travelled there to conduct market research as I had when I was working the U.S. market. A diversified range of implements are used in Europe, and operating spaces as well as user needs differ widely from country to country. There are also various regulations in Europe which we must comply with. To create tractors that meet user needs while keeping an eye on costs, I am now in the process of trial and error while leading the team. What I always do is visualize our users: What would I look for if I were a user? This point of view is the driving force in product development.
In tractor development, it is essential to accurately capture user needs to match the timing of market introduction. What I also feel keenly is the importance of approaching the market with the collective strength of unity among sales, manufacturing and service. I believe that this is necessary for Kubota's evolution into a "Global Major Brand".
Kubota has a corporate culture in which you can always accept the challenge of tasks that are one level higher than you are. In such an environment, I am aspiring to grow as an expert on L-series tractors and continue delivering better Kubota tractors to our users around the world.