I want to give 100% to my job as a way of contributing to Kubota's growth in the

Indian market.
Rekha Paliwal
Group Leader & Manager, Admin/HR/Accounts, New Delhi Office, Procurement HQ (KIO)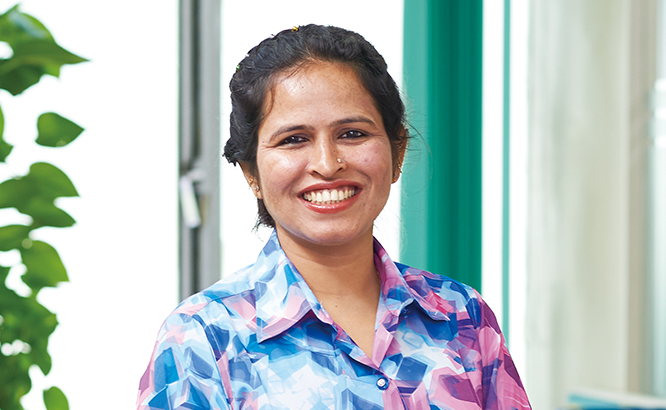 Strong support from people around me ensured my steady growth
I first visited Japan on student exchange program when I was in high school. I was attracted by the beautiful cityscape, the kindness and openness of local people, and the traditional cultures of Nara and Kyoto. This inspired me to pursue a career in which I could serve as a bridge between Japan and India in the future; so I majored in Japanese at the University and started working as an Interpreter in Japanese companies based in India.
I joined Kubota as a replacement to an acquaintance of mine who had left the organization. I was initially hired as an interpreter but my responsibilities changed significantly thereafter. Unlike other Japanese companies where I had worked, I was assigned to cover a wide range of responsibilities that went beyond the job of being a language interpreter. My responsibilities now include not only human resources, accounting co-ordination but also overall management of KIO. I received guidance at first while I was learning on my job. I was impressed with the strong support which I got from the General Manager and others around me. I feel that I was able to grow steadily because I was given lot of responsibilities. Currently, one of my important Key Responsibility Area (KRA) is managing and hiring human resources for KIO. This is an important function, as per with other administrative work, which includes helping visitors from Japan Head Office, coming to India and also to create a workplace environment where each employee can perform to the best of his or her ability. I feel this is my mission. To promote this, we are also developing a system that allow employees to upgrade their skills and knowledge. I feel that I am expected to make decisions and take action on my own, which is giving me immense satisfaction and huge confidence.

Freedom in Kubota's work environment supports working women
We regularly have our internal meeting to deliberate and analyze our work procedure so that we can perform within the prescribed in guideline of the Reserve Bank of India ('RBI'). RBI regulation mandates that a Liaison Office can only take part in business promotion on behalf of the Head Office. KIO always give much attention in hiring people as a quality staff and committed to provide a good working environment to them. And as a result, some people gone to abroad for higher study and after completion of their study they again join Kubota in other country.
One of the unique features of KIO is freedom which normally is not seen in other Japanese companies in India. I feel, if employee gets the freedom towards their job that will always be fruitful for the organization, as well as for employee's growth.
I gave birth in 2014. Childcare leave at private companies was set at three months by the national system at that time, but Kubota provided me with six months. I was deeply moved by Kubota's understanding of childbirth and childcare and its approach to supporting working women. I want to continue working and want my children to see me working in the future. In terms of my work, I also hope to advance my career by experiencing other bases and divisions.
In retrospect, I have learned many things and have grown at Kubota. I feel happy just being a Kubota employee. I want to contribute to the growth and development of the Indian market with a strong awareness of being a Kubota employee.