Exploring the European Continent with African

Market in Mind
Mito Kanai
Area Manager, Kubota Membrane Europe Ltd. (KME)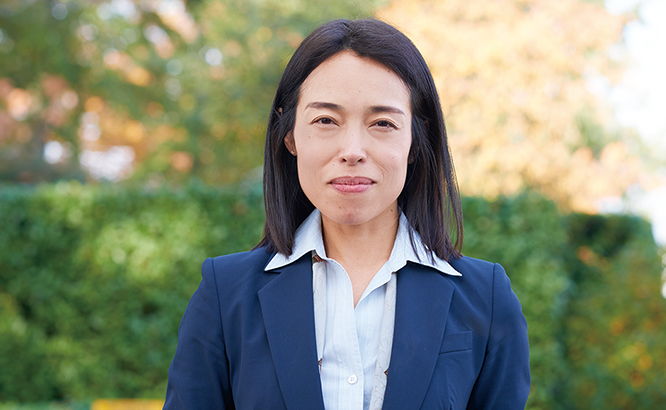 Joined the Kubota Group in London as a submerged membrane unit sales engineer
After receiving my master's degree from a graduate school in Japan, I continued my academic career in a doctoral course at Queen Mary University of London upon the recommendation of my academic supervisor. I studied physical chemistry and worked on surface structure analysis. Specifically, I was researching nitrogen-containing incar-fullerenes, which are cage-shaped carbon molecules that contain nitrogen atom inside and have the potential for a diverse range of applications, including novel materials for drugs, organic light-emitting diodes (OLEDs), new photovoltaic panels, and hydrogen storage. After completing the doctoral program, I assumed a position at KME based in London. Because of my scientific background, I underwent engineering training and then was assigned to a team of submerged membrane unit sales engineers.
Established in 2001, KME is Kubota's vehicle for sales and after-sales services of submerged membrane units. While distributing submerged membrane units for MBR effluent treatment plants to engineering firms and contractors in Europe, Africa, the Middle East, and South America, KME provides both technical support and after-sales services. I am an area manager for the U.K., Ireland, the Netherlands, Belgium, Scandinavia, and South Africa.
Establishing relationships of trust with customers through problem solution can be a weapon
My job begins by contacting consultants, engineering firms, contractors, and end users in each country of my area. For example, if I learn about a new project for an effluent treatment facility, I contact the project owner to convince them to use Kubota's submerged membrane units for the effluent treatment process, which will be the key component of such facilities. I also have an increasing number of opportunities to directly deal with end users for many reasons, including replacement of membranes at existing facilities. For the type of submerged membrane units supplied by Kubota, we used to share the global market with a North American player, but now we find ourselves engaged in intense competition in the European market, with many membrane manufacturers from China, South Korea, and Taiwan offering low-priced products. Amid this adverse environment, how can Kubota boost the sales of its submerged membrane units? I've often asked myself this question, and reached the conclusion that, in addition to appealing to the superiority of our brand, it is essential to establish relationships of trust through constant visits. While it is my permanent goal to gain as many new orders as possible by working with customers from the design stage, it is also an important mission to build lasting relationships with existing customers. To make this happen, I think it is important to keep abreast of any technical issues that customers may have by maintaining close communications with them, so that I can then work on solutions to such issues.
The market that I would really like to break into is South Africa. While European countries – particularly those in Western Europe – have nearly completed their infrastructure projects, African countries offer huge business opportunities, as there are still some areas where infrastructure has yet to be developed. Other members of my team have begun cultivating the African market, and I hope to take the opportunity of breaking ground in that untapped market, not only in my area of responsibility in South Africa, but also from a broader perspective.