Supplying Safe Water to his Home Country of Bangladesh - Taking on the Heavy Responsibility of a Pivotal

Role in the Project
Hasan Jahir
Manager, Overseas Department, Kubota Construction Co., Ltd.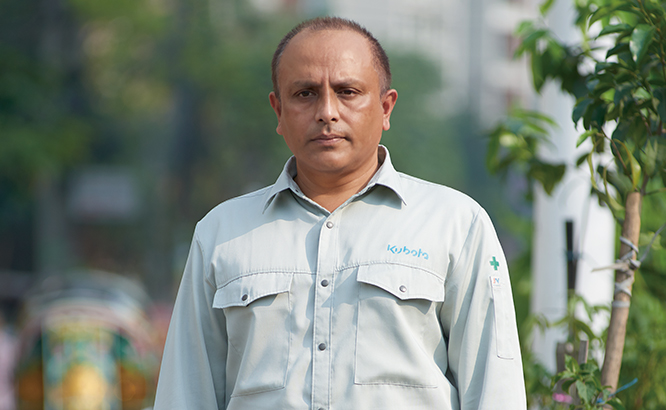 From Bangladesh to Japan, Joined Kubota with a wealth of knowledge
I was born and raised in Bangladesh. Bangladesh has fertile land with abundance greenery and many rivers and canals. However, the majority land of the country is within the delta, and so we have had frequent flooding of rivers, it has cost an extensive damage. I decided to pursue a career in civil engineering because I wanted to do something about the flood control for my country. I was admitted at a university in Bangladesh but wanted to learn civil engineering in Japan, which is well-known for its superior civil engineering technology, and so I moved to Japan in 1989. After studying the Japanese language for two years, I took a general entrance examination and was admitted to a Japanese university, where I majored in civil engineering. After graduating from the university, I worked for a Japanese civil engineering company for six years. During my service there, I presented a paper on geotechnical engineering at an academic conference, which drew the attention of a professor at a U.S. university. I was invited to undertake research at a graduate school in the U.S. for two years. After I returned to Japan, I worked for a construction company and a consulting firm. Through referrals from an acquaintance of mine, I was asked if I would be interested in the Water Supply Project in Chottogram, which was being carried out by Kubota Construction. I took this opportunity that I could do something to solve water problems in my country, I decided to join them, and they sent me to Chittagong right away. That was back in 2012.

Working to build trust as a Bengali-speaking negotiator
I was expected to facilitate communication using the local language of Bengali to ensure that the construction proceeded smoothly.
My responsibility was to negotiate with Bangladeshis, including government officials, the employer (CWASA), local residents, and construction workers. For example when we needed any changes or additional construction work, I need to explain to the employer about the necessity of the work to obtain their understanding and consent for the associated costs and other matters, which required tenacious negotiations. On the other hand, the Japan side needed to understand Bangladeshis, including their national characteristics, values, and culture, as well as their belief in Islam. Strongly feeling the importance of my job, as well as my mission and responsibility, I negotiated with many people in various situations. While doing so, I was made to realize the importance of earning the trust of my negotiating partners. I tried to build up a relationship of trust that they could confidently think, "If Hasan says that, it must be needed." One of the greatest impressions moment always recall my mind when we put together the tender documents on the table for the second phase of Karnaphuli Water Supply Project construction with other members. We held extremely detailed discussions in terms of both technical (engineering) and financial (cost) aspects to finalize a tender document that we could submit with confidence. All the more because of this, I had a great feeling of achievement when we won the tender.

The project provided a chance to provide valuable gifts to his home country
This is my first experience to involve in such a large project. I truly felt the joy of work from my heart to have this opportunity to become involved in the development of water infrastructure in my home country, Bangladesh. Also, I feel strongly satisfied with lasing gifts in terms of products, technologies, and non-physical aspects that I have been able to give to my home country through this project, including the facts that the concept of safety management has begun taking root among Bangladeshi construction works and that Bangladeshis who were involved in this project have demonstrated their talents at other construction sites. If you look around Bangladesh, there remain many areas where the water environment is still wretched. I hope to offer my services to the development of water infrastructure in my home country again, if and when I have a chance to do so. At the same time, as a member of the Kubota Group, I am ready to go anywhere in the world to play an active role in solving water problems at various regions may have.