Five-and-a-Half Years' Assignment in Germany Taught Me Much
Kengo Ota
Group 2 (Europe), Sales and Marketing Department, Construction Machinery Division Kubota Corporation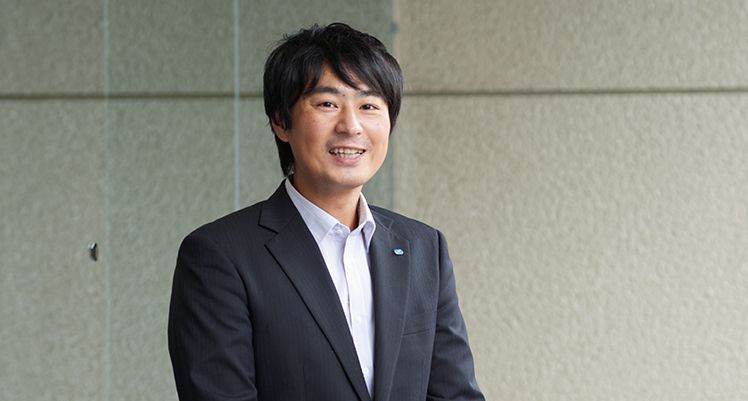 Falling in love with Germany while studying there
I majored in the German language and German literature at university. Looking back, the experience of studying in Germany for a year determined the career course I would pursue. While mingling with students from other countries in Europe there, I began to feel familiar with and attached to Germany, and I realized that I wanted to work there in the future. While I was job hunting at the university, I naturally focused on Japanese manufacturers who might give me an overseas assignment. From among many such companies, I was strongly attracted to Kubota's recruitment slogan back then: "A job that creates infrastructure that will last for a century." And so I decided to join the team.
After joining the company, I was first assigned to the Operations Group before being transferred to the Group 2, which oversees the European market. Our main markets there are Germany, France, the U.K., and Italy, but we also cover an area that ranges from Portugal and Spain in the west to East European countries, Turkey, and Israel in the east. Daily sales activities there are the responsibility of local sales companies, who take the lead in drawing up sales policies based on which sales expansion activities are organized. The sales team in Japan is responsible for supporting activities by overseas sales companies in their own territories by offering input on product concept planning, developing advertising and promotion materials, and providing product training. From the time I became a member of Kubota, I kept asking for an assignment in Germany, and finally in my fifth year with the company, I was given the green light to move to Kubota Baumaschinen GmbH (KBM), Kubota's manufacturing and sales company in Germany.

Introducing wheel loaders to the European market Fielding customer complaints with the entire team working as one
In 2014, Kubota released a new wheel loader model in Europe, which marked the first full-model change in 20 years of this earthmoving machine used primarily to load loose materials. Before I was transferred to Germany, I had been involved in the development of this model in Japan, and so I was charged with the important task of identifying the market needs and feeding them back to the engineering team in Japan in order to shape a product concept. The concept behind this particular model of wheel loaders demanded a significant enhancement in load weight and operator comfort; that is, it had to be capable of loading and moving as much as two tons of materials, while at the same time achieving operator comfort with an expanded cabin. It was with significant expectations that this new model was released on the German market, whose demand is the largest in the European market.
It was around this time that I arrived in Germany, and so my first responsibility there was to promote sales of Kubota machines. Soon after the launch, however, discrepancies between the product specifications and market requirements were revealed, which resulted in frequent complaints from those purchasing the model. It was a state of emergency in which the brand credibility that Kubota had painstakingly built in Europe with its COMPACT EXCAVATOR was in danger of being jeopardized. Prompt action was required before it was too late. Soon, all relevant sections gathered as one to make intensive improvements: the service team made customer follow-ups to anchor their trust, the sales team shared local information throughout the company, and the engineering, manufacturing, and procurement teams promptly worked on product improvements. Their assiduous efforts paid off, and we were able to solve the issues rather quickly. This series of actions by Kubota was rated highly by the customers. It left with me the lasting impression that teamwork among all departments turned what could have been a disaster into a beneficial result.

Eager to learn from new experiences
I returned home after staying in Germany for five and a half years. Having worked in a different environment, I had learned many things, including the importance of making advance preparations. Europe is full of people of various nationalities, and it sometimes takes time to form a consensus. To get things done without losing a sense of urgency, I had to make thorough preparations. I was also made keenly aware of the need to infer the points of view of various people, all the more because I was physically close to the market. While in Germany, my counterparts were German salespersons, behind whom were local distributors and end users. Acting with the knowledge of the existence of people whose points of view vary will eventually allow them to garner trust in Kubota products.
Now I am in a position to support our business in Europe from Japan. One thing I like about Kubota's Construction Machinery Division is the culture of encouraging people to do whatever they wish. In other words, you are allowed to take on any challenge if you act on your own initiative. I am hoping to become a better person by building knowledge from new experiences, just as I did while in Germany.