Delivering Kubota's Membranes to Countries in Southeast Asia Aided by Pivotal Trust

Relationships with Customers
Ryo Sakaguchi
Development & Engineering Group,
Membrane Systems Department,
Kubota Corporation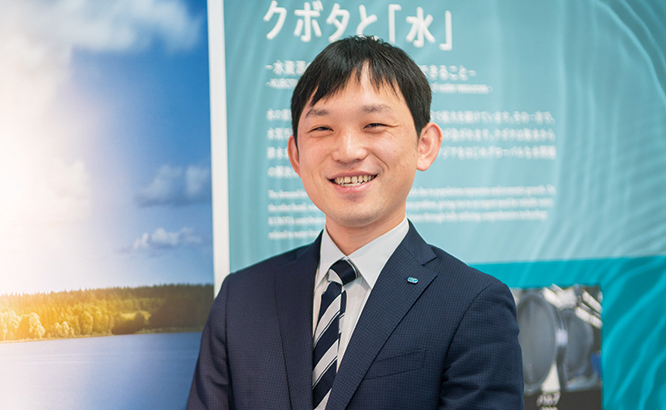 Studied rivers in Vietnam at graduate school; determined to contribute to environmental improvement
My research theme at graduate school was water pollution in rivers in Vietnam and solutions to improve the hygienic conditions of the people living near them. While doing a field survey in Vietnam, I learned that those who discharge liquid waste into rivers are not the only ones who are affected, but also those who are not directly involved in the river pollution fall victim to damage in terms of both the environment and good hygiene. This kind of environmental problems occurs frequently in developing countries, and I myself wanted to do something to help improve the situation. To do so, I decided to get out of the academic world and seek opportunities in a field in which I could help improve people's living environments through business undertakings. In the area of water treatment, Kubota boasts a long track record overseas, mainly in developing countries, and I found a great opportunity in them and decided to join. The Membrane Systems Department, with which I am affiliated, markets membrane filtration equipment for wastewater treatment (KUBOTA Submerged Membrane Unit™). My responsibility there is to take advantage of my engineering background to contact customers in Southeast Asian countries and elsewhere to persuade them to use Kubota's membranes in their wastewater treatment facilities.

Sharing issues with customers, seeing things from their points of view
Once I visited a Vietnamese plant engineering company to pitch Kubota's products for their new wastewater treatment plant. When doing some research prior to the visit, I realized that they had once used Kubota's products but that an operational problem left them with a negative impression of Kubota. So, I looked into the causes of the problems that they had experienced to come up with improvement plans. When I visited them, I asked them to give me time to discuss what was needed to do to solve the problems. Through this experience, I think I was able to earn their trust in me and share their goal by seeing things from their point of view to understand where their problems lay. After that, we have had plenty of inquiries about future projects, and we hope to take orders from them going forward. I was made to realize the importance of sharing issues and seeing things from the same perspective, thus fostering a relationship of trust.
Turning attention to the broader spectrum of the world, taking the All-Kubota approach
To win high recognition for Kubota, including its services and technologies, you really have to build a relationship of trust as you closely engage with your customers face-to-face and explain your products and technologies. I feel satisfied when, as a result of such an approach, they acknowledge the Kubota brand and the benefits of its products as "beneficial." Going forward, I will visit more customers to gain wider experience in demonstrating how to use our products and providing technical services, that should help me to hone my communication and presentation skills. At present, Kubota's membrane business offers total solutions that combine sales of membranes and engineering (design and construction of plants), mainly for facilities in Japan. I hope that in the future, Kubota will be able to offer total packages of water treatment business around the world. So far, Kubota's membranes have been introduced to approximately 6,000 facilities, about 2,000 of which are overseas. In order to realize my student-days aspiration of contributing to the betterment of the living environment for people in developing countries, I am determined to help expand Kubota's wastewater treatment business while remaining aware of countries and regions across the whole world.