Kubota Releases a New Screening Machine for Plastic Pellet Production
— A Dramatically Improved Performance in Screening out Minute Foreign Matters Using LED Lighting, Adaptability to Sorting of Transparent Pellets —
February 21, 2013
Kubota Corporation (Head Office: Naniwa-ku, Osaka; Chairman & President: Yasuo Masumoto) recently released Super PLATON, a pellet screening system to sort out foreign matters based on color differences such as minute black spots, blurs, black particles, etc. that are generated during the production process of plastic pellets. Its screening performance is higher than that of conventional products. The new Super PLATON will help domestic and overseas plastics manufacturers in enhancing the quality of plastic pellets with high added values.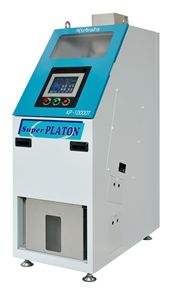 Product Name
Super PLATON, a screening machine for plastic pellet production
Target Volume of Sales
100 units for the first year
Reasons behind Development
In recent years, domestic and overseas manufacturers have strived to improve the quality of engineering plastics, super engineering plastics, high-function films, and other plastic pellets with high added values in the production process of plastic pellets, by removing very small-sized foreign matters and minute black spots.
Also, few screeners were available in the market which could handle transparent plastic pellets. As a result, many manufacturers had to rely on manual labor to do the screening.
Against this background, to meet a growing demand for a screening performance exceeding that of the PLATON II released in 2007, Kubota developed the Super PLATON, a machine with a higher screening performance and adaptability to screening of transparent plastic pellets.
While our conventional models use fluorescent lights as the light source, Super PLATON uses the newly developed omni-directional diffusion lighting method (patent pending). Using LED lighting, we succeeded in controlling the contrast between light and shaded areas, which hampers correct detection, by applying diffused light to the object material evenly in all directions. Also, detection resolution was improved to 0.03 mm by using four line sensor cameras to increase the total number of pixels. These new technologies permit a dramatic improvement of accuracy in detecting minute, 0.1 mm-diameter black spots; as well as screening of transparent plastic pellets, a difficult feat for a conventional machine.
The new machine uses the "auto tuning function" that allows the user to make adjustments easily by following a guideline, that indicates which settings to use for a particular object material to be screened out.
A 7.5-inch color liquid crystal touch panel is used whose display is easy to view and simplifies operation.
All contact material parts are made of stainless steel. These parts can be removed easily for cleaning without the use of any tools so the time to changeover materials can be shortened.
We will establish two Test Centers in the Kansai and Kanto areas of Japan respectively, to meet requests from customers for testing of screening performance on their materials.
Also, we will install test machines at our sales representatives in South Korea, China, Taiwan, Singapore and Thailand, to expand sales in Asia.
Share This Article