Publication of "KUBOTA REPORT 2021 (Integrated Report)"
June 25, 2021
Kubota Corporation (Head Office: Naniwa-ku, Osaka, President and Representative Director: Yuichi Kitao, hereinafter "Kubota") has recently published "KUBOTA REPORT 2021"as an integrated report.
This past February, the Kubota Group announced our long-term vision, "GMB2030," which has a 10-year horizon, and our mid-term business plan, in effect until 2025. Based on both of these resources, this Report conveys the kind of company we want to be over the medium- to long-term to all of our stakeholders. The Report also incorporates concrete case studies showing the total solutions and open innovation Kubota is engaging in to realize the vision and business plan, starting with our Environmental Vision, which indicates the direction of our business activities from an environmental perspective as we move toward 2050. The Report thus weaves together our business and ESG strategies.
From here on, the Kubota Group will promote ESG management and continue to contribute more than ever before to the food, water, and environmental area by providing our products and services. By doing so, we will continue to work together as a team to become a sustainable company, a corporate group that is trusted by and indispensable to society.
Overview of the "KUBOTA REPORT 2021"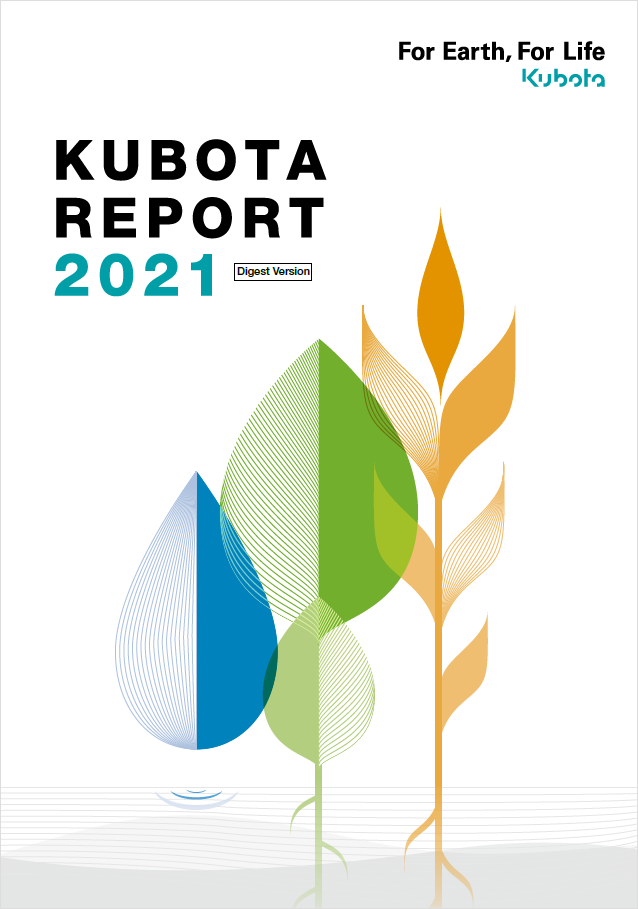 1. Frequency of publication
Once a year
2. Report period
From January 2020 to December 2020
3. Main content
History of the Kubota Group
Top Message
The Kubota Group's Goal
Mid-term Business Plan 2025
Special Feature 1: Dialogue
Special Feature 2: Open Innovation
This Report (online version) has been published on the following websites.
Share This Article