KUBOTA TECHNICAL REPORT No.51 JANUARY 2018
Feature Theme: Kubota, a Leading Company in Next-generation Farming with ICT
We have made "Kubota, a Leading Company in Next-generation Farming with ICT" the feature theme of Kubota Technical Report No.51, aimed at the realization of future agriculture. Along with introducing products applying the automation technology raised above, like tractors and ricetransplanters equipped with automatic steering technology, tractors enabling remote monitoring and cooperative work, and the KSAS Drying System as an example of PDCA-style agriculture, we also introduce the development of the Assist Suit, which enables labor reductions in harvesting and packing work. This report will give you some idea of how Kubota has taken on the challenge of "future agriculture" with the technology we have accumulated over the 127 years since our founding.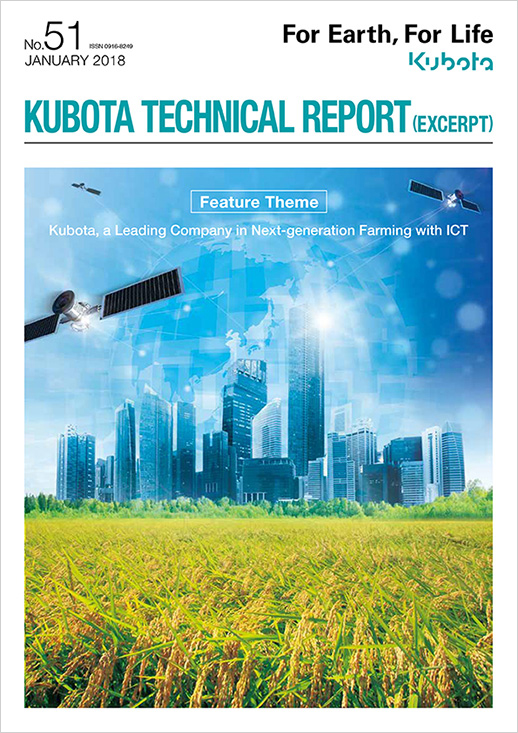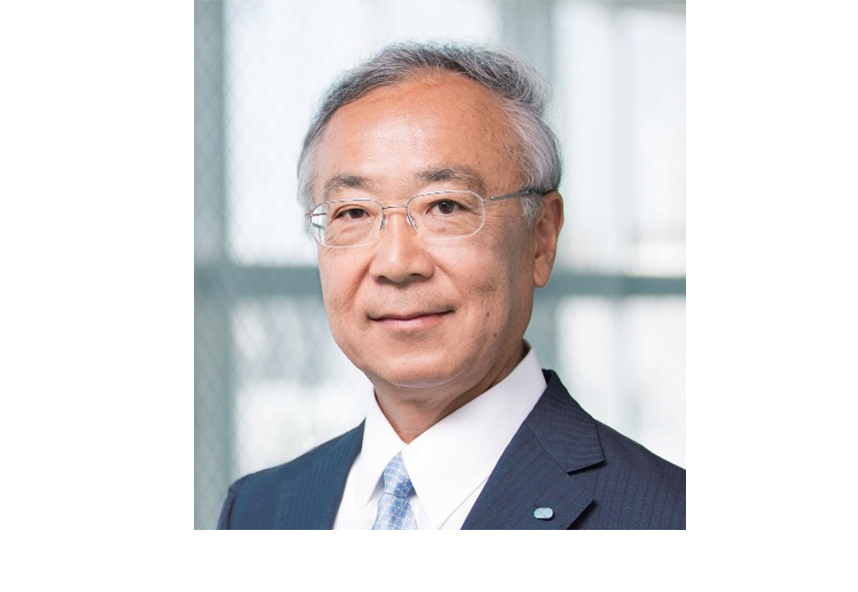 Kubota's Efforts in Next-generation Farming
Director and Senior Managing Executive Officer
General Manager of Research and Development Headquarters
Satoshi Iida
Japanese agriculture has reached a great turning point due to factors such as a significant decline in the number of farmers because of aging, and the liberalization of agricultural imports. In such circumstances, it will be necessary to change Japanese agriculture into an attractive, profitable business for the professional farmers supporting it, to allow Japanese agriculture to develop. To this end, Kubota is advancing R&D on smart agriculture ([1] precision farming based on the use of data; [2] ultra-labor saving based on automation) using ICT (Information and Communication Technology) and the IoT (Internet of Things) and its diffusion as Next-generation agriculture. To this point, Kubota has launched the KSAS (Kubota Smart Agri System) with regard to [1] precision farming, and a rice-transplanter with automatic steering and an automatically operated tractor (the SL60A Agri Robo Tractor) with regard to [2] ultra-labor saving. In this article, we raise the targets that we have worked towards with these products and the state of our R&D.
Moreover, we also raise the future concept of a smart agriculture total solution combining [1] and [2], and the issues that we will have to clear towards its realization and diffusion, and show our way of thinking about overseas expansion.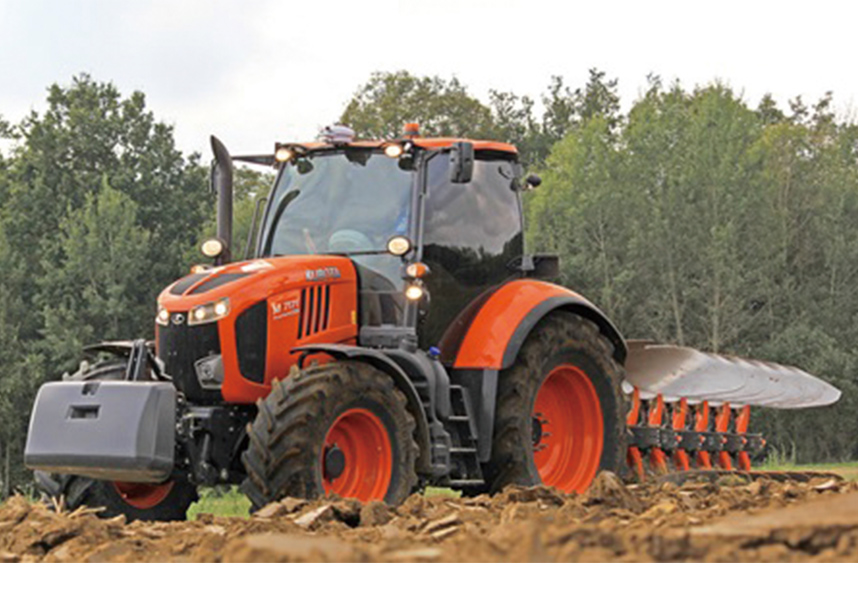 Development of Automatic Steering for M7 Series Tractors
Agriculture Tractor Engineering Dept./Vehicle Base Technology Engineering Dept.
Kubota has developed an automatic steering system, an important function for the M7 tractor in dry-field farming. To ensure an advantage over other companies, the automatic steering system was designed with a focus on driving accuracy, the method of installation and the operating procedure. Based on ISO25119, the latest standard for safety, Kubota established a new safety assessment and evaluated the automatic steering system using it. The M7 tractor equipped with the automatic steering system has received the support of many users in dry-field farming and contributes to farmers all over the world.
Automatic Steering

GPS (Global Positioning System)

ISO25119

Dry-field Farming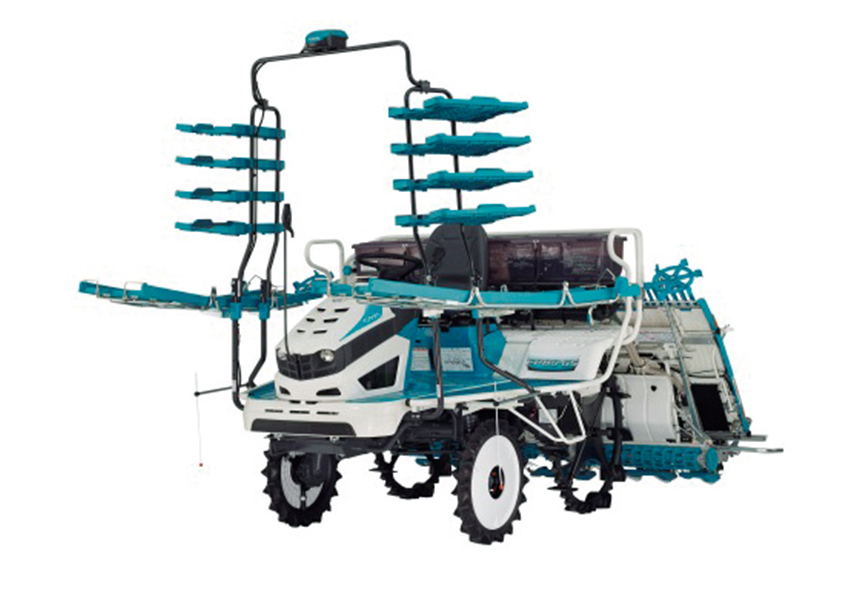 Development of Rice-transplanter with Keeping Straight Function
Transplanter Engineering Dept./Farm and Industrial Machinery R&D Dept. I
A shortage of skilled human resources is becoming a serious problem in Japanese agriculture. In this situation, GNSS-based (Global Navigation Satellite System) automatic steering systems are considered an effective way to solve this problem. In particular, a rice-transplanter with an automatic steering system is strongly desired because of the fact that rice-planting is one of the most difficult tasks of rice cropping. However, conventional automatic steering systems are hard to install in rice-transplanters because of problems with operating accuracy, production costs and usability. Kubota made original efforts and developed a "Keeping Straight Function" as an inexpensive, highperformance, automatic steering system for ricetransplanters. This paper describes our efforts in development.
Robot

Automatic Steering

GNSS

GPS(Global Positioning System)

Sensor Fusion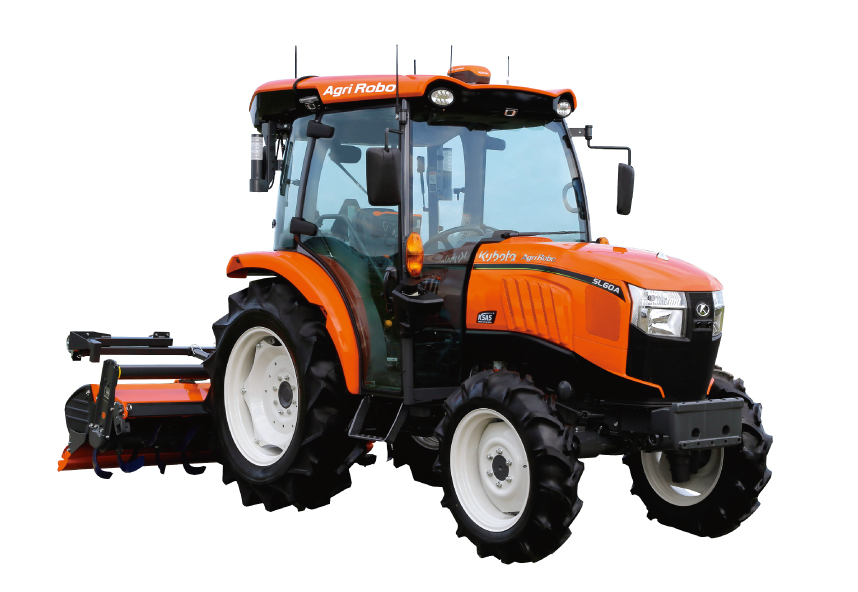 Development of AgriRobo Tractor
Compact Tractor Engineering Dept./Farm and Industrial Machinery R&D Dept. I
Instrumentation and Control Technology Center/Vehicle Base Technology Engineering Dept.
With the aging of society, the number of retired farmers is increasing in Japan. On the other hand, certified farmers aiming for efficient and stable farm management and agricultural corporations are increasing. As agricultural lands are consolidated by these principal farmers, the scale of agricultural farms is expanding, and further reductions in production costs are required. As smart-agriculture utilizing ICT (Information and Communication Technology) is being promoted as the next generation agriculture, has been developing smart agricultural technology using GNSS (Global Navigation Satellite System) to support efficiency and labor saving for farmers, and has already launched a tractor with an automatic steering traveling function and a rice transplanter with a "keeping straight" function in the FarmPilot series. As the third step in the FarmPilot series, which has advanced more sophisticated functions, and in order to achieve even higher efficiency, higher precision, and less labor, we developed the AgriRobo tractor. This enables automatic operation of an autonomous monitored tractor and cooperative work with a manned tractor monitoring the autonomous tractor, and put it on the market ahead of other companies. Here we show the outline of the AgriRobo tractor and its technical development.
Smart-agriculture

Autonomous

Control

GNSS

Detection System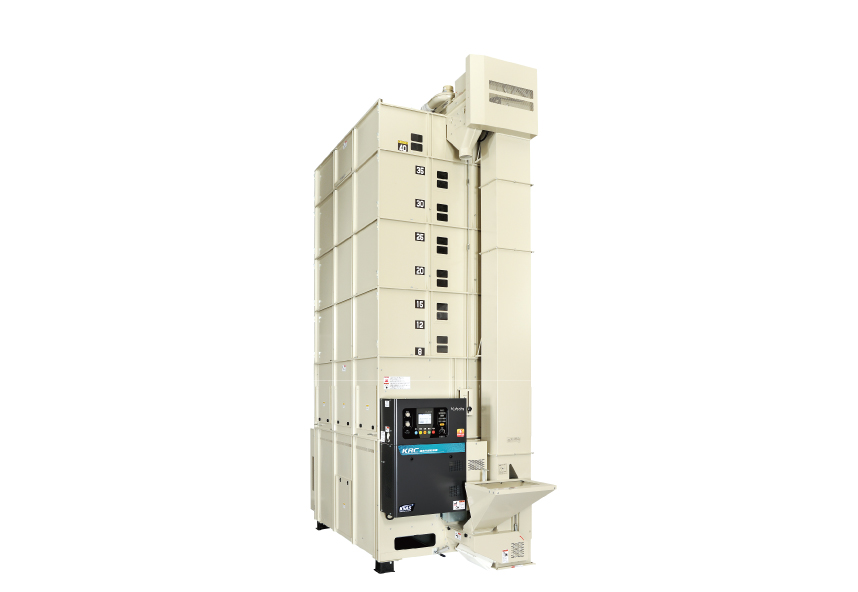 Development of KSAS Drying System
Post-Harvest Products Engineering Dept.
In recent years, the evolution of ICT (Information Communication Technology) such as the IoT (Internet of Things) and big data analysis technology has been remarkable. Meanwhile, the number of ambitious farmers constructing mini rice centers for themselves and aiming for improvements in farming is increasing. For this reason, the Post-Harvest Technology Division began studying a system to support the operation of mini rice centers using ICT. In June 2017, Kubota launched the "KSAS drying system for mini-rice centers" ahead of other companies in the market. In this paper, we explain the development concept of the "KSAS drying system" and the functions to be provided. In addition, the results of monitoring tests through the season at 8 places conducted in 2016, show that this system is useful for providing new value using ICT such as protein sorting and improving farmers' earnings in the post-harvest area.
Mini Rice Center

Kubota Smart Agri System

KSAS Drying System

IoT

ICT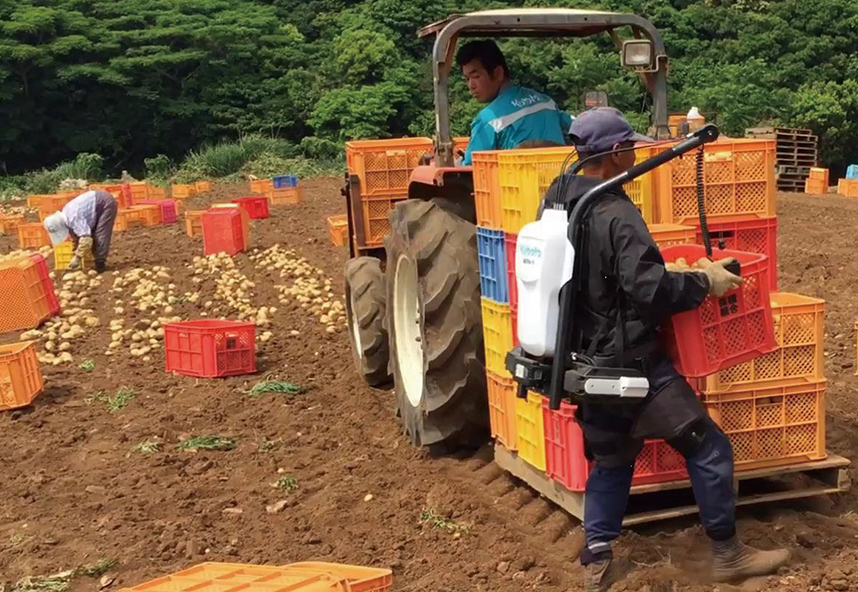 Development of WIN-1 Winch-type Power Assist Suit
Farm Machinery Implements and Products Engineering Dept.
Farm and Industrial Machinery R&D Dept. I
Domestic agriculture, which has many problems such as rapid aging and labor shortages, is under pressure to change. One solution is to promote the further activities of women and the elderly in agriculture. On the other hand, mechanization has progressed in domestic agriculture, but there are still many people carrying heavy loads, especially in vegetable and fruit farming. The work of stacking 20 kg containers filled with crops from ground to shoulder height is a heavy strain on the waist, arms and upper body of workers. To respond to these demands, Kubota has worked on the development of a power assist suit that assists both the waist and the upper body. As a result, Kubota produced the WIN - 1, which adopts a unique assist system with a winch, realizing easy operation and natural control, and started selling it in 2017.
Power Assist Suit

Container

Stack Works

Reduce Labor

Winch

Weight Reduction

Carbon Fiber Reinforced Plastics
Development of Electric Actuator for Field Water Management System