04




Make in India Building a community-based supply chain
The multi-purpose tractor: 67% of parts are sourced in India
A new production scheme was employed for the MU5501, one that differed from the conventional standard. Under the new scheme, parts are sourced in India, components are massproduced in Thailand, and final assembly takes place in a new KAI factory built in Pune, India.
Kubota's Procurement HQ New Delhi Office (KIO) was established in 2006, earlier than KAI, Kubota's sales base in India. KIO's main mission is to gather and analyze information relating to the local sourcing of parts. One of the key factors in improving productivity and maintaining competitiveness is the local sourcing of raw materials and parts, and the localization of production facilities. Kubota has been building a global supply chain since the early stage. In 2006, it promoted expansion of the supply chain by establishing local sourcing information offices in Thailand and China and in Delhi, India. Currently, 37 local parts manufacturers worldwide supply parts to Kubota's global bases. In the case of the MU5501, although the tractor was manufactured in Thailand, 67% of the parts were sourced in India, an approach that contributed to the early startup of production. General Manager Junya Ueda has been in charge of KIO since 2012. Prior to being posted in India, Ueda had been engaged in parts sourcing in North America.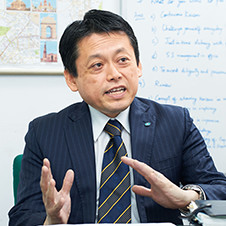 "The most important aspect of dealing with local companies is building solid relationships by working closely with the local community. When you open your heart, your counterparts will open theirs. I believe that my mission is to increase the number of associates through this type of communication. India is a manufacturing nation whose total volume ranks as one of the highest in the world. A major role of Kubota's Procurement HQ is not only to source parts but also to support India in raising the level of manufacturing to the level of Kubota quality."
A noteworthy initiative in the Kubota Group for improving the quality and production management capabilities of suppliers, developing human resources and contributing to local communities is the "Global Improvement Community," which opens annually in Japan with suppliers from around the world. Roughly 200 companies joined the community this year. Each participant gives a presentation on efforts made to address problems, such as improvement of quality and productivity, in a competitive format. Traditionally, Kubota's basic stance in dealing with suppliers had been to provide guidance for improvement, but the Global Improvement Community aims to encourage independence. One of the suppliers that has joined the Global Improvement Community is Raunaq Automotive Components Ltd., which has its head office near New Delhi.
KAI Pune Factory

Final assembly and inspection are carried out at the Pune Factory.

Final assembly and inspection are carried out at the Pune Factory.
Indian supplier talks about Kubota's overall efforts to improve quality
Raunaq Automotive Components Ltd. has been supplying parts to the Kubota Group since the opening of its Delhi Office in 2006. With guidance from Kubota's Procurement HQ, the company's quality and production control improved dramatically. The company now supplies gear parts to Kubota Group factories in Japan and Thailand. It also became the first company to deliver massproduced Indian-made gears to Japan. Raunaq Automotive Components Ltd. President Gursharan Singh looks back on those days.
"I was surprised because Kubota's approach to manufacturing from the material level and ensuring quality control was new to India. Kubota guided us to the achievement of quality levels that are standard in Japan. I feel that Kubota has raised us up."
The fact that Raunaq Automotive Components was supplying parts to a global brand quickly became known to other manufacturers. Backed by the credibility of dealing with Kubota, Raunaq Automotive Components started dealing with major European and American car manufacturers, and the company is growing rapidly. Today, roughly 50% of its sales is generated through export. Mr. Singh is expecting Kubota to establish a local production system in India as soon as possible. The supply chain for parts sourcing is already almost completed, and preparations for local production are progressing.
India is becoming a global manufacturing hub: Putting "Make in India" into full-scale practice
Currently, India is implementing an economic policy called "Make in India," which literally means "manufacturing in India." This policy aims to maintain a high rate of economic growth and create jobs in India by promoting both domestic and foreign investment and developing India into an attractive global manufacturing hub (node). The launch of the MU5501 with part sourcing in India is the first step in practicing Make in India, and the foundation for full-scale implementation in the near future.
"The importance of local production for local consumption has been pointed out in many manufacturing industries. Once the production system in India is established, The Kubota Group will be able to source most parts locally. The Kubota Group believe that such a posture will lead to community and social contributions, and will make the significance of Kubota's presence in India even clearer." (Ueda)
The robust supply chain that Kubota has built in India over the last ten or so years will undoubtedly provide a firm foundation for Kubota's future marketing strategies in India.