03


"Pipes of Life"that Deliver Water to Urgently
- Kubota's ductile iron pipes make a positive impact on lives -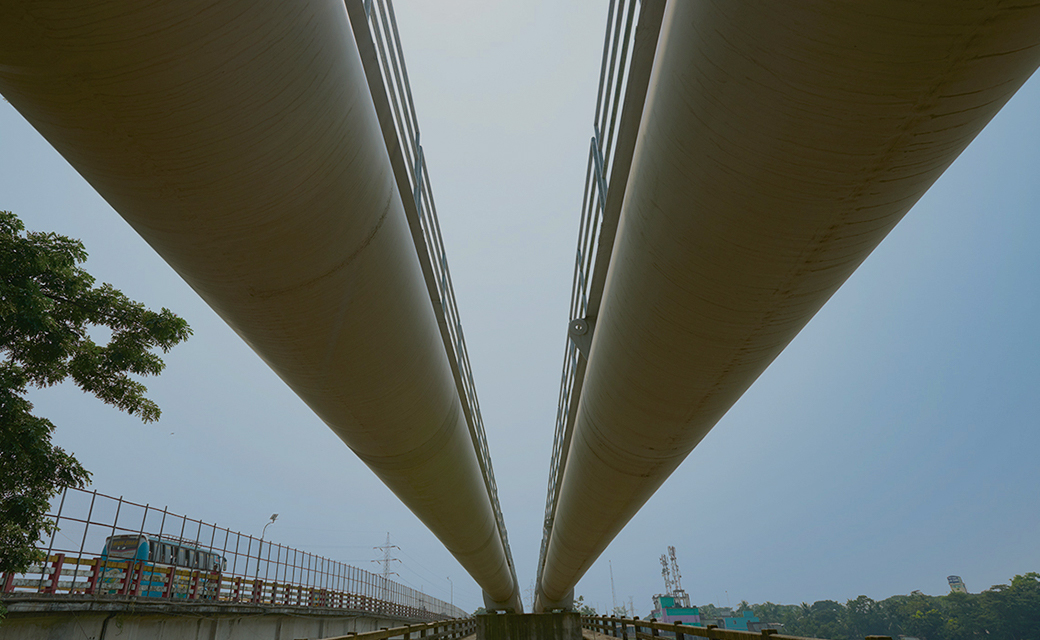 Optimal construction methods for a challenging civil engineering undertaking in urban settings have won much acclaim.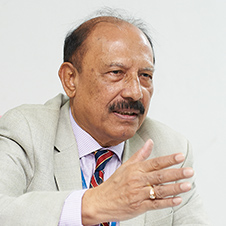 The tender for the project was made in two stages, involving technical and price evaluations, respectively. Only the bidders that successfully passed the initial technical evaluation stage qualified for the price evaluation. As the sole bidder who passed the technical evaluation for both the first and second phases of construction projects, Kubota Construction successfully proceeded to the price evaluation, where it agreed on bid prices with the employer to win the tender. So, how was Kubota Construction able to pass the technical evaluation? According to Shirai, on top of its urban setting, in which people and vehicles were constantly coming and going (adding to the difficulty of engineering work), the sites for the water supply project in Chattogram had a three-type of difficulties: Spring water during earthwork, soft ground and congestion of buried objects. From the very start of the project, it was bound to be rough going, with the need for advanced engineering capabilities. In anticipation of the difficulties, Kubota Construction prepared a package of optimal construction methods carefully chosen to accomplish the difficult tasks, including a water bridge construction method as well as a pipe jacking method, together with its reliable piping engineering. The advanced level of Kubota's technical capabilities secured the winning bid. Eng. Mr. A. K. M. Fazlullah, Managing Director of the Chattogram Water Supply and Sewerage Authority (CWASA), who is the representative of the employer, had been involved in the development of the water supply system in the city of Chattogram for more than 40 years, and he claims that Kubota's technologies and products caught his attention from early on.
"In the 1980s, when I was involved in the very first project in Chattogram that took water from the river for water supply, I had a chance to visit one of Kubota's plants in Japan while I was visiting water pipe suppliers candidate for the project. There, I encountered water pipes of the best quality manufactured with cutting-edge technologies. The bid went to Kubota, who supplied its water pipes to Chattogram for the first time. We were highly satisfied with Kubota's products. The ongoing project involves a high degree of difficulty, too, using large-diameter water pipes to span along rivers and to undercross the river and railway tracks, but I was impressed that Kubota Construction came up with viable solutions made possible by their ample experience. I have to admit that some government officials were reluctant because of the cost, but I persuaded them into approving Kubota Construction's proposal, saying I would take total responsibility for the selection."

Feeling their way through numerous hardships to accomplish large-scale construction work
I n August 2011, Shirai arrived in Chattogram as Project Director, one year before the construction of water supply pipes with the total length of 68 km (first phase*4) began in August 2012. Most of what they laid down were the world's largest 9-m-long ductile iron pipes manufactured by Kubota, which numbered 4,863 for the first phase alone. The project was expected to be difficult, but there were multiple occasions where Shirai and his team were hindered by unexpected circumstances and tougher-thananticipated situations.
"Even before construction work began, buried objects troubled us. We began investigating what was buried as part of the test excavation, not knowing what we would end up discovering as gas pipes, existing water pipes, and communication pipes had been set up all over in a disorderly fashion since the start of British rule. Whenever we found something buried underground, we would ask the corresponding authorities to do something about it, but some road administrators did not allow us to excavate, which made it difficult to go on with construction work. In retrospect, the key to smooth progress in the construction process was obtaining understanding and consent from those concerned through tenacious negotiations." (Shirai)
The construction that followed proved a real challenge: the pipes were laid down at from 15 to over 30 sites simultaneously, with around 500 workers engaged in the work on any given day. At locations along busy roads, traffic was backed up as vehicles were limited to moving one way only. This resulted in a gradual shift to nighttime work at places with heavy traffic until some 80% of the construction was conducted during the night. Meanwhile, engineers from Kubota Construction steadily implemented technologies that they had proposed in their tender. To prevent elbows of the ductile iron pipes from being removed after connection, they applied advanced piping technologies, "restraint coupling". At a site where they had to span a river, they adopted a special "pipe aqueduct" technique, which reinforced the bridge piers of an existing road from the submerged portions upward and used the resulting structure to connect a pipeline of approximately 220 m in total length over the river. Then, at sites where it was necessary to cross underground waterways or railway tracks (where excavation of the ground was not allowed), they used the pipe jacking method to push forward sheath pipes as they drilled underground like a tunnel, thereby laying down ductile iron pipes steadily. As they proceeded, they encountered numerous factors unique to Bangladesh that hindered the construction, including flooding following heavy rainfall during the rainy season that they had never experienced in Japan and hartal (or "general strike") due to political instability. While solving these physical issues one by one, they were faced with a non-physical issue— the level of construction management skills of Bangladeshis who were involved in the construction work.
*4.

The first phase of construction was jointly conducted between Kubota Construction Co., Ltd. and Marubeni Corporation.
The Halda River flows underneath the aqueduct. For this water supply project, water is taken upstream from the Karnaphuli River that flows into this river.

Due to its heavy traffic, the Oxygen Junction posed the biggest bottleneck for second phase work.

Vehicles come and go constantly by the construction site.

The jacking method negates the need to excavate the ground.

The jacking method negates the need to excavate the ground.
Training Bangladeshi engineers Ensuring thorough safety management and increasing safety awareness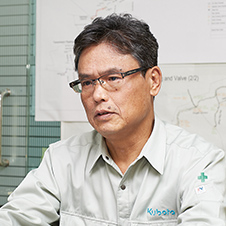 In January 2013, the project was joined by Toyohide Kurimoto (Construction Manager and Deputy Project Manager). Although initially arriving in Chattogram to provide temporary support, he was persuaded by Shirai to stay involved in the construction work until the end of the entire period. The work for the project would take place at several different sites, at each of which Kurimoto and other Japanese engineers would be separated from each other to supervise the work. At each construction site, Bangladeshi managers oversaw construction work to manage workers on the field. As soon as Kurimoto arrived on site, he felt it imperative to help improve the skills of Bangladeshi managers and to train people.
"The reality was, even those who majored in civil engineering at universities lacked the skills or knowhow required for construction work management. I believe that all Japanese members shared the anxiety that they wouldn't be able to complete the work if they did not increase the overall level of construction management by local staff members. So, we began by training them on the most basic construction management skills. What was important was to have them understand what we think and for us to understand what they think. We made it a point to communicate our thoughts and ensure that they understood and consented to them. Through such down-to-earth, persistent approaches, we trained field managers, who then helped subcontracting construction services—which provided the workforce—to develop. I believe that such efforts were instrumental in achieving smooth progress in the project." (Kurimoto)
The dedicated endeavors of Kurimoto and other Japanese engineers to develop Bangladeshi workers were definitely of help in improving the overall construction management and engineering skills of the local people. If Bangladeshi workers shared what they had learned with their people in future generations, they could facilitate the future development of infrastructure in the country. In addition to cultivating local human resources, they put a great deal of effort into safety management training. Safety management represents the most basic of basic skills in construction work, but there were "no laws concerning safety or safety training" (Shirai) there. So, they urged local workers to wear protective clothing, helmets, and safety shoes. By sending repeated reminders, they were able to raise the overall level of safety awareness among the local workers. Furthermore, at every milestone in the project, they organized a "safety convention" to draw people's attention to and educate workers on safety awareness, and thus successfully completed the first phase of construction without a single accident.

100-km-long water pipes set in place to deliver water of life to 2.7 million residents in Chattogram
The first phase of construction was brought to completion in November 2015. They successfully received orders for the second phase of construction, which started in November 2016*5. Planning of the second phase had started while the first phase was in progress, with the aim of further increasing water supply capabilities in order to serve the demands of Chattogram, whose population was and is expected to grow further. As in the first phase of construction work, ductile iron pipes with a total length of 35 km were supplied by Kubota. It won the second phase tender because of its highly acclaimed construction plan that would make the best of the experiences and technological knowhow gained through the first phase. High confidence in Kubota's ductile iron pipes, coupled with Kubota Construction's advanced water supply construction technology, overwhelmed other bidders in the technical evaluation. Despite the occasional hardships like those experienced during the first phase, the work of the second phase proceeded very smoothly, with 90% of the work (31.5 km) finished by October 2018. When the second phase is completed, the coverage of water supply for the entire Chattogram city should be increased to 85%, providing many families in the city with access to safe water via faucets. The 100-km-long water pipes Kubota Construction will have constructed should serve as "pipes of life" that bring a bumper crop to the people in Chattogram. With the scheduled completion of the second phase in October 2019, Kubota Construction's mission will come to an end. Having been involved in the project for ten years, Project Leader Shirai looks back on the time with his heart full. "We've done a good job," was his candid remark.
"Be like Chattogram or any country or region, we do what we are supposed to do. We put everything we have into doing it. For this particular project, our consistent efforts resulted in the supply of safe water, which brings joy to many people. I am convinced that this has been another good job of ours." (Shirai)
For this project, Kubota Group companies teamed up with each other as they tapped into the collective strength of the Group. With the ultimate mission of supplying safe water to people the world over, the Kubota Group is ready to take the next step, equipped with high quality materials and reliable construction technology.
*5.

The second phase of construction was performed by a joint venture between Kubota Construction Co., Ltd. and Kolon Global Corporation of South Korea.