04


Underpinning the Global Water Infrastructure
- Ductile iron pipes: Kubota's manufacturing started here -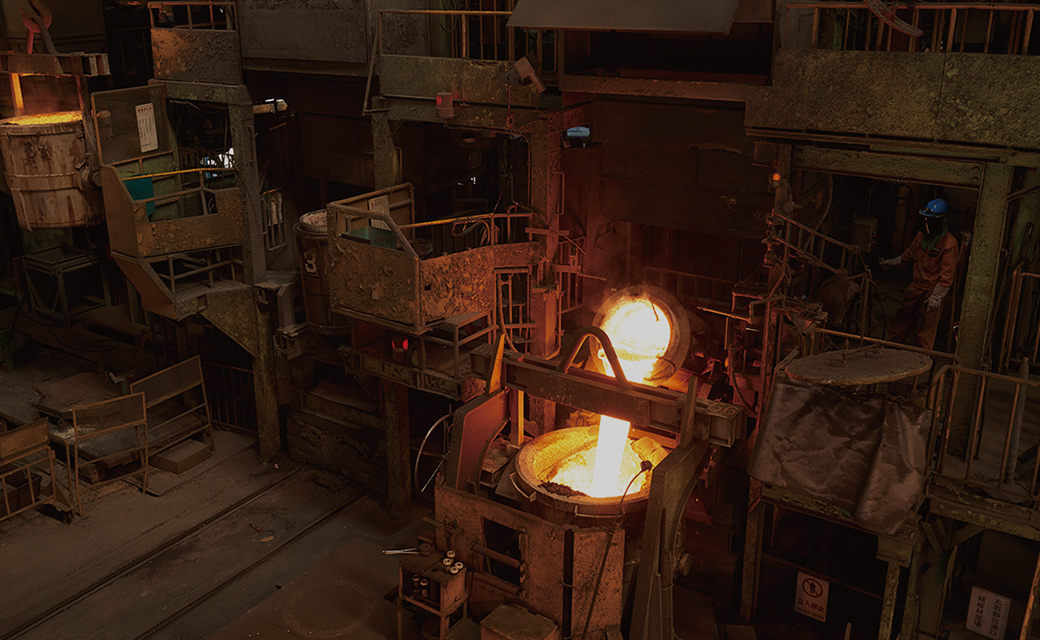 Developing the world's first commercial ductile cast iron, "the third iron"
Originally established as a foundry, Kubota achieved a major breakthrough when it became the first in Japan to mass-produce cast iron pipes for water supply in 1893. This legacy business now forms a part of the Pipe System Division, whose mainstays include ductile iron pipes. You might wonder, "What is ductile cast iron?" As one of the variety of cast metals, cast iron offers superior material properties to steel, such as earthquake performance, damping properties, anti-wear performance, and moldability, but has its own weakness— fragility. Invented in the U.S., ductile cast iron does not have this weakness, and it demonstrates strength and extensibility comparable to those of steel. Hailed as the "greatest discovery of the century" or "the third iron," ductile cast iron was extremely hard to make, and its practical application was regarded as very challenging. Then in 1954, Kubota surprised the world when it successfully manufactured large-diameter ductile iron pipes for the first time ever, followed by mass-production three years later. Ductile iron pipes have since spread rapidly, being chosen for water and sewage lines and other infrastructure projects around the world.

Keiyo Plant—A massproduction center for the world's longest 9m-long ductile iron pipes
Kubota manufactures ductile iron pipes at two locations: the Hanshin Plant in Hyogo Prefecture and the Keiyo Plant in Chiba Prefecture. The Keiyo Plant, in particular, is the only facility in the world capable of massproducing 9m-long iron pipes, which were used for the Karnaphuli Water Supply Project. It shipped a total of 8,814 ductile iron pipes for the project. At the helm of this manufacturing endeavor was Manager Kazuhiro Yamato of the Ductile Iron Pipe Production Section.
"Because the cast iron pipes that we make will be used to supply safe water, we felt a sense of responsibility for providing products with reliable quality. The part of the manufacturing process that affects safety of water most is the internal coating process, during which we rotate pipes at high speed to evenly apply cement mortar to form a thin coat inside the pipes. The coat prevents the pipes from being corroded. We did not make any compromises in quality while meeting rigorous specifications, and so we are confident that we provided pipes of the highest quality in the world." (Yamato)
Because ductile iron pipes are made of waste materials (i.e., scrap iron), the components of the melted iron are always slightly different. To adhere to a specific level of quality, they needed to conduct fine-tuning depending on the conditions of raw materials, and this provided Yamato and his team with a chance to show off their expertise. Furthermore, the ductile iron pipes manufactured for the project measured up to 9 m in length, 1.2 m in diameter, and 4 t in weight, and their sizes brought its own challenges. Immediately after casting them, the larger their scale, the more likely they were to be warped or bent under their own weight, and advanced technology was required to minimize such deficiencies. The Karnaphuli Water Supply Project represented a large-quantity order of a total extension of over 100 km. To meet the delivery requirements, they had to run both day and night shifts during peak demand. At one point, production equipment experienced unexpected trouble as it was exposed to a thermal load for many hours, but everyone at the plant got together to address the case, and they managed to produce all of the orders.
"We take pride in being the direct successor of the founding business. No matter how the business environment changes, the founder's spirit and passionate devotion to manufacturing have been steadily passed down to us. With his passion in mind, I am determined to contribute to a better society through manufacturing." (Yamato)
Kubota's efforts to solve the water problems of the world start from the manufacturing site.
Each ductile iron pipe is subject to rigid quality checks after production.

Kubota Keiyo Plant

The pipes are shipped overseas from Kubota's dedicated port by the plant.