06


KUBOTA Submerged Membrane Unit™ Recycle Water
- The largest MBR sewage treatment plant in the Middle East -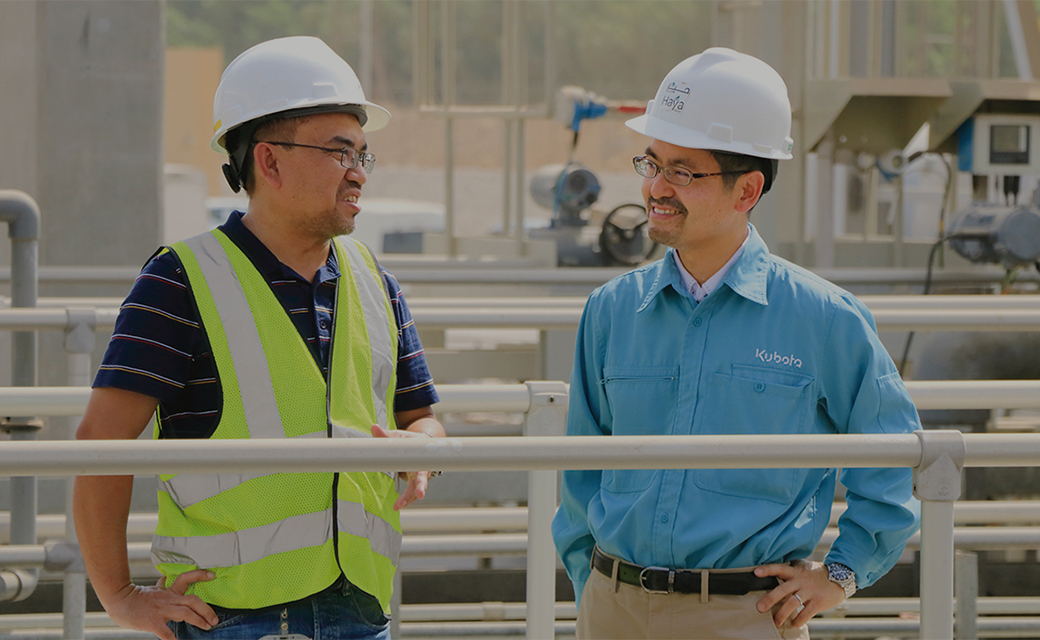 Directly approaching the end user A committed support stance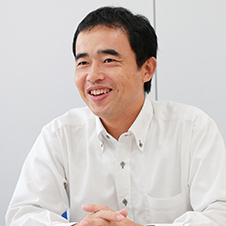 Usually, Kubota's direct customers are engineering companies. They receive orders for the entire scope of construction work from an end user like Haya Water, design facilities, procure necessary materials, and carry out construction in accordance with specifications. As such, Kubota's salespeople visit engineering companies to demonstrate the superiority of KUBOTA Submerged Membrane Unit™ and to encourage prospective clients to adopt Kubota products for their projects. Here in the Middle East, which represents a promising market, Kubota has managed to receive orders for the first phase of construction by following a similar sales style. For the second phase, however, the company changed its approach to try a new sales style for the project. That is, Kubota addressed head-on issues with the sewage treatment facility that was already in operation, and it offered committed support to the end user.
"In the past, when we offered aftersales support, we contacted end users through our local partner engineering companies. This time, however, we decided to make contact directly with Haya Water, the end user of the project. Haya Water is indeed an important customer, which should promise future business for Kubota. We also pride ourselves in having more knowhow about MBR than any other engineering services. After the first phase of construction had been completed, we invited all the departments concerned in the company to offer all-out support, so that we could make all possible preparations before starting operations and doubly ensure we would receive subsequent orders. I believe this approach won us solid credibility from Haya Water." (Sakayama)
Joining salesperson Sakayama as an engineering specialist was Toshiyuki Shibata of the Development & Engineering Group of the Membrane Systems Department, who began visiting Muscat intermittently from around 2012, two years after the plant started running, to offer technical support.
"I took extra care to help the client understand Kubota's membranes thoroughly by showing them proper use of the membranes and by providing guidance on operation procedures and optimal maintenance techniques. Due to the nature of the KUBOTA Submerged Membrane Unit™, the way they are used and operated can greatly affect their stability and durability. We also made it a rule to carefully respond to all sorts of problems that occurred at the plant by staying in close proximity to Haya Water, with the hope that we would be able to build friendly relationships. For example, one time the treatment capacity dropped significantly. This was not attributable to our membranes but to external factors; nevertheless, we compiled a highly detailed investigation report, and we offered instructions on the appropriate way to clean the membranes. I'm sure that such everyday support has earned us credibility." (Shibata)
Working directly with the end user to offer all-out support—The decision and its implementation led Kubota to clearly differentiate itself from competitors and eventually win orders for the second phase of construction.

Making the most of existing facilities to reduce cost and construction period
Soon it was time to submit a concrete proposal for the second phase of construction. Sakayama's team came up with a plan to replace the KUBOTA Submerged Membrane Unit™ in the existing eight membrane tanks with larger ones with a higher treatment capacity. This would minimize the need to establish new facilities (only four new membrane tanks needed to be installed) and shorten the construction period, thus significantly reducing total cost.
In the fall of 2015, Kubota successfully received the orders for the second phase of construction. The work that started subsequently was not easy. While replacing KUBOTA Submerged Membrane Unit™, sewage treatment had to continue. There was no way that the plant could be brought to a halt. So, they carefully mapped out a plan and detailed process and involved those from relevant departments, including the KUBOTA Submerged Membrane Unit™ manufacturing department and construction work department, and the work progressed steadily. Haya Water's General Manager Mahmoud explains why they decided to go with KUBOTA Submerged Membrane Unit™.
"Compared with the products from competing suppliers, KUBOTA Submerged Membrane Unit™ are resilient and highly durable. Other advantages over competing products included ease of cleaning and other maintenance processes. On top of such competitive advantages, we sincerely appreciate their membrane replacement plan, which minimizes costs. After having won the orders, they have also been responsive to our detailed needs by, for example, reducing the impact on ongoing sewage treatment to a minimum. As I have described, Kubota's support left nothing to be desired, before or after they received the orders. Whenever we have an issue, they send specialists that come flying to us. From my perspective, Kubota's staff are already members of Haya Water. We cannot thank them enough." Other employees of Haya Water, including Ruel B. Tumimbang, Head of STP & Pump Stations, share this sentiment of his.
"We are highly satisfied with Kubota's technical support, technical solutions, and other forms of support. We would like this close relationship to continue as long as the plant is in operation. We also eagerly anticipate them to help us expand this superior technology of MBR all over Oman."
The largest MBR sewage treatment plant in the Middle East, combining biological treatment using microorganisms and solid-liquid separation using membranes

The largest MBR sewage treatment plant in the Middle East, combining biological treatment using microorganisms and solid-liquid separation using membranes
Introducing the Membrane Bioreactor method for sewage treatment plants KUBOTA Submerged Membrane Unit™ in operation
Having begun in early 2016, the second phase of construction was completed in May 2018 and the plant was duly put into use. With this, the plant's sewage treatment capacity was increased substantially from 57,000 m3 to 125,000 m3 per day, making Al Ansab STP the MBR plant with the largest capacity in the Middle East. Nevertheless, there remained some issues to address, such as how to use treated water. At present, 60% of the treated water is used to water plants and the rest is discharged into the sea. Only when treated water is put to efficient use, rather than merely treating sewage, can we see the path open up for the recycling of water resources to solve water problems. General Manager Mahmoud talked about their outlook on efficient use of the limited water resources. "It really is a shame that we have to dump 40% of the treated water into the sea. We are planning to put this resource to various uses, such as providing water for agricultural use, watering sports facilities, replenishing water for cooling buildings, and supplying water for roadwork. We do have other issues to resolve, such as a large psychological barrier among the people about recycling sewage, but we are hoping to take action to recycle 100% of the treated water in the near future."
Ref lecting on this project, Sakayama says it was special for him. "To win the orders for this project, we had to assemble all the knowledge and knowhow on membranes that Kubota has to offer. I was able to get a strong companywide response from this project, through which we motivated and involved people in order to bring out Kubota's resources for success. Going forward, we are planning to move one step further from the membrane sales business to develop business with a broader perspective, possibly doing something with plants as well." (Sakayama)
Meanwhile, Shibata continues to keep himself busy visiting his customers for periodic support. "In Japan, for the sake of environmental conservation, sewage is treated to result in clean water and discharged into the sea and rivers, but the need to recycle treated water is high overseas. Thus, I believe that making recycling a viable option will lead to a solution to water stress. To make this a reality, KUBOTA Submerged Membrane Unit™ are highly useful, and I want people living in regions around the world that are under water stress to understand this." (Shibata)
Having had its efficacy proven in this project, the MBR is definitely a key technology for mitigating water shortages. As the MBR is expected to spread further around the world, Kubota is ready to tackle global water problems by making full use of its technology and knowhow, which includes the supply of KUBOTA Submerged Membrane Unit™.