05


The Imperative Need to Recycle Limited Water Resources
- Al Ansab Sewage Treatment Plant, Oman -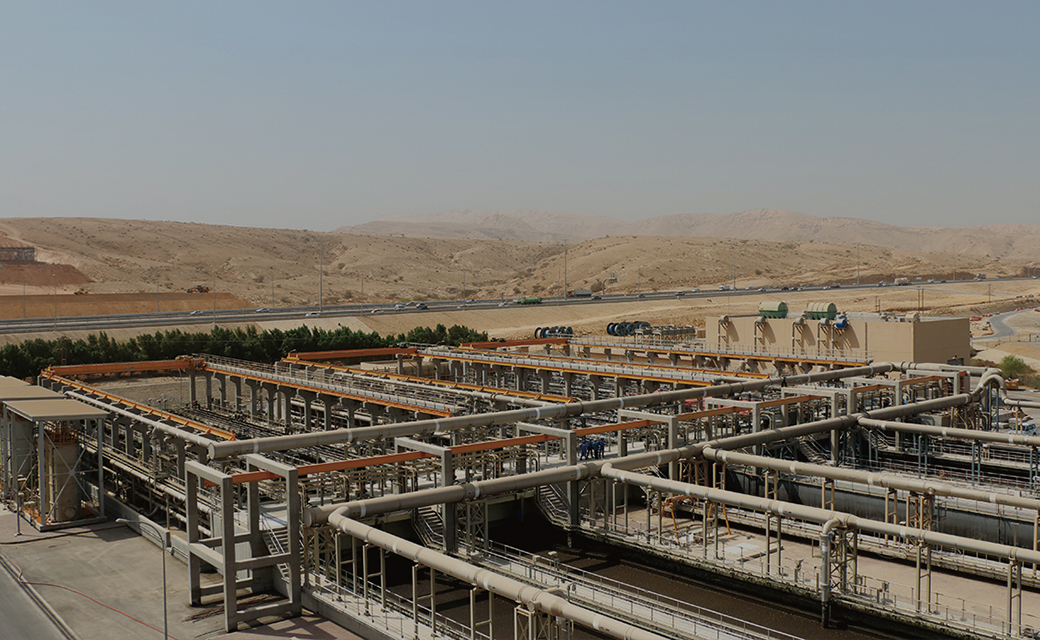 Pro-Japan Oman seeks to distance itself from dependence on oil
The Sultanate of Oman is an Islamic country on the eastern edge of the Arabian Peninsula, facing the Persian Gulf and the Indian Ocean. Not many Japanese know about this Middle Eastern country; however, the people in Oman feel kinship with Japan partly because Sultan Qaboos often cites Japan as a model for their national development. Economically, too, Japan is important for Oman as they export approximately 16.6% of their oil to Japan, the nation's second largest export destination after China*6. Ever since the country began producing oil in 1967, the Omani economy has prospered by maintaining a sole focus on oil—that is, deriving nearly all of its income from oil exports much like the other oil-producing countries in the Middle East. Due to a decline in oil prices over the past few years, however, Oman is facing financial difficulties. Furthermore, its oil reserves are estimated at 5.6 billion barrels, with the ratio of reserves to production being rather small at 14.6 years*7, which makes a departure from dependence on oil an urgent requirement.
This being the case, Oman has recently changed course and is seeking sustainable development with earnings from oil and gas. In its long-term national strategy, Oman Vision 2020, it listed a variety of themes, such as stabilization of private income and maintenance of economic growth, development of human resources, expansion of job opportunities for the Omani people, and development of the private sector through promotion of investments. Also on the list is the privatization of the sewage treatment systems, and sewage treatment is a national priority.
*6.

Ministry of National Economy, Sultanate of Oman (2009)

*7.

BP Statistical Review of World Energy 2017 (2016 data)
The water situation in the desert No rivers, and annual precipitation of 100 mm
Oman's total area is approximately 310,000 km2 (making it threefourths the size of Japan), 82% of which is covered by sand/dirt deserts. Classified as existing within a desert climate, the country does not have any rivers. Annual precipitation is very low, with 100 mm for the national average. Of this water, some 80% of the rainfall evaporates, 5% pours into the sea, and 15% accumulates underground. Because of this climate, Oman suffered chronic water shortages until a breakthrough, when its first seawater desalination plant was constructed to start supplying water to the capital Muscat in 1976. Subsequently, seawater desalination plants were constructed at various locations in the country, while a water supply network was developed to supply safe water to the people. As the population keeps growing in rapidly urbanizing Muscat and other cities, however, the country is faced with the serious challenge of wastewater treatment. This is not unique to Oman, as the issue of wastewater treatment has surfaced in fast-urbanizing regions of the world. Nevertheless, the situation is particularly serious in desert countries such as Oman, where water is an extremely precious resource. In order to recycle this limited resource without wasting it, an advanced wastewater treatment system was required.
The capital Muscat is undergoing rapid urbanization. Traffic jams occur frequently these days.

Oman is a pious Muslim country, with numerous mosques.
Introducing the Membrane Bioreactor method for sewage treatment plants KUBOTA Submerged Membrane Unit™ in operation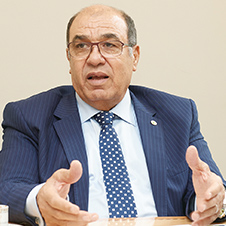 The Al Ansab Sewage Treatment Plant (STP), Muscat, Oman—Here, the Membrane Bioreactor (MBR) method is used to treat wastewater. MBR is an advanced wastewater treatment technology that combines biological treatment using microorganisms and solid-liquid separation using membranes. Despite its compact size, the system generates clean processed water and achieves simple maintenance. A pioneering manufacturer of MBR using flat sheet, Kubota has shipped its KUBOTA Submerged Membrane Unit™ to over 6,000 facilities around the world. At Al Ansab STP, too, KUBOTA Submerged Membrane Unit™ have been in smooth operation since 2010 (the first phase of construction), thus playing a strong role in recycling processed water. More recently, a new project has been kicked off—renewal and expansion of the country's sewage treatment plants. Haya Water is Oman's national corporation responsible for construction, management, and operation of Al Ansab STP and a wastewater plants in Muscat. General Manager Mahmoud El Sayed Abou El Soud of Operation and Maintenance, Haya Water, spoke about the background of the new project.
"Rapid development of residential land and commercial facilities has brought with it a higher volume of wastewater, and we find it increasingly difficult to deal with the situation using existing treatment plants alone. Expansion of treatment capacity thus poses an urgent issue and, as a solution to this, we decided to renew and expand our sewage treatment plants (in the second phase of construction). In Muscat, we source service water from desalinated seawater and underground water, the latter of which comes from a very small amount of rainfall. We are also implementing projects for efficient use of rainwater, such as construction of a dam to hold rainwater to have it permeate underground reservoirs. Still, the fact remains that we are experiencing water shortages. We believe that it would be a giant step forward in resolving the water problems in Muscat to expand treatment capacity with the possibility in mind of treating the ever-increasing volume of wastewater properly for recycling. This is why we initiated the project."
Presently a Director of Kubota Membrane Europe Ltd. (KME), Hidehiko Sakayama has been involved in the Al Ansab STP project as a salesperson. Sakayama was appointed as a person in charge of the Middle East in 2007 and was stationed at the Dubai Branch from 2008. Several years later, he was at the sales front of the Al Ansab STP project. The first phase of construction was already underway at that time, and Kubota had delivered its KUBOTA Submerged Membrane Unit™. He assumed the position immediately before the sewage treatment plant became operational.
A queue of tankers carrying wastewater brought in from Muscat. Development and spread of sewagelines is an ongoing challenge.

Haya Water