Documentary of Kubota
Myanmar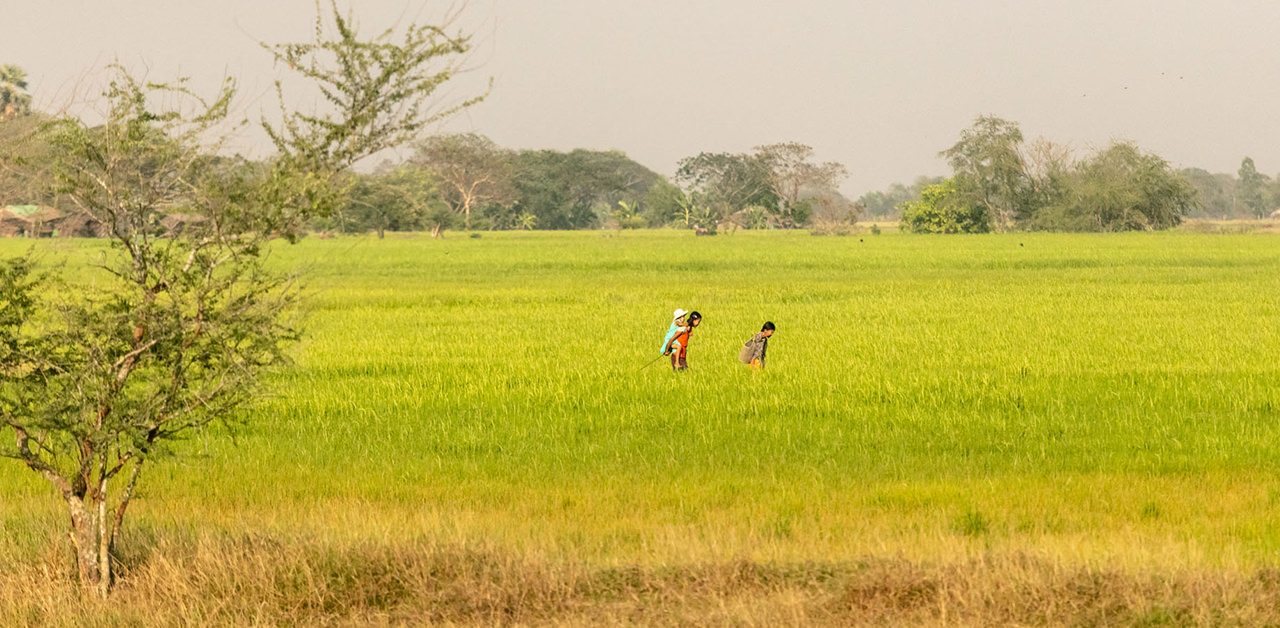 Myanmar's door to economic growth is now wide open.
Here are some of the ways Kubota is contributing to solutions to the issues it faces.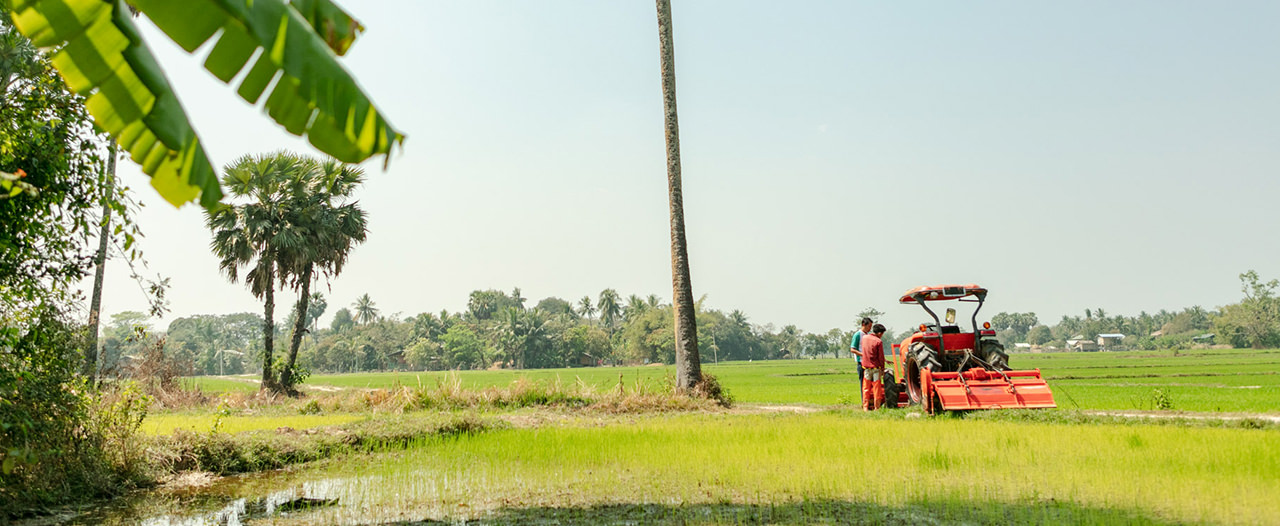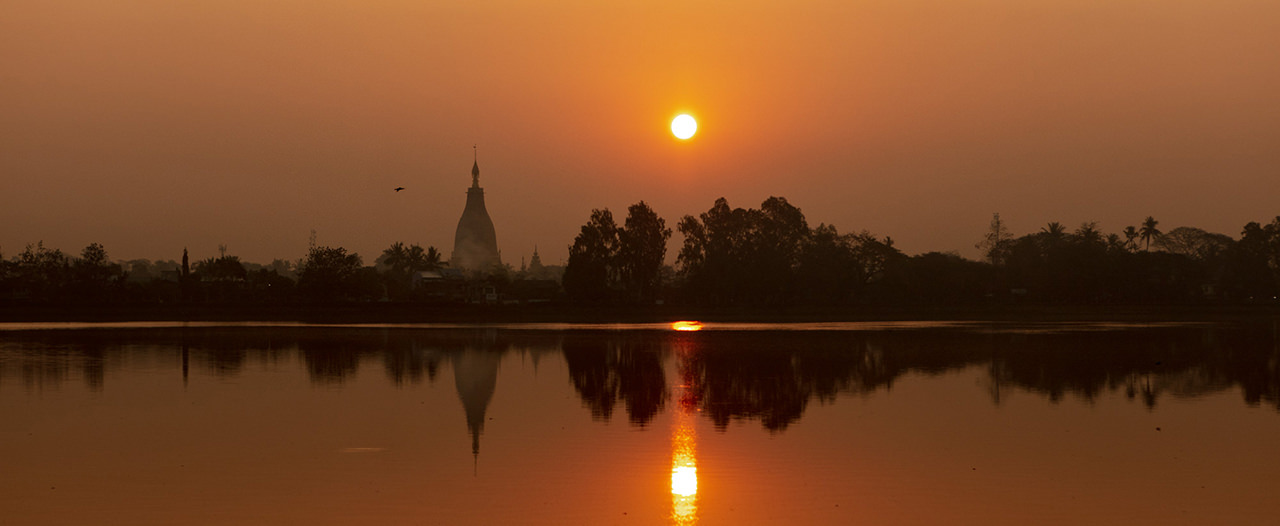 What are the challenges Myanmar is facing for it's rapid growth?
Myanmar, a country with a big potential for rice output growth within Asia.
Agriculture has been the country's most important industry.
However, currently it is facing various issues.
We asked how Kubota has been helping the progress of agriculture, and the backbone of Myanmar's growth.
Director General of Agricultural Mechanization Department

U Soe Hlaing

Myanmar's foundation has been agriculture.
70 % of our population of 53 million lives on farmland.
Our staple diet is rice.
In the countryside, people eat rice three times a day.
Rice farming is essential for agriculture in Myanmar.
We are facing new problems in agriculture sector right now.
One problem is more and more young people work aboard cwhich makes it hard to continue the way we used to farm.

Myanmar has three seasons, hot, dry and wet seasons.
Rice farming was only possible during wet season before.
But we have pumps supplying water for irrigation now.
So, we can farm rice even during the dry season.
Farming technology is a key strategy for the agriculture in Myanmar.

When I was about 12 or 13, there used to be a ministry of machineries.
At that time, Kubota worked with the government of Myanmar to manufacture pump for the rice farmers.
Kubota's pumps were used all over the country.
Our role here is to promote the agricultural technology just like Kubota did.

Rice farmer in Taungoo

U Shwe pyi Thein

I was born and grew up in this village.
I farm rice on the field passed down for generations.
My father bought this pump when I was twelve.
Before we had this Kubota's pump, we relied on natural rain.
The dry season was very difficult to farm.
But this pump enabled us to farm even during the dry season.

Our son saw how this pump works and says Kubota's pump doesn't break.
※ personal opinion

I'll buy anything from Kubota!
Agricultural machines are vital for us.
We trust Kubota completely.

I use Kubota's tractor for tilling the rice field.
When the field is in good condition, planting can be done evenly.
The moist soil promotes the rice to grow.
When tilling using cows, you have to walk with them.
Every steps of farming are easier on a tractor under the sun.

If the tractor is unreliable, we miss the timing of planting.
But Kubota's tractor works whenever I need it to work.
We never miss the planting so we have a good harvest.

Director General of Agricultural Mechanization Department

U Soe Hlaing

The Myanmar's agriculture has the advantage of the vast farmland that's available to us.
Kubota and other companies are leading the way to apply advance technologies to agricultural machines.
I believe our agriculture will develop further if we can utilize such technology.
70% of our population lives on the farm.
Improving their lives will lead to the growth of the whole country.
I firmly believe advancing agricultural technology will bring successful development of agriculture industry.
And that will raise our country to a new level.
Everyone we talked to has such confidence in believing the development of Myanmar's agriculture and their country.
Kubota started out with providing irrigation pumps.
In addition to supporting Myanmar's agriculture, Kubota now assists setting up vital water infrastructure.
History
Kubota's Efforts in Myanmar
Myanmar's relationship with Kubota dates back to 1953, when the company started exporting power tillers. In 1957 it started exporting engines and pumps for irrigation, and in the 1960s it signed a technology partnership agreement with the Burmese government and began assistance for agricultural machinery manufacturing.
Beyond the agricultural field, Kubota also is working to provide water infrastructure that is essential for the development of industry and individual lifestyles.