Documentary of Kubota
Osaka, Japan
Throughout its history, Osaka has been surrounded by water – canals, rivers, and the seashore.
Here are some ways Kubota's water environment business is helping the city fulfill its goals for sustainable urban management.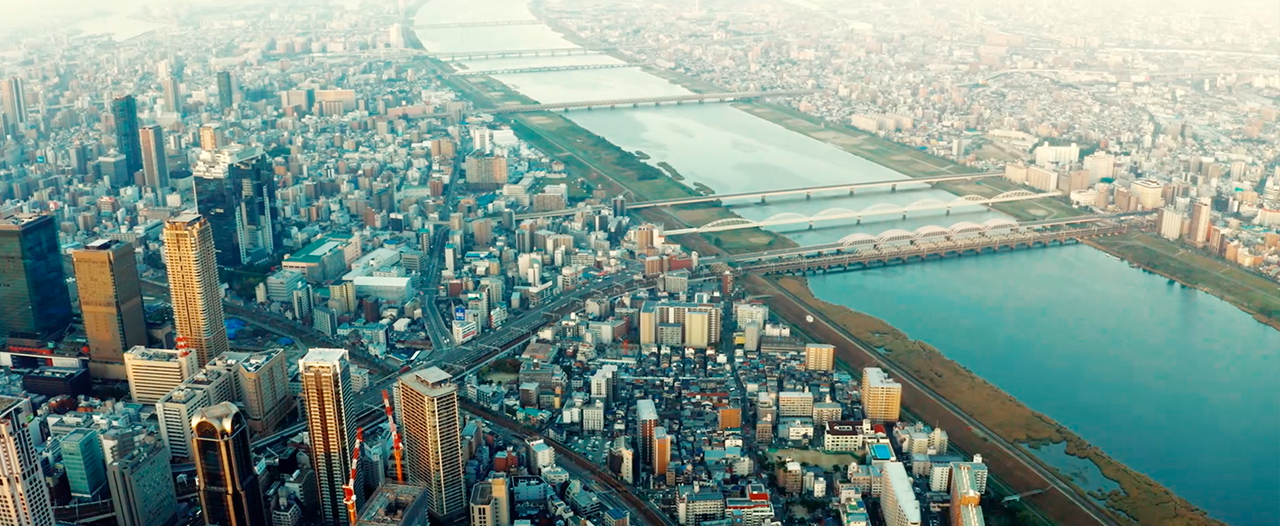 How can we build sustainable water infrastructure in urban areas?
Osaka, the largest city in western Japan, is also known as the "city of water. At one time, the city's waterways were a major part of residents' daily lives.
Today, Osaka is facing an increasing number of issues that need addressing if it is to maintain its sustainability. One of these issues is the rebuilding of its water infrastructure.
How can we conserve the city's water environment and restore liveliness to the waterfront all within the city's constraints? Kubota has found a way to help Osaka tackle these challenges and set an example for cities around the world.
Director General for Disaster Prevention, Infrastructure Development and Management
Osaka City Public Works Bureau

Takashi Terakawa

The prototype of Osaka's sewerage system can be traced back to the time of Toyotomi Hideyoshi, who built the Osaka Castle before the Edo period.



In the city development, the roads were laid out in a checkerboard pattern and canals and other facilities were constructed, allowing for a logistics system that included water transportation. Based on this, Osaka prospered as a commercial hub and was referred to as the "nation's kitchen".



Osaka City was also called the "city of water", and even today, about 10% of the city is occupied by water.

So, if the river or sea is contaminated, it will not only affect our living environment, it will also bring down the value of the city itself. With water having been integral to the development of Osaka City, it is especially important to maintain and improve the water environment. In that context, the role sewerage systems play is vital.



When the economy was experiencing a period of rapid growth, the water quality of the rivers deteriorated, in inverse proportion to the development of the city.
However, swift actions were taken to rectify this. In 1982, activated sludge treatment started at all 12 existing STPs. In 1984, the sewerage service ratio in relation to the total population reached 99%, meaning that the sewerage system was almost complete.



The sewerage system has greatly improved the water quality of the river, allowing people to walk along the riverside and boats for sightseeing to drift by.
However, we are now facing the problem of aging facilities as the development of the sewerage system started quite a while ago. So, we have been working on their reconstruction and renewal, mainly for mechanical and electrical equipment.



Osaka is mostly made up of urban districts.
Because of that, land is scarce and available spaces have been small since the olden days. Our predecessors in those days have made a lot of efforts to make the best out of the small spaces we have.
The MBR we've adopted can make the best use of existing "boxes" (facilities). With no space to build new structures here, the challenge was how to utilize the existing "boxes" and how to increase their capacity. As we thought about how to improve and how to make it more efficient, one of the best options was Membrane Bioreactor (MBR) technology.

Deputy Manager for Sewerage Engineering of East Office
Osaka City Public Works Bureau

Kazue Yokokura

The Nakahama Sewage Treatment Plant has required overall renewal, but it is located in a congested residential area and has limited space. Despite such challenging conditions, both a more advanced treatment and less load on the environment were a must.



To address this challenge, the technology we turned our attention to was the Membrane Bioreactor (MBR) for wastewater treatment. MBR is a technology that uses a special membrane that efficiently treats wastewater. MBR also eliminates the need for a final settling tank so more water can be treated in a smaller space.
In addition, MBR uses less electricity, emits fewer carbon emissions from wastewater treatment and has an overall lower running cost, which is consistent with what we've been looking for.



In Osaka City, we are currently implementing several measures to improve the water quality of the Dotonbori River, the iconic body of water that flows throughout the city.

Until now, we have operated the sluice gates to preferentially take in clean water by timing their opening and closing with the ebb and flow of the tide, and we have carried out the dredging of the river.
Furthermore, a large storage tunnel (Heisei no Taiko Gesui) was constructed to prevent CSO (combined sewer overflows) from being discharged into the river even in wet weather.

In addition to these efforts, we hope to further improve the water quality by sending MBR treated water from the Nakahama Sewage Treatment Plant to the Dotonbori River.

Division of Sustainable Energy and Environmental Engineering
Graduate School of Engineering Osaka University

Prof. Michihiko Ike

Until now, people have only wanted convenience. But in order to create a sustainable urban environment, it will be important to build infrastructure in a way that will reduce the burden on the environment.That's why there is more demand than ever before for a big shift in values.

It's going to be increasingly important that things be energy-saving, resource-saving, and low-carbon, with the functionality to recirculate materials, at low cost.

In terms of water processing, we can't think of it as just water, because these days it's becoming important to circulate the materials and energy that are in the water, while also replenishing the water.

And since MBR has the ability to regulate water quality in a number of ways, it's going to be an increasingly important component in the circulation not only of water, but of everything related to water.
MBR is used not only in sewage plants,
but also in business facilities,
as it helps to restore and recycle wastewater.
Director of engineering
Kintetsu Real Estate Co., Ltd.
ABENO HARUKAS Headquarter

Hiroaki Nishihata

Abeno Harukas opened in March 2014 and at 300 meters, it is Japan's tallest skyscraper complex.

The complex was designed to be environmentally friendly and through incorporating various renewable energy sources, we have achieved a nearly 30% reduction in C02 emissions.
*Compared with standard buildings

Saving water is a crucial part of energy conservation. By supplying our department store toilets with reclaimed water from our hotel's guest rooms, we were able to save approximately 30% of total water use.

Over 100,000 visitors per day visit these facilities. We're very grateful that we can repurpose water to areas that are so heavily trafficked.

We're confident that this way of recycling water using MBR will prove valuable in solving the critical issues surrounding water resources.

Division of Sustainable Energy and Environmental Engineering
Graduate School of Engineering Osaka University

Prof. Michihiko Ike

These days there is a big shift toward thinking that water infrastructure shouldn't just clean the water, it should also reduce all kinds of negative effects on the environment.



MBR has both commercial and public infrastructure uses, and when you combine them it brings about a very interesting metabolism, creating a system that can do things that could never be done before.

I anticipate that introducing new technology like MBR will contribute to building a sustainable society through water.

I think Osaka has great potential to become a role model for major cities all over the world.
The Kubota MBR system is an advanced technology unique to Kubota that works tirelessly to purify water while taking into account the challenges and restrictions of urban development, and is sure to aid in the realization of a sustainable society.
From Osaka to the world.
Support: Aqua Metropolis Osaka Consortium/Osaka Municipal Digital Archives/Ikaros Co., Ltd.
*The titles of the people interviewed are as of 2020.
History
History of Kubota's Water Environment Business
Kubota Corporation manufactured Japan's first cast iron water pipes in 1893. Today, it is a comprehensive manufacturer of water-related equipment ranging from waterworks to sewage treatment, contributing to water infrastructure development in more than 70 countries worldwide. Its water environment business was launched in 1962 at a time of growing concern about the social costs of water and environmental pollution caused by Japan's rapid economic growth. It has been involved in water treatment projects in Japan as well as countries and territories throughout Asia and the rest of the world.
MBR, which combines the Submerged Membrane Unit® developed by Kubota with a biological treatment process, offers advanced treatment quality in a compact footprint. This technology has been introduced at sewage treatment facilities inside and outside Japan, along with numerous industrial wastewater applications including food factories. It continues to gain popularity throughout the world today.