Promoting Diversity in Personnel
Kubota is committed to promoting diversity in its personnel.
As a business group operating on a global scale, Kubota considers recognizing diverse values and ways of thinking and having multiple viewpoints as essential for its sustainable growth. In our inaugural campaign for promoting diversity in personnel, we have thus far worked on the promotion of women within our organization, actively making efforts to (1) increase the number of new women recruits, (2) improve the work environment so as to encourage women to continue working, and (3) create more opportunities for women's personal development.
Toward the future, on the premise that diversity in personnel (in terms of gender, age, disabilities, nationality and more) is a given, we aim to further improve the work environment so that each and every employee can demonstrate his or her abilities to the fullest, providing even greater support to the employees with regard to childcare, nursing of aged or ailing family members, and other situations that could hinder them from performing at their best at work.
Kubota's diversity management for putting individual strengths to positive global use
At Kubota, a globally operating business group, many people come into contact with one another and work together, bringing with them various differences in language, culture, generation, gender, value system and more. Kubota's diversity management aims at accepting individual differences, finding new value and strength in them, and turning diversity into creativity.
Signing the Women's Empowerment Principles (WEPs)
The Women's Empowerment Principles (WEPs) are the action principles jointly formulated by the United Nations Global Compact (*1) and UN Women (*2) in March 2010 to promote the improvement of the labor and social environment so that women's power is put to positive power in corporate activities.
Advocate of the WEPs, the Kubota Group signed them in July 2012, thereby declaring that it places gender equality and the empowerment of women at the heart of its business management and takes proactive measures accordingly.
*1.A global initiative proposed at the World Economic Forum of 1999 by the then UN Secretary-General for realizing sustainable growth in the international community
*2.UN Women: The United Nations Entity for Gender Equality and the Empowerment of Women
Actions for Diversity in Personnel
1. Current status of diversity in recruitment
| Targets of women recruits | Percentage |
| --- | --- |
| General – clerical | 40% |
| General – specialized | 20% |
| Technical – technical | 15% |
Employees with disabilities
2. Improving the work environment so as to enable the employees to continue working (becoming an organization for work-life balance)
(1) Institution of systems supporting employees in childbirth and childcare
Kubota offers great support to employees undergoing major life events.
Kubota has a range of systems that assist the employees in reconciling their work with family life, including childbirth and childcare. Since 2009 up to the present, Kubota has continuously obtained the Kurumin Mark, certified by the Ministry of Health, Labor and Welfare, for its Action Plans in compliance with the Act on the Advancement of Measures to Support Raising Next-Generation Children.
We support childcare by men as well.
To enable not only women but also men to reexamine the way they work and more actively get involved in childcare, Kubota encourages its male employees to obtain childcare leave of absence. Campaign periods are set aside, during which brochures are distributed to applicable employees and their superiors. Our aim is to cultivate a corporate climate that enables both men and women to reconcile their work with family life.
Kubota's childcare support systems
Childcare leave
Obtainable until the child is 2 years old; paid leave of up to 7 days (*Legally required minimum: obtainable until the child is 1 year old)
Shortened working hours for childcare
Obtainable until the child finishes the third grade of primary school; up to 2 hours/day
(* Legally required minimum: obtainable until the child reaches age 3)
Child-nursing leave
Obtainable until the child finishes the third grade of primary school; up to 6 days/year for 1 child and up to 12 days/year for 2 or more children
(* Legally required minimums: obtainable until the child reaches age 3; up to 5 days/year for 1 child; up to 10 days/year for 2 or more children)
Leave for school life support
(Kubota's original system)
Leave for school event attendance (class visit, entrance ceremony, graduation ceremony, etc.), to look after the child on an irregular school holiday, etc; obtainable until the child finishes the sixth grade of primary school; up to 5 days regardless of the number of children
Childcare Support Activities
(2) Status of system utilization
Obtainment of childcare leave

Women's resumption of work
after childcare leave (* Men: 100%)

Users of the system of shortened
working hours for childcare

Users of the system
of child-nursing leave

Users of the system of leave
for school life support
Support for employees on childcare leave (example)
Seminar for post-childcare leave resumption of work
Kubota organizes in-house seminars for employees planning to resume work after their childcare leave, in which their superiors can also participate, so as to dissolve anxiety related to the resumption of work and heighten the awareness of those concerned of changes and new modes of working. This is just one example of Kubota's support for improving employee work-life balance.
3. Creating opportunities for women's personal development
(1) Track unification for expanded possibilities
In April 2014, posts on comprehensive, semi-comprehensive, and general tracks were unified as posts on the General track, thereby providing all employees with the opportunity to take on various roles and duties in accordance with their ambitions and abilities. This revision has made it possible for women employees who used to be charged with limited responsibilities to expand their job sphere and possibilities.
(2) Training programs for women
Training for employees switching tracks
Kubota has been organizing training programs for all employees switching tracks (about 530 employees) following the track unification over a period of three years since 2014. The programs are designed to lead the employees to broaden their field of vision, heighten their viewpoint, and change perspectives, thereby developing their individual abilities to the maximum. In this manner, Kubota is also endeavoring to make its corporate climate more conducive to the exploration of individual potential by the employees.
Training programs for women in managerial posts
Kubota commenced in 2014 a series of training programs for women in managerial posts to assist them in acquiring more advanced management skills required in their future higher-ranking posts. Women participate in some sessions of the program along with their superiors for both horizontal and vertical networking. This promotes in-house awareness raising while at the same time preparing women to assume a leadership role in turn to mentor younger employees in the future.
4. Examples of Support for Women
(1) Examples of support for women
Kubota launched "K-Wing (Kubota Women's Initiative Diversity Network and Group)" as a women's forum for in-house networking. Here, women can interact with one another for mutual stimulation for the improvement of their abilities and career development.
In recent years, Kubota has seen an increase in the number of employees who wish to continue working while undergoing various major life events, such as childcare and nursing for ailing or aging parents. However, many such employees often choose to quit when certain conditions prevent them from reconciling their work with their family duties. To encourage such employees to resume work with Kubota, we launched in September 2012 a re-entry assistance system. Under this system, former Kubota employees who resigned due to personal reasons (childbirth, childcare, nursing of a family member, spouse's transfer, etc.) are given the opportunity to join Kubota anew once the reasons for their resignation no longer exist. For more detailed information, please contact the following number.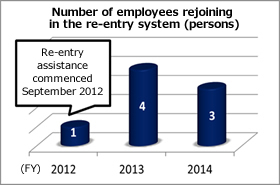 Contact information:

Diversity Promotion Dept, Personnel Affairs Division, Kubota Corporation
Telephone: +81-(0)6-6648-2833
(3) Global human resource development
In tune with the Kubota Group's global business development, we organize a range of training programs aimed at developing globally operational human resources. In one program, trainees are given the opportunity to experience working overseas, while another program focuses on cross-cultural understanding and adaptability. In yet another program, new recruits in creative posts undergo language training in the United States or an Asian country for a period of one month.
Moreover, Kubota is also working on the establishment of global standards in the technical aspects of its operations. For this purpose, technical supervisors and skilled workers based in mother plants in Japan are dispatched to plants in other countries to give practical training in manufacturing.
(4) Promotion of employment of persons with disabilities
Based on our belief that persons with disabilities also have the right to work in society and that corporations have the social responsibility to create and offer them job opportunities, we established Kubota Sun-Vege Farm, following the establishment of Kubota Works, a specified subsidiary(*) established in 2003, thereby promoting the employment of persons with disabilities. We intend to continue pursuing the facility of work for people with disabilities, moving forward one step at a time to perfect our inclusive work environment in preparation for welcoming more people into our corporate family.

For more details about Kubota Sun-Vege Farm, please visit its website:
Specified subsidiary: When a company establishes a subsidiary that gives special consideration to the employment of persons with disabilities, the parent company is entitled to preferential treatment in such aspects as the calculation of the legally mandatory rate of employees with disabilities and the supply of subsidies as incentives for such employment (in compliance with the Act on Employment Promotion, etc. of Persons with Disabilities).
Establishment of Kubota Sun-Vege Farm Co., Ltd.
Kubota Corporation established Kubota Sun-Vege Farm Co., Ltd. in February 2010 to support the attainment of autonomy by persons with disabilities and their sound livelihood in local communities, as well as to revitalize agriculture in Japan by making use of abandoned farmlands. In the future, we are planning to hire 10 persons with disabilities for the hydroponic cultivation of vegetables, to be sold in the Kubota Group's company cafeterias for the time being.
Trial hydroponic cultivation
Percentage of employees with disabilities