Quality Assurance in Design and Development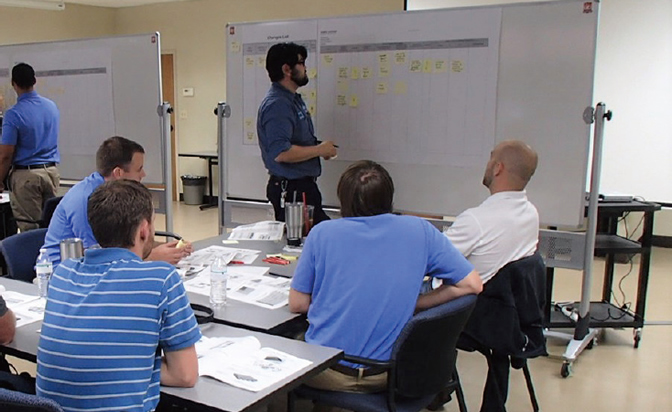 Kubota endeavors to prevent quality problems, and a representative activity in this effort is the initiative to strengthen design reviews. Incorporating the Quick DR* approach, we discuss, test and verify even the smallest incidental change when developing new products, in order to prevent quality problems from arising therefrom.
Quick DR is a method of preventive action of potential problems by focusing on incidental changes in design and development.
We conduct quality questionnaires among Kubota Group employees in Japan and abroad to encourage employees to volunteer information about issues related to quality.
We held training to educate employees about the necessary knowledge, approach, and actions for quality assurance and quality management.
| Training name | Number of sessions | Number of recipients |
| --- | --- | --- |
| New recruit training | 1 | 183 |
| Technical new recruit training | 1 | 134 |
| New supervisor training | 2 | 40 |
| New foreman training | 1 | 18 |
| Internal auditor training course | 7 | 104 |
| The Safety, Environment and Quality Forum for executive management | 1 | 180 |
Internal Audits on Quality
The Kubota Group has systematically carries out the following audits.
Quality Audits:Audits to improve the quality management system aimed at providing better quality products and services.
Quality Compliance Audits:Audits to ensure compliance with laws, public standards, and contracts with customers.
Cross Audits:Audits to improve independence and appropriateness of ISO 9001 internal audits, and to improve the competence of auditors.
Audits at Short Notice
Recall Status in FY2020

Recall of M-G, GE AT tractors : Total 315 units (began July 16, 2020)
Recall of M-D tractors : Total 1,531 units (began April 17, 2020)
Recall of DR combine harvesters : Total 821 units (began April 7, 2020)
Kubota first introduced quality control circles in 1967 for the purpose of "fostering people" and "revitalizing the workplace." Currently, there are 763 circles involving 8,681 personnel active across Kubota Group companies in Japan and abroad.
Quality Achievement Award
The Kubota Group recognizes employees who have made outstanding achievements in quality improvement, with the aim of encouraging even greater achievements in the future as well as raising quality awareness in the workplace and throughout the Group.
In fiscal 2020, Kubota gave out awards in 10 themes of excellence.
ISO 9001 Certification Status
As of the end of March 2022, 44 out of 57 sites (77%) had obtained certification. 23 of our 24 domestic production sites (96%) have acquired ISO 9001 certification. 21 of our 33 overseas production sites (64%) have acquired ISO 9001 certification.
Kubota [All Kubota divisions have acquired ISO 9001 Certification.]
Business divisions
Offices (excerpt)

Certification scope

Date of
certification
Certifying
body
Farm and Industrial
Machinery Consolidated
Division and Procurement
Headquarters, Quality
Assurance Headquarters
(Departments affiliated with
the Farm and Industrial
Machinery Consolidated
Division)
Head Office
Tokyo Head Office
Sakai Plant
Sakai Rinkai Plant
Okajima Business
Center
Tsukuba Plant
Utsunomiya Plant
Hirakata Plant
Kyuhoji Business
Center
Design, development, and manufacture of agricultural
machinery, construction machinery, engines and related
equipment for all the above
Jun. 1994
LRQA*1
Farm and Industrial
Machinery Consolidated Division
(Precision Equipment
Business Unit)
Kyuhoji Business
Center
Design, Development, Manufacture and Supervising of Installation Service for Electronic Weighing Equipment including Load Cell.
Aug. 1994
DNV*2
Water and Environmental
Infrastructure Consolidated Division
(Materials Business Unit)
Hirakata Plant
Design, development, production and servicing of steel casting products.
Mar. 1993
LRQA
Water and Environmental
Infrastructure Consolidated Division
(Urban Infrastructure
Business Unit)
Ichikawa Plant
Design, development and manufacture of spiral welded
steel pipes
Jul. 1998
JICQA*3
Pipe systems Business Division
Hanshin Plant
Keiyo Plant
Design. Development, Manufacture, Sales, Installation and Servicing of Below-mentioned Products;
(1)Ductile Iron Pipes, Fittings, Accessories and Related Products
(2)Ductile Iron Castings and Related Products
Jan. 1999
JCQA*4
Environmental Solutions
Division
Hirakata Plant
(including KUBOTA
Kiko Ltd.)
Project management, design & development, manufacture, sales, sales engineering, procurement, construction & installation management, commissioning and servicing, maintenance of products & equipment of pump, pump station, valves and gates.
Oct. 1997
LRQA
Shiga Plant
Kyuhoji Business
Center (including
KUBOTA Membrane
Corp.)
Design & Development and Production of the Small-sized Plastic Septic Tank and Bathtub, and Design & Development, Production Trust Management of the Medium/Large-sized Plastic Septic Tank; Reserch & Development, Design, Production and After-sales Service of Membrane Unit, Membrane Cartridge and All Its Related Spare Parts
Apr. 2003
JUSE*5
Tokyo Head Office
Hanshin Office
Project management, sales, sales engineering, design & development, procurement, manufacture, testing & examination, installation & construction management, commissioning and servicing of facilities for sewage & sludge treatment, water purification, and wastewater treatment, of product and equipment for hydraulic gate, pump and pumping equipment
Jul. 2014
Intertek*6
*1.

LRQA: Lloyd's Register Quality Assurance Ltd.

*2.

DNV: DNV GL BUSINESS ASSURANCE JAPAN K.K.

*3.

JICQA: JIC Quality Assurance Ltd.

*4.

JCQA: Japan Chemical Quality Assurance Ltd.

*5.

JUSE: Union of Japanese Scientists and Engineers

*6.

Intertek: Intertek Certification Ltd.
No.
Company

Certification scope

Certifying
body
Date of
certification
1
Kubota Systems Inc.

The design / development, manufacture and maintenance service of:
-order-made software products
-software package product
-network installations.
The operation services for information systems and network operation maintenance.
The resale of third party products (software products and computer related machinery).

BSI-J
May 1997
2
Kubota ChemiX Co.,Ltd.
(Including Okinawa Kubota Kasei Co., Ltd.)

Design, development manufacturing, and technical support service of plastic pipes, fittings, and accessories
Design, development, OEM management, and technical support services of metal products (for water supply, sewerage, and building applications, etc.)

JUSE
Apr. 1998
3
Nippon Plastic Industry Co., Ltd.

Unplasticized poly (vinyl chloride) pipe and a design and development of a second artefact, and production
A design and development of plastic pipes such as polyethylene, and production
A design and development of plastic sheet and plate such as polystyrene polyethylene, and production

JSA
Dec. 1998
4
Kyushu KUBOTA Chemical Co., Ltd.
Manufacture of synthetic pipes for water supply, agricultural water, sewage, electric power, and construction machinery
JUSE
Oct. 1999
5
KUBOTA KASUI
Corporation
Design, installation and maintenance of water treatment and gas treatment facilities
BCJ-SAR
Jan. 2000
6
Kubota Environmental
Service Co., Ltd.
Design, construction, maintenance, operation, and management services of plant facilities (including equipment and machinery) for water purification, sewage, night soil, and waste.
MSA
Feb. 2000
7
Kubota Air Conditioner Co., Ltd.
The design / development and manufacture of central air conditioning equipment & heat pump type air conditioning equipment.
JQA
Feb. 2000
8
Kansouken Inc.

Design, Development and Sales of Packaged Software that Supports Water Supply Business.
Provision of Operation Support Services for Packaged Software Supporting for Water Supply Business and its Data Entry Services.

JCQA
Apr. 2004
9
Kubota Seiki Co., Ltd.

Manufacture of hydraulic valves, hydraulic cylinders for agricultural and construction machines.
Manufacture of hydrostatic transmissions for off road vehicles and agricultural machines.
Manufacture of hydraulic pumps for off road vehicles and agricultural and construction machines.
Manufacture of hydraulic motors for construction machines.

LRQA
Apr. 2007
10
Kubota Construction Co., Ltd.

Design and construction of civil engineering works and architectural works
Construction and construction management of various pipelines
Inspection and maintenance for value and ancillary device
Investigation and diagnosis of pipeline and ancillary facilities
Supervisory service of pipe connecting work and training on pipe-laying
Machine sale and rental for pipe-laying work

JQA
Dec. 2011
No.
Company

Certification scope

Certifying
body
Date of
certification
1
Kverneland Group Operations
Norway AS
Development, production and sales of farm implements for soil cultivation
DNV GL
Nov. 1993
2
Kubota Materials
Canada Corporation
Design, development and manufacture of cast steel including stainless, heat resistant and corrosion resistant alloys, in the production of steel castings and fabricated assemblies, as well as the manufacture of non-metallic mineral products (titanic oxide compounds)
IQNet
Apr. 2018
3
Kubota Materials
Canada Corporation
Design, development and manufacture of cast steel including stainless, heat resistant and corrosion resistant alloys, in the production of steel castings and fabricated assemblies, as well as the manufacture of non-metallic mineral products (titanic oxide compounds) .
SGS North
America
Feb. 1995
4
P.T. Kubota Indonesia
Manufacture of internal combustion engines
LRQA
Jan. 1998
5
Kubota Manufacturing
of America Corporation
The manufacture and distribution of farm implements, lawn tractors, sub-compact tractors, RTV's, tractors and skid steer loaders.
SGS
Dec. 1999
6
Kubota Industrial
Equipment Corporation
7
Kubota Saudi Arabia
Company, LLC

Production of cracking coils for petrochemical companies, reformer tube for refinery and fertilizer companies.
Valve maintenance for industries

TÜV NORD
CERT
2011
8
Kubota Agricultural Machinery
(Suzhou) Co., Ltd.
Design & manufacturing of harvester, transplanter; manufacturing of tractor
CAM
Jun. 2011
9
SIAM KUBOTA Metal
Technology Co., Ltd.
Manufacture of casting iron parts
MASCI
Oct. 2012
10
Kubota Sanlian Pump
(Anhui) Co., Ltd.
Design and manufacture of clean water pump, sewage pump, axial flow pump, mixed flow pump.
CCS
May. 2013
11
KUBOTA Engine
(Thailand) Co., Ltd.
Manufacture of diesel engine
LRQA
Oct. 2013
12
SIAM KUBOTA
Corporation Co., Ltd.
(Head office)

Manufacture of small diesel engine (water cooled single cylinder) and power tiller (walk-behind tractor)
Provision and distribution of spare part for KUBOTA product

MASCI
Mar.1997
Management of after-sale service of diesel engines, power tiller, tractor, combine harvesters, tillers and excavators

Technical support for maintenance
Services of marketing and marketing support for after-sale service

MASCI
Mar.1997
13
SIAM KUBOTA
Corporation Co., Ltd.
(Amata City office)
Manufacturing of farm tractor with and without wheel and tire including transmission and front axel, agricultural machinery (combine harvester), implement (rotary tillers, slasher).
LRQA
Feb.2014
Assembly and Distribution of Agricultural Machinery
LRQA
Feb.2014
14
Kubota Engine (Wuxi) Co., Ltd.
Manufacture of water-cooled multi-cylinder diesel engines used in industrial machinery and agricultural machinery
SGS United
Kingdom
Nov. 2014
15
Kubota Construction Machinery
(Wuxi) Co., Ltd.
Manufacture of hydraulic crawler excavators (operating weight less than or equal to kx175 type)
SGS United
Kingdom
Dec. 2014
16
KUBOTA Precision
Machinery (Thailand)
Co., Ltd.
Manufacture of transmission assembly and linkage hitch hydraulic cylinders for agricultural tractors
LRQA
Jul. 2015
17
Kubota Baumaschinen
GmbH
Development, distribution, procurement, manufacturing and service of construction machines
PÜG mbH
Feb. 2016
18
KUBOTA (U.K.) Ltd.
The import, sales and distribution of engines, agricultural and construction machinery including the provision of service and training to a dealership network
CQS
Aug. 2016
19
Kubota Europe S.A.S.
Tractor reassembly: Local market application
Apave
Certification
Sep. 2016
20
Kubota Farm Machinery
Europe S.A.S
Production and shipping of agricultural tractors, technical assistance and spare parts
BUREAU
VERITAS
Feb. 2017
21
Kubota Kasui Vietnam
Co., Ltd.(Head office)
The manufacture and supply of chemicals for water treatment systems; Provision of RO membrane cleaning, water treatment regenerated resin and water analyzing servece.
IAS
May.2018
22
Kubota Kasui Vietnam
Co., Ltd.(Bac Ninh)
The manufacture and supply of chemicals for water treatment system; Provision of RO membrane cleaning, water treatment regenerated resin and water analyzing service.
IAS
May.2018
23
Kubota (Deutschland) GmbH
Sales and customization of tractors, machines for ground care, attachments, spare parts, engines, engine accessories, service and customer support
EQ ZERT
Sep. 2018
24
KUBOTA Turkey Makine Ticaret
Limited Sirketi
Manufacture of tractors and power tiller
LMS
Sep. 2019
25
Escorts Kubota India Prt Ltd,
Manufacturing of Tractor and its Assemblies
TUV SUD
May.2021
LRQA : Lloyd's Register Quality Assurance Ltd.
DNV : DNV GL BUSINESS ASSURANCE JAPAN K.K.
JICQA : JIC Quality Assurance Ltd.
JCQA : Japan Chemical Quality Assurance Ltd.
JUSE : Union of Japanese Scientists and Engineers
Intertek : Intertek Certification Ltd.
BSI-J : BSI Group Japan K.K.
JSA : Japanese Standards Association
BCJ-SAR : The Building Center of Japan
MSA : Management System Assessment Center Co., Ltd.
JQA : Japan Quality Assurance Organization
MASCI : Management System Certification Institute (Thailand)
CCS : China Classification Society
CQS : Certified Quality Systems
LMS :LMS Certification Limited
TÜV SÜD :TÜV SÜD South Asia Private Limited
SGS :Société Générale de Surveillance S.A.
IAS :International Accreditation Service(IAS)United States Of America