Overhaul
Schedule and Flow of Overhauling
To avoid unnecessary replacement and/or mishandling during dismantling at site, please contact KUBOTA before starting overhauling work.
We will make the most suitable overhauling plan for you, and send our highly trained engineers for technical advise.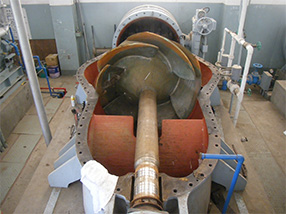 Service Lineup
Inspection Diagnosis

Decide on site or offsite to OH

Submit OH plan and Quotation

Agreement

Overhauling
Overhauling location
There are two patterns of location at your site or at our factory.
at Your Site

at Our Factory


Quick

Low Cost




Parts can be replaced at each pumping station instead of sending back the pump to our factory to reduce time & cost. In order to revive pump performance, genuine spare parts are essential. We will supply the parts for your pump, exactly same as the original design.

Merits

High Quality




If you can send back your KUBOTA Pump to our factory, your pump can be overhauled completely and performance will recover most.