Irrigation
For your rich green land
Project for suppling water for agricultural use to turn vast uncultivated areas into water rich agricultural land is rapidly increasing.
To meet such increased demand, Kubota's irrigation specialists have helped with the materialization of the irrigation projects from feasibility study to turn key completion.
Kubota's technology in pumping equipment and systems has played a vital role in its irrigation systems.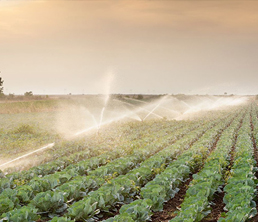 Double Suction Volute Pump

DV-LJ, DV-LJ(Large)

Submersible Pump

KS / LSM-KR

Vertical Shaft Volute Type Mixed Flow Pump

DS-VV(Low Head)
Experience 1.

Double Suction Volute Pump
DV-L

Babatag pump Station Ministry of Agriculture and Water Resources

Country

Uzbekistan

Bore

1400mm

Capacity

266.4m3/min

Total Head

74.55m

Motor Output

4,500kW

Supplied Year

2011
Experience 2.

Double Suction Volute Pump
DV-LG

Gezeret Menha Pumping Station Mechanical & Electrical Department

Country

Egypt

Bore

400mm x 300mm

Capacity

15m3/min

Total Head

9m

Motor Output

37kW

Supplied Year

2009